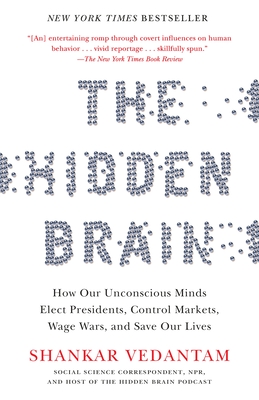 The Hidden Brain
How Our Unconscious Minds Elect Presidents, Control Markets, Wage Wars, and Save Our Lives
Paperback

* Individual store prices may vary.
Other Editions of This Title:
Digital Audiobook (1/18/2010)
Description
The hidden brain is the voice in our ear when we make the most important decisions in our lives—but we're never aware of it. The hidden brain decides whom we fall in love with and whom we hate. It tells us to vote for the white candidate and convict the dark-skinned defendant, to hire the thin woman but pay her less than the man doing the same job. It can direct us to safety when disaster strikes and move us to extraordinary acts of altruism. But it can also be manipulated to turn an ordinary person into a suicide terrorist or a group of bystanders into a mob.

In a series of compulsively readable narratives, Shankar Vedantam journeys through the latest discoveries in neuroscience, psychology, and behavioral science to uncover the darkest corner of our minds and its decisive impact on the choices we make as individuals and as a society. Filled with fascinating characters, dramatic storytelling, and cutting-edge science, this is an engrossing exploration of the secrets our brains keep from us—and how they are revealed. 
Praise For The Hidden Brain: How Our Unconscious Minds Elect Presidents, Control Markets, Wage Wars, and Save Our Lives…
"In The Hidden Brain, one of America's best science journalists describes how our unconscious minds influence everything from criminal trials to charitable giving, from suicide bombers to presidential elections. The Hidden Brain is a smart and engaging exploration of the science behind the headlines—and of the little man behind the screen. Don't miss it."—Daniel Gilbert, author of Stumbling on Happiness

"Shankar Vedantam brings his critical eye to a question that has haunted scientists and writers for centuries: Does the unconscious matter, and if so, how? With a light touch, the book takes us through the complicated landscape of research on psychology and human behavior. We come away not only understanding how we act, but Vedantam moves past mainstream economic reasoning to shed light on the relationships we create with each other. The book addresses the madness and beauty of our struggles to create a moral and just world." —Sudhir Venkatesh,  author of  Gang Leader for a Day: A Rogue Sociologist Takes to the Streets

Random House, 9780385525220, 288pp.
Publication Date: August 31, 2010
About the Author
Shankar Vedantam is a national correspondent and columnist for the Washington Post and a 2009 Neimann Fellow.  He lives in Washington, DC.
or
Not Currently Available for Direct Purchase