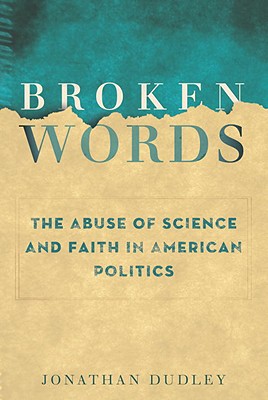 Broken Words
The Abuse of Science and Faith in American Politics
Hardcover

* Individual store prices may vary.
Description
Abortion. Homosexuality. Environmentalism. Evolution. Conservative positions on these topics are the current boundaries of mainstream Evangelical Christianity. But what if the theological arguments given by popular leaders on these "big four" were not quite as clear cut as they claim?

     Growing up as an evangelical Christian, Jonathan Dudley was taught that faith was defined by the total rejection of abortion, homosexuality, evolution, and environmentalism. But once he had begun studying biology and ethics, his views began to change and he soon realized that what he had been told about the Bible – and those four big issues – may have been misconstrued. Broken Words: The Abuse of Science and Faith in American Politics assesses the scientific and cultural factors leading evangelicals to certain stances on each issue, shows where they went wrong, and critically challenges the scriptural, ethical, and biological arguments issued by those leaders today.
     In Broken Words, Dudley applies the Bible and biology to challenge the fixed political dogmas of the religious right. Evangelicals are confronted for the first time from within their ranks on the extent to which faith has been corrupted by conservative politics, cultural prejudice and naive anti-intellectualism. A re-ordering of American Christianity is underway – and this book is an essential part of the conversation.
Praise For Broken Words: The Abuse of Science and Faith in American Politics…
"Jonathan Dudley brings theological sophistication, scientific savvy and historical sensitivity to this astute analysis of four central issues in today's culture wars. Broken Words is essential reading for anyone who aspires to reclaim evangelicalism from the Religious Right." –Randall Balmer, Columbia University Professor of American Religious History and Author of Thy Kingdom Come

"Hands down, Broken Words is the most insightful, clear-eyed, and popularly useful overview to date of why and how Evangelicalism has come to be such a powerful and intractable political and doctrinal bloc in American affairs over the last half century. Written in vivid, conversational style, Words also carries within itself the gentleness of affection and familial courtesy, for Dudley was himself reared evangelical. There is no meanness of spirit here, no clanging of swords. There is simply an urgent demand that we look now and accurately at how politics has led many among us to reversals of our historic faith and practice and, ultimately, to divisive and destructive civil policies and prejudices." –Phyllis Tickle, author of The Great Emergence: How Christianity is Changing and Why
 
"Jonathan Dudley has rendered a great service with this brilliant book. By taking on the use by social conservatives of both science and scripture to push their agenda with regards to abortion, homosexuality, evolution, and environmentalism, Dudley exposes the inconsistencies and contradictions in their claims as well as their methods of interpretation and arguing. The remarkable aspect of Dudley's book is its astonishing juxtaposition of scientific and religious knowledge and sensibilities. Dudley is equally educated in theology, biblical studies, and biological sciences. The combination is unusual and notable. The writing accessible and elegant." –Dale B. Martin, Woolsey Professor of Religious Studies, Yale University
Crown, 9780385525268, 208pp.
Publication Date: April 5, 2011
About the Author
JONATHAN DUDLEY has a BS in biology from Calvin College, an MA in religion from Yale University's Divinity School, and he is working toward an MD at the Johns Hopkins School of Medicine.
or
Not Currently Available for Direct Purchase