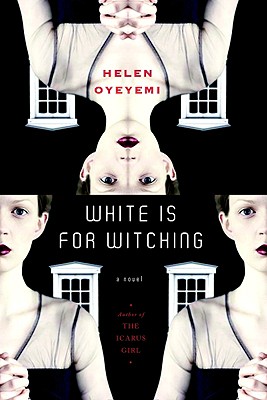 White Is for Witching
Hardcover

* Individual store prices may vary.
Other Editions of This Title:
Paperback (2/4/2014)
Description
"Miranda is at home" "homesick, home sick ...
"
As a child, Miranda Silver developed pica, a rare eating disorder that causes its victims to consume nonedible substances. The death of her mother when Miranda is sixteen exacerbates her condition; nothing, however, satisfies a strange hunger passed down through the women in her family. And then there's the family house in Dover, England, converted to a bed-and-breakfast by Miranda's father. Dover has long been known for its hostility toward outsiders. But the Silver House manifests a more conscious malice toward strangers, dispatching those visitors it despises. Enraged by the constant stream of foreign staff and guests, the house finally unleashes its most destructive power.
With distinct originality and grace, and an extraordinary gift for making the fantastic believable, Helen Oyeyemi spins the politics of family and nation into a riveting and unforgettable mystery.
Praise For White Is for Witching…
Winner of the Somerset Maugham Award!
 
"[Oyeyemi] knows that ghost stories aren't just for kids. And White Is for Witching turns out to be a delightfully unconventional coming-of-age story.... As in Toni Morrison's Beloved or Chris Abani's Song for Night, the supernatural elements of White Is for Witching serve to remind the characters - and Oyeyemi's readers - of horrifying historical circumstances.... Oyeyemi clearly appreciates that some crimes (like slavery or genocide or, in this case, institutional racism) are so heinous that the conventions of realist fiction seem woefully inadequate to describe them. She makes us glad to suspend disbelief."
—The New York Times Book Review

"Profoundly chilling…a slow-building neo-Gothic that will leave persevering readers breathless."
—The Boston Globe
 
 "Appealing from page one.... Unconventional, intoxicating and deeply disquieting."
—Publishers Weekly, starred review
 
"Chilling…lyrical…. If you've been missing Shirley Jackson all these many years, missing the creepy character-driven goodness of We Have Always Lived in the Castle and Hangsaman, here's a writer who seems to be a direct heir to that lamented one's gothic throne."
—The Austin Chronicle
 
"Spooky and thought provoking…. The Poe-like elements of White Is for Witching are so spookily vivid, from foreboding descriptions of landscape ('The sun was setting into storm clouds; there was smoky brightness outside, as if the world was being inspected by candlelight') to the eeriness of an enchanted apple (half 'coma white' and a red that 'glowed like false fire'), that they tend steal the show. But Oyeyemi also has a convincing touch when dealing with ordinary reality. She's particularly sharp at portraying the inner life of a troubled adolescent and the alienation of immigrants…. As adept as she is at the Gothic, Oyeyemi also subverts its conventions. Here white is the colour of bewitchment and evil spells, not black. Yet the palpable aura of claustrophobic dread and menace urges the reader to conclude that the author casts the most powerful spell."
—The Toronto Star
 
"Oyeyemi's third mystical novel weaves a tale of four generations of women and the house in Dover, England, they've inhabited-a vengeful, Gothic edifice that has always rejected strangers…. Oyeyemi's style is as enigmatic as her plot…. In all, a challenging read laced with thought-provoking story lines that end, like Miranda's fate, mysteriously."
—Booklist
 
"[A] remarkable, shape-shifting tale…. The narrative oscillates between the mundane and the supernatural, and it is this skilful blend of the fantastic and the everyday that makes it resonate so chillingly. While ghosts may skulk inside the house, the horrors lurking outside are equally alarming…. Yet, for all this trickery, Oyeyemi's writing is vividly emotional…. In the end, this isn't a fantasy about ghosts and witches. It is really about memory and belonging, love and loss."
—New Statesman
 
"Superbly atmospheric…. [a] mesmeric exploration of alienation and loss…. This eloquent narrative delivers grandly on the promise of Oyeyemi's startling debut…. Oyeyemi's languid cadences are more burnished, her sinuous ideas more firmly embedded in the fabric of this disturbing and intricate novel. The dark tones of Poe in her haunting have also the elasticity of Haruki Murakami's surreal mental landscapes. White is for Witching has the subtle occlusions of her previous two works with a tenacious undertow, drawing the reader into its deeper currents."
—The Independent
 
"Oyeyemi is a writer who moves easily between the literary, the demotic and the supernatural…. She is sharply amusing on the strangeness of the ordinary world…. Already her technical skill as a novelist is remarkable, her range of reference formidable and her use of language virtuosic."
—The Daily Telegraph
 
"A weirdly compelling mix of modern gothic, matriarchal magic and coming-of-age tale that weaves the supernatural and mother-daughter relations deep into its fabric."
—Financial Times
 
"To say that Helen Oyeyemi is one smart cookie is a bit like saying the Honey Monster is rather fond of Sugar Puffs. At an age when most teenagers are content to cultivate love bites and scribble initials on pencil cases she burst on to the literary scene with her dazzling debut novel The Icarus Girl. Jaws dropped once more…when the Nigerian-born wunderkind followed it up with the equally acclaimed The Opposite House. Now, at the age of just 24, the prolific and precocious Cambridge graduate has published a third work, [The Opposite House]…. There are spine-chilling moments in White Is For Witching…. There is no doubt that Oyeyemi is a formidable talent."
—The Scotsman
 
"Cleverly, Oyeyemi engineers the narrative so that the novel reflects not only a teenager's solipsism but also her furious energy and capacity to attract harm…. The language is rich; ideas proliferate; myth and story tangle together luxuriantly."
—The Times (UK)
 
Praise for Helen Oyeyemi's previous works:
 
"Helen Oyeyemi is a startling literary prodigy."
—The Washington Post Book World
 
"There's an intellectual sharpness about the author's writing which is a pleasure to read."
—Financial Times
 
"Oyeyemi displays the young writer's amazing sure-handedness that is far beyond her years."
—Seattle Post-Intelligencer
 
"Helen Oyeyemi leaves you obsessed with her characters and in awe of her talent."
—Glamour
 
Nan A. Talese, 9780385526050, 227pp.
Publication Date: June 23, 2009
About the Author
HELEN OYEYEMI is the author of "The Icarus Girl" and "The Opposite House," which "The Times "(London) named as one of best novels of the year and which was recently short-listed for the 2008 Hurston/Wright Legacy Award for fiction. She is currently at work on her fourth novel."
or
Not Currently Available for Direct Purchase