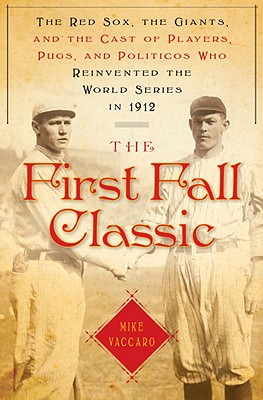 The First Fall Classic (Hardcover)
The Red Sox, the Giants and the Cast of Players, Pugs and Politicos Who Re-Invented the World Series in
Doubleday, 9780385526241, 304pp.
Publication Date: October 6, 2009
Other Editions of This Title:
Paperback (9/21/2010)
* Individual store prices may vary.
Description
Acclaimed author Mike Vaccaro presents a riveting, must-read account of what remains, nearly a century later, the greatest World Series ever played.

In October of 1912, seven years before gambling nearly destroyed the sport, the world of baseball got lucky. It would get two teams-the Boston Red Sox and the New York Giants, winners of a combined 208 games during the regular season-who may well have been the two finest ball clubs ever assembled to that point. Most importantly, during the course of eight games spanning nine days in that marvelous baseball autumn, they would elevate the World Series from a regional October novelty to a national obsession. The games would fight for space on the front pages of the nation's newspapers, battling both an assassin's bullet and the most sensational trial of the young century, with the Series often carrying the day and earning the "wood."

In The First Fall Classic, veteran sports journalist and author Mike Vaccaro brings to life a bygone era in cinematic and intimate detail-and gives fans a wonderful page-turner that re-creates the magic and suspense of the world's first great series.
About the Author
MIKE VACCARO is the lead sports columnist for the "New York Post" and the author of "1941: The Greatest Year in Sports" and "Emperors and Idiots." He has won more than fifty major journalism awards since 1989 and has been cited for distinguished writing by the Associated Press Sports Editors, the New York State Publishers Association, and the Poynter Institute. A graduate of St. Bonaventure University, he lives in New Jersey.
Praise For The First Fall Classic: The Red Sox, the Giants and the Cast of Players, Pugs and Politicos Who Re-Invented the World Series in …
"Mike Vaccaro does not exaggerate when he says that "the World Series was really born in 1912…[He has] written a smart, lively account of the series that goes beyond the games themselves—though his accounts of all of them are vivid—to show how what happened during that series reflected what was happening in the nation." –The Washingtom Post

"Whether the 1912 World Series was the best of all time is debatable, though, as Vaccaro writes, a case can surely be made that it is. But its importance and excitement cannot be denied. The personalities and style of the game may have changed, but few events can rivet the sporting world like a back-and-forth World Series." –MLB.com

"It's a gripping drama." – New York Post

"As Vaccaro noted…you couldn't make this stuff up if you tried. It was that kind of World Series, and its story is very well told." – The Boston Globe

"The Series could have taken place last fall, so glorious and fallible were the players, so modern and transcendent the game." – Booklist

"Vaccaro tells the reader every riveting detail leading up to the games: death threats, gangster pressure, parents and truant officers seeking young boys with baseball fever…Informative yet entertaining, Vaccaro's extraordinary baseball chronicle renders the early days of our national pastime in all its grit and glory." -- Publishers Weekly
or
Not Currently Available for Direct Purchase