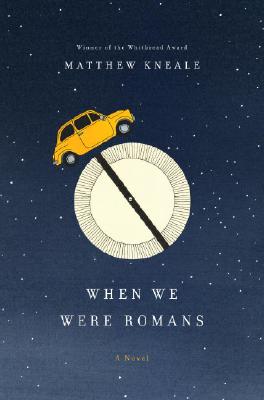 When We Were Romans (Hardcover)
Nan A. Talese, 9780385526258, 240pp.
Publication Date: July 22, 2008
* Individual store prices may vary.
Description
Nine-year-old Lawrence is the man in his family. He carefully watches over his willful little sister, Jemima, and his mother, Hannah. When Hannah becomes convinced that their estranged father is stalking them, the family flees London and heads for Rome, where Hannah lived happily as a young woman. For Lawrence, fascinated by stories of popes and emperors, Rome is an adventure. Though they are short of money, and move from home to home, staying with his mother's old friends, little by little their new life seems to be taking shape. But the trouble that brought them to Italy will not quite leave them in peace.

Narrated in Lawrence's perfectly rendered voice, When We Were Romans powerfully evokes the emotions and confusions of childhood—the triumphs, the jealousies, the fears, and the love. Even as everything he understands is turned upside down, Lawrence remains determined to keep his family together, viewing the world from a perspective that is at once endearingly innocent and preternaturally wise.
Praise For When We Were Romans…
Selected as one of the "Best Books of 2008" by The Washington Post Book World and The Boston Globe!

"Like Scout in To Kill a Mockingbird and Christopher in The Curious Incident of the Dog in the Night-time, young Lawrence brings readers into his world, powerfully connecting us to the drama of his childhood."
–Pat Conroy, author of The Prince of Tides and Beach Music

"I fell in love with Lawrence, an unusually touching and convincing child protagonist. Kneale's astonishingly observant, humane writing is heartbreaking."
–Charlotte Mendelson, author of When We Were Bad

"Think of the delicate balancing act involved in creating a child narrator–a 9-year-old, say, with a single mother and a baby sister. The boy has to be cute, of course, and also wise in unexpected ways, fragile, protective, funny, solemn and, well, childlike. Matthew Kneale achieves all that brilliantly in When We Were Romans, then gives it another turn of the screw.... [T]he scary truth…is that it's our valiant young narrator who needs protecting."
–The New York Observer

"How much Lawrence understands of his family's tribulations is the book's central, poignant mystery; the consummate artistry with which Kneale captures this child's voice, its chief pleasure."
–Entertainment Weekly

"The journey through Lawrence's complex mind is touching and delightful, mostly because he is such an unswerving authentic little boy…. His voice is a voice to remember."
–The Seattle Times

"If you enjoyed The Curious Incident of the Dog in the Night Time, definitely pick up When We Were Romans. It will make you thank God for children in a world made absurd by adults."
–St. Petersbusrg Times

"Irreverent and ingeious."
-The Boston Globe

"There have been plenty of coming-of-age stories that pit a child's innocence against the inexorable force of a parent's insanity, but perhaps none that has captured the tension, confusion and ultimate loss of that innocence any better than When We Were Romans."
–Bookpage

"Lawrence is a narrator extraordinaire."
–The Christian Science Monitor

"Matthew Kneale is an extraordinary British writer whose new novel is easy to admire because of its artistry…. The quality that sets Kneale apart is his talent for impersonation…. As Lawrence describes it, [his and his mum's] 'adventure' is an attempt to flee the vaguely articulated menace posed by Lawrence's estranged father…. Their enemies might be real or they might be imagined, but what's absolutely true for Lawrence is his unshakable belief in the conspiracy of his and his mother's love. 'Conspire' means 'to breathe together,' and so he does with Mum, and so we do with him."
-Washington Post Book World

"This is the novel that Patrick McCabe's over-praised the Butcher Boy ought to have been, redeemed by Kneale's sure-handed restraint. One of the best explorations of a child's mind and heart in recent fiction, and its talented author's best book yet."
–Kirkus Reviews (starred review)

"Kneale, who won the Whitbread for English Passengers, returns with a tale narrated by fiery, precocious, pitch-perfect Lawrence, who at nine years old struggles with being at once a normal kid and, with his parents' estrangement, the man of the house.... As small incongruities pile up between what Lawrence sees and how he interprets what happens to him, the family's hurtlings across Europe and the city take on a shattered poignancy."
–Publishers Weekly (starred review)

"[A] haunting story of a family in disintegration.... Kneale has created a marvelously engaging and believable voice for Lawrence, whose account is at once heartbreaking and humorous.... Idiosyncratic, original, and altogether memorable."
–Booklist (starred review)

"This narrative is heartbreakingly moving.... Full of restraint and artistic integrity, this is a poignant, haunting and lovely novel."
–The Guardian

"[Lawrence] is the literary first cousin of Roddy Doyle's Paddy Clarke.... The heartbreak and triumph of When We Were Romans is that little Lawrence is the real thing."
–Literary Review

"Matthew Kneale's lovely novel...is narrated by Lawrence with insight, humour and sweetly erratic spelling: it halts and splutters in rhythm with the children's whims and tantrums.... The author has got inside a young, over-burdened mind with convincing accuracy."
–Financial Times

"Kneale creates an extraordinary tension.... The combination of insight and innocence Kneale gives Lawrence is powerfully affecting."
–Sunday Times

"Kneale has succeeded.... Lawrence has real presence and his situation is entirely believable."
–Daily Telegraph

"A skilful, humorous and touching novel about the way a child interprets the world."
–Daily Mail

"The strength of Kneale's novel is not suspense but Lawrence's delicate sensibility.... Lawrence's touchingly ingenuous language, his tetchy irritation with his baby sister and his beleaguered optimism make him a genuinely affecting protagonist."
–Independent

"Substantial and engaging…With consummate subtlety and sympathy, Kneale finds metaphorical hinges between the family's unfolding story and Lawrence's two intellectual interests — Roman emperors and astronomy."
–The Times

"A consistently absorbing read, the work of a craftsman."
–Sunday Telegraph

"Laurence's skilful maneuvering in a tricksy adult world is artfully depicted. His guileless voice only exacerbates the sense of dread, while its deceptive simplicity hides a chilling exploration of mental illness and maternal neglect."
–New Statesman

"The compelling and disturbing portrayal of a child's attempt to make sense of his mother's mental illness."
–Daily Express
How does Lawrence see the difference between men's roles and women's roles? How does he cope with feeling like the man of the family (with tremendous responsibility) as well as his mother's very young son (with little control over his circumstances)?
How did your perception of Hannah change throughout the novel? Did you trust her husband?
Is the relationship between Lawrence and Jemima typical? Did it remind you of the way you and your siblings dealt with each other?
What do Cloudio, Beppo, the Vanhootens, and others in Italy seem to think of Hannah? What was Lawrence able to see that the adults could not?
What was the effect of Lawrence's reports on astronomy? How does he feel about the pending cataclysms of the universe?
What did Lawrence teach you about the Roman Empire? In what ways is his recounting of history refreshing? Were you as knowledgeable about science and history when you were his age?
How does Lawrence understand the lunacy of Nero, Caligula, and others? Does he recognize their narcissism and their sadism?
Do Jemima and Lawrence think of their trip as dangerous or amusing? Do they accept their mother's depiction of the trip as a grand adventure?
What does Hermann mean to Lawrence? Did you have a similar attachment to a pet when you were young? What do Lawrence's depictions of the other characters as animals indicate about his imaginative powers?
Compare Lawrence's voice to that of another child-narrated novel you admire. What makes his voice unique? What powerful qualities does a child's voice possess?
Discuss the scene of Hannah's return to Scotland. What do Lawrence's actions indicate about how loyal and impressionable children can be?
What did Rome represent to Hannah? How did the novel's varying settings create meaningful backdrops for the episodes in Lawrence's life?
What hallmarks of Matthew Kneale's storytelling style appear in When We Were Romans? In what ways does this novel expand on themes in his previous works?
or
Not Currently Available for Direct Purchase