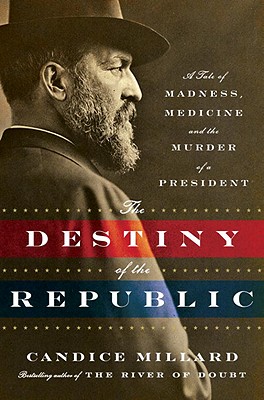 Destiny of the Republic
A Tale of Madness, Medicine and the Murder of a President
Hardcover

* Individual store prices may vary.
Other Editions of This Title:
Digital Audiobook (9/19/2011)
Paperback (6/12/2012)
Paperback, Large Print (10/2/2012)
CD-Audio (10/17/2017)
Hardcover, Large Print (3/7/2012)
CD-Audio (9/20/2011)
Description
James A. Garfield was one of the most extraordinary men ever elected president. Born into abject poverty, he rose to become a wunderkind scholar, a Civil War hero, and a renowned and admired reformist congressman. Nominated for president against his will, he engaged in a fierce battle with the corrupt political establishment. But four months after his inauguration, a deranged office seeker tracked Garfield down and shot him in the back.

But the shot didn't kill Garfield. The drama of what hap­pened subsequently is a powerful story of a nation in tur­moil. The unhinged assassin's half-delivered strike shattered the fragile national mood of a country so recently fractured by civil war, and left the wounded president as the object of a bitter behind-the-scenes struggle for power—over his administration, over the nation's future, and, hauntingly, over his medical care. A team of physicians administered shockingly archaic treatments, to disastrous effect. As his con­dition worsened, Garfield received help: Alexander Graham Bell, the inventor of the telephone, worked around the clock to invent a new device capable of finding the bullet.

Meticulously researched, epic in scope, and pulsating with an intimate human focus and high-velocity narrative drive, The Destiny of the Republic will stand alongside The Devil in the White City and The Professor and the Madman as a classic of narrative history.
Praise For Destiny of the Republic: A Tale of Madness, Medicine and the Murder of a President…
A New York Times Notable Book of 2011
Winner of the 2012 PEN award for Research Nonfiction

"A staggering tale....Millard digs deeply into the turmoil that got James A. Garfield elected, the lunacy that got him shot and the medical malfeasance that turned a minor wound into a mortal one."--Janet Maslin, Top 10 Recommendations for 2011


"One of the many pleasures of Candice Millard's new book, Destiny of the Republic, [is] that she brings poor Garfield to life—and a remarkable life it was…..Fascinating… Outstanding….Millard has written us a penetrating human tragedy."
--The New York Times Book Review

"A spirited tale that intertwines murder, politics and medical mystery, Candice Millard leaves us feeling that Garfield's assassination deprived the nation not only of a remarkably humble and intellectually gifted man but one who perhaps bore the seeds of greatness…. splendidly drawn portraits…. Alexander Graham Bell makes a bravura appearance"—The Wall Street Journal

"Fascinating......Gripping.....Stunning....has a much bigger scope than the events surrounding Garfield's slow, lingering death. It is the haunting tale of how a man who never meant to seek the presidency found himself swept into the White House. . . . Ms. Millard shows the Garfield legacy to be much more important than most of her readers knew it to be."
--The New York Times

"Crisp, concise and revealing history….Millard has crafted a fresh narrative that plumbs some of the most dramatic days in U.S. presidential history"
--The Washington Post
 
"Destiny of the Republic displays Millard's energetic writing and rare ability to effortlessly educate the listener."--USA Today


"Brings the era and people involved to vivid life….. Millard takes the reader on a compelling fly on-the-wall journey with these two men until that fateful day in a train station when Guiteau shot Garfield….. Millard takes all of these elements in a forgotten period of history and turns them into living and breathing things. The writing immerses readers into the period, making them feel as though they are living at that time. Comparisons to Erik Larson's "The Devil in the White City: Murder, Magic, and Madness at the Fair That Changed America" are justified, but "Destiny of the Republic" is better."
--Associated Press

"Think you're not interested in James Garfield, our 20th President? Millard's action-packed account of his life and truly strange death should change your mind."
--People Magazine

"Fascinating…. Millard builds a popular history that is both substantive and satisfying. Filled with memorable characters, hairpin twists of fate and consequences that bring a young nation to the breaking point, "Destiny of the Republic" brings back to roaring life a tragic but irresistible historical period….. Meticulous research…Intriguing"
--The Christian Science Monitor

"A winning amalgamation of history and adventure. They [Millard's books] exhibit a keen eye for human frailties."
--Washington Post 

"Fascinating....Millard colorfully recreates the political milieu of 1880....The story is a natural for narrative history. Millard has created a readable and colorful account."
--The Seattle Times

"Millard provides a splendidly written and suspenseful account of this fascinating episode in American history"--Portland Oregonian


"[Garfield's] murder serves as a lens through which to examine Garfield's life, Guiteau's peripatetic existence, the fortunes of the Republican Party, the political spoils system, the role of scientific invention, and the state of the American medical profession. By keeping a tight hold on her narrative strands, Millard crafts a popular history rich with detail and emotion. One of the pleasures of the book is the chance to learn more about Garfield, who appears as a fully realized historical figure instead of a trivia answer…..ability to bring to life the man at the center of her story, and his brief entry into the annals of presidential history."—Salon

"It takes a gifted writer to prompt a reader to spend a lot of time with a book in which James Garfield is the main character. Candice Millard has done that. In addition to providing insights about our 20th commander-in-chief, "Destiny of the Republic: A Tale of Madness, Medicine and the Murder of a President" is an engaging, elegantly written and insightful look at the political and scientific developments of late-19th century America….In the best tradition of the great writers of narrative nonfiction, Ms. Millard deftly blends the stories of Garfield and Bell and assassin Charles Guiteau and makes readers feel as if they were witnesses to the key events….. research and narrative prowess….twists and turns….This tale of physician error contextualized by politics and murder makes for riveting reading. Ms. Millard recounts this episode of our nation's history in a style that keeps readers on the edge of their seats even though the ending is known." --The Washington Times

"Splendid….recovers for us just what a remarkable -- even noble -- man Garfield was……She also chillingly depicts his killer….highly readable account offers much more than parallel biographies, however. She vividly captures an era of savage political infighting, lax security for public figures and appalling medical ignorance….This wonderful book reminds us that our 20th president was neither a minor nor merely a tragic figure, but rather an extraordinary one."—Cleveland Plain Dealer


"An achingly good, suspenseful read….compelling characters and nail-biting storytelling, and [readers] will no doubt walk away even more emotionally affected by Garfield's tragedy…..deftly skilled….One cannot help but hope that through Millard's book, the ultimately inspiring story of America's 20th president and the race to save his life will fill our minds and stay awhile."
--Kansas City Star

"Blends science, medicine, and politics in a crime story that grabs tight and it does not let go until the very last page.  This is historical reporting at its very best. Millard has done more, however, than just revisit a presidential shooting….. A remarkable book.  It is crisply written and riveting.  The murder of Garfield created a crucial turning point in our national history.  How this event galvanized our country and changed it forever is a must-read story that features a relentless narrative by a talented writer at the top of her game."
-- Tucson Citizen

"Millard chronicles all this with precision and skill. She creates a vivid portrait of the times, a vulnerable nation, political hardball, nightmarish decision-making and the eloquent Garfield, who's a footnote for generations of high school students. She covers topics as diverse as the fiefdom of New York senator and patronage dispenser Roscoe Conkling, and the mind of Alexander Graham Bell, working on an electrical device to find the bullet lodged in Garfield's back. Millard seamlessly unfolds multiple tales....Millard finds the ironies of history throughout this stirring narrative, one that's full of suspense even though you know what's coming. She makes you a witness, not a reader."
--Erie Times


"One was a distinguished winner, the other a disturbed loser. And when their paths intersected, the course of American history was changed. In "The Destiny of the Republic," Candice Millard tells their stories with depth and verve….. exhaustive research…. but the result of her scholarship is decidedly unstuffy. The power of her narrative drives the reader from page to page as the tragic tale unfolds, and the portraits of the main players are created with a love for the relevant detail. "The Destiny of the Republic" is popular history at its best — accessible, educational and entertaining — and Millard renders it with grace, power and sympathy."—Richmond Times Dispatch


"[Millard demonstrates] the power of expert storytelling to wonderfully animate even the simplest facts....make[s] for compulsive reading. Superb American history"
--Kirkus, starred review

"Splendidly insightful....stands securely at the crossroads of popular and professional history"
--Booklist, starred review

"Sparklingly alive…[Millard] brings to life a moment in the nation's history when access to the president was easy, politics bitter, and medical knowledge slight.  Under Millard's pen, it's hard to imagine its being better told."
--Publishers Weekly

Praise for DESTINY OF THE REPUBLIC
"Historian Candice Millard's Destiny of the Republic is first-rate history, political intrigue, and a true-crime story all rolled into one. Millard is masterful at capturing the zeitgeist of America during the 1880s, when President James Garfield was assassinated. An epic must-read!"
—Douglas Brinkley, author of The Wilderness Warrior

"In this brilliant and riveting work, Candice Millard demonstrates the power of narrative nonfiction. Through exhaustive research and flawless storytelling, she has brought to life one of the most harrowing and fascinating sagas in American history—a saga filled with political intrigue, a mad assassin, and a frantic scientific struggle to save the life of a noble president. This is a book that is impossible to put down."
—David Grann, author of The Lost City of Z

"Candice Millard has done it again: She's turned the sometimes stodgy realm of presidential history on its head with a gripping tale of high danger and stoic endurance, a tale that had nearly completely vanished from public memory. What an exceptional man and what an exciting era Millard has brought to elegant life on the page! After reading Destiny of the Republic, you'll never think of James A. Garfield as a 'minor' president again—and you'll despise anew our national penchant for hatching madmen who snuff out greatness in its prime."
—Hampton Sides, author of Hellhound on His Trail

"In President Garfield's assassination, Candice Millard has rediscovered one of the great forgotten stories in American history. Millard has turned Garfield's story into a crackling tale of suspense and a panoramic picture of a fascinating but forgotten era. If you enjoy reading about Abraham Lincoln and John F. Kennedy, you will find this book riveting."
—Debby Applegate, winner of the Pulitzer Prize for The Most Famous Man in America

"As she did in The River of Doubt, Candice Millard has written another riveting narrative, this time about a long-neglected but remarkable president, James A. Garfield, who was shot by a deranged office seeker just a few weeks after he assumed the presidency. What happens next is detailed in the accomplished book. Just as Millard put us deep in the Amazon with Teddy Roosevelt, she has skillfully allowed us to share this traumatic moment."
—Ken Burns

Doubleday, 9780385526265, 352pp.
Publication Date: September 20, 2011
About the Author
CANDICE MILLARD is the New York Times bestselling author of The River of Doubt. She lives in Kansas City with her husband and children.
or
Not Currently Available for Direct Purchase