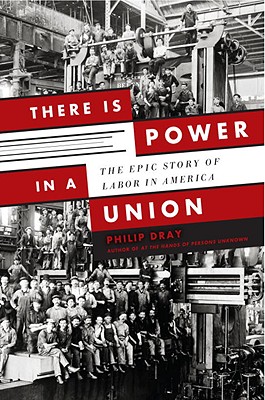 There is Power in a Union (Hardcover)
The Epic Story of Labor in America
Doubleday, 9780385526296, 784pp.
Publication Date: September 7, 2010
* Individual store prices may vary.
Description
From an award-winning historian, a stirring (and timely) narrative history of American labor from the dawn of the industrial age to the present day.

From the textile mills of Lowell, Massachusetts, the first real factories in America, to the triumph of unions in the twentieth century and their waning influence today, the con­test between labor and capital for their share of American bounty has shaped our national experience. Philip Dray's ambition is to show us the vital accomplishments of organized labor in that time and illuminate its central role in our social, political, economic, and cultural evolution. There Is Power in a Union is an epic, character-driven narrative that locates this struggle for security and dignity in all its various settings: on picket lines and in union halls, jails, assembly lines, corporate boardrooms, the courts, the halls of Congress, and the White House. The author demonstrates, viscerally and dramatically, the urgency of the fight for fairness and economic democracy—a struggle that remains especially urgent today, when ordinary Americans are so anxious and beset by eco­nomic woes.
About the Author
PHILIP DRAY is the author of "At the Hands of Persons Unknown: The Lynching of Black America," which won the Robert F. Kennedy Book Award and made him a Pulitzer Prize finalist, and "Stealing God's Thunder: Benjamin Franklin's Lightning Rod and the Invention of America," and the coauthor of the "New York Times "Notable Book "We Are Not Afraid: The Story of Goodman, Schwerner, and Chaney, and the Civil Rights Campaign for Mississippi. "He lives in Brooklyn.
Praise For There is Power in a Union: The Epic Story of Labor in America…
PRAISE FOR THERE IS POWER IN A UNION


Kirkus Reviews (starred):

Exemplary history of the American labor movement, from its time-shrouded beginnings to its murky present.
Working in the tradition of Eric Foner and Studs Terkel, Dray (Capitol Men: The Epic Story of Reconstruction Through the Lives of the First Black Congressmen, 2008, etc.) tells a story of heroes and villains. At the dawn of the republic, he writes, came the "country's fervent hope that its democratic virtues would forge sufficient regard between labor and capital." Alas, it would not be so, and the author locates the origins of a homegrown labor movement in that early avatar of the Industrial Revolution, the mill town of Lowell, Mass.—a movement that was launched by "an unassuming young woman off the farm" who would not take being oppressed by the bosses. As the narrative progresses, a few trends become apparent: the continued recalcitrance of capital when it came to sharing wealth and the increased militancy of labor, especially when its ranks were swelled by immigrants who had been oppressed enough in their home countries. During the nation's centennial year, there were massive strikes and demonstrations. One sterling example was a "standoff" in Susquehanna, Pa., over fair pay, which showed to the workers how powerful they were in their ability to halt commerce over vast distances—and showed to the bosses how "clearing railroad tracks of belligerent people required soldiers with guns." Dray revisits some of the usual stations on labor's way, from Lowell to Ludlow, from Haymarket Square to the ill-fated 1981 PATCO strike, but he also capably introduces lesser-known incidents and characters into the picture, as well as unexpected foes of organized labor, such as Bobby Kennedy.

In the end, Dray's account is evenhanded—not all bosses are bad, not all activists good—but it is clear where his sympathies lie, especially in his prescriptions for a renewed international labor movement for the future.




ADVANCE PRAISE FOR THERE IS POWER IN A UNION

"Philip Dray's big and bold history of organized labor in America splendidly retells a story – or a multitude of stories – badly in need of retelling. The labor movement's decline in recent decades has accompanied a great national amnesia about all that the movement achieved for the nation. That amnesia threatens those achievements, so Dray's book is timely as well as gripping."
—Sean Wilentz, Sidney and Ruth Lapidus Professor of History at Princeton University and author of Chants Democratic: New York City and the Rise of the American Working Class and the forthcoming Bob Dylan in America.

"The unending struggle between unions and big business has never been more vividly told. Philip Dray is a marvelous story teller who brings history memorably alive, and you will not soon forget the tales of murder and greed, commitment and sacrifice, that fill these pages. But this is more than history; the compelling saga of labor as a crucible for social change should prompt some honest and hard debate about what's happening to working men and women today."
—Bill Moyers

"Any union leader working to define and strengthen the role of organized labor in the 21st century must read There Is Power in a Union, a comprehensive and fascinating history of the American labor movement."
—Michael Winship, President, Writers Guild of America, East (AFL-CIO)

"The American labor movement has been losing ground for three decades but its history is heroic and inspiring - full of scenes of dramatic, often bloody conflict. It would be hard to imagine a better account of those episodes of collective effort, personal courage, and fierce resistance than this engrossing narrative."
—Morris Dickstein, author of Dancing in the Dark: A Cultural History of the Great Depression (updated version)

"From the Lowell Mills of antebellum America to the global assembly lines of our own day, Philip Dray offers a panoramic narrative of the work and struggle, the triumph and tragedy, that has been the fate of trade unionism in the United States. His lively and insightful history belongs on the shelf and in the hands of all those who want to organize ourselves out of the social and economic predicament in which the nation now finds itself."
—Nelson Lichtenstein, Professor of History and Director of the Center for the Study of Work, Labor, and Democracy at the University of California, Santa Barbara
Coverage from NPR
or
Not Currently Available for Direct Purchase