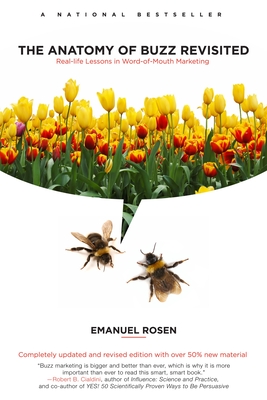 The Anatomy of Buzz Revisited
Real-life Lessons in Word-of-Mouth Marketing
Paperback

* Individual store prices may vary.
Description
A new edition of the definitive handbook on word-of-mouth marketing, completely revised and updated for today's online world

With two-thirds new material and scores of current examples from today's most successful companies, The Anatomy of Buzz Revisited takes readers inside the world of word-of-mouth marketing and explains how and why it works.

Based on over one hundred new interviews with thought leaders, marketing executives, researchers, and consumers, The Anatomy of Buzz Revisited shows how to:

* Generate genuine buzz both online and off.

* Encourage people to talk about your products and services—and help spread the word among their friends, colleagues, and communities.

* Adapt traditional word-of-mouth strategies in today's era of Facebook, YouTube, and consumer-generated media.

Smart, surprising, and filled with cutting-edge strategies and insights, The Anatomy of Buzz Revisited is essential for anyone who wants to get attention for a product, message, or idea in today's message-cluttered world.
Praise For The Anatomy of Buzz Revisited: Real-life Lessons in Word-of-Mouth Marketing…
Praise for ANATOMY OF BUZZ, REVISITED

"This is a must-read for marketers and an engaging book for anyone interested in social, digital or online media, or in social phenomena in general. [...] Importantly, while acknowledging the power of the Internet, Rosen refuses to fall into the trap of focusing only on online buzz. Recent research indicates that the vast majority of word of mouth is offline."
Andrea Wojnicki, Financial Post


"A recent survey of Ad Age readers' favorite media and marketing books credits the timelessness of a true marketing lesson: Six of the top 10 titles were published more than a decade ago. Ranking high on the list is Emanuel Rosen's "Anatomy of Buzz," a much-praised guide to word-of-mouth marketing that rode the bestseller lists in 2001 alongside "The Tipping Point" but predates the connectivity age of Facebook and Twitter -- a critical component of buzz-building today. Where most biz books would face becoming irrelevant, Rosen's chosen to rework his text to reflect today's social-media graph."
David Berkowitz, Advertising Age

"The only thing that could dislodge Emanuel Rosen's Anatomy of Buzz from its place of honor on my bookshelf is an expanded edition of the Anatomy of Buzz. Rosen is the most insightful person I know on what makes buzz happen."- Chip Heath, Author of Made to Stick: Why Some Ideas Survive and Others Die

"Emanuel Rosen is to buzz marketing what Peter Drucker is to effective management. This book is the foundation upon which most buzz marketing knowledge is based." -Guy Kawasaki, Co-founder of Alltop.com

"Buzz marketing is bigger and better than ever, which is why it is more important than ever to read this smart, smart book."-Robert B. Cialdini, author of Influence: Science and Practice

"Rosen's new edition with 12 new chapters (out of 24) makes it the best contemporary guide to understanding and using Buzz." -Philip Kotler, S.C. Johnson & Son Professor of International Marketing,
Kellogg School of Management, Northwestern University

"This is one book worth talking about. Emanuel Rosen is one of the pioneers in the word-of-mouth marketing space. From the launch of the original Xbox to the recent release of blockbuster video games like Halo 3, you can see Rosen's influence in our customer interactions, especially with the active online community. In The Anatomy of Buzz Revisited, Rosen sticks to the core principles of his first book while substantially updating them to reflect the changes that have taken place online. The book's concrete examples will offer solid ideas to any marketer." -John Porcaro, Director, Customer and Community Relationship Marketing
Microsoft Interactive Entertainment Business

"Way beyond a revision, the book provides fresh insights and vivid case studies into how buzz is created and harnessed to propel business strategies."
-David Aaker, Vice-Chairman, Prophet, Author Spanning Silos

"I'm sorry to say I can't recommend The Anatomy of Buzz as my top pick anymore. There's something better out there and it's called The Anatomy of Buzz Revisited . Like its predecessor, it's accessible, compelling and is based on solid principles of how word of mouth works, but this book has been completely revamped to include fresh material, new topics and the latest research." - Walter J. Carl, Ph.D., Northeastern University; Founder, ChatThreads

"Before buzz had any buzz, Emanuel was onto it as the next big thing. The Anatomy of Buzz was a foundational book for our space, and now he does a perfect job building on all of those original concepts to present a state-of-the-art look at one of the most important societal factors of our time."-Jonathan Carson, President — International, Nielsen Online, Co-Founder, Nielsen BuzzMetrics


"The definitive handbook on word of mouth marketing, updated"-Paul Marsden PhD — Author, Connected Marketing, Managing Director — Clickadvisor

"When it was published, The Anatomy of Buzz was extremely advanced in analyzing how some surprising activities seemed to work better than marketing as we had previously understood it. Eight years later The Anatomy of Buzz Revisited takes some of the best examples from the original book and weaves them together in a broader and richer context. Buzz has pushed new boundaries and raised fresh ethical questions about deception. It is more important than before that we understand this powerful force and use it, as one of several core tools in our toolbox, to build brands responsibly." -Jim McDowell, Chief Motorer, MINI USA


"As a word-of-mouth junkie I read everything I can find on the topic and I can honestly say that this book is the most comprehensive. The stories are fun and fascinating, the research is complete and compelling, and the balance of theory and application gives people everything they need to ignite, encourage, and measure powerful word-of-mouth campaigns." -Greg Stielstra, author of PyroMarketing and Faith-Based Marketing.


"This book is a true classic--the first book you should read if you want to really understand viral, buzz, and word of mouth." - Andy Sernovitz, author, Word of Mouth Marketing: How Smart Companies get People Talking


"When I first read The Anatomy of Buzz, I found myself longing for more... and now I finally have it. In this long awaited update to his classic marketing text, Emanuel takes you deeper inside the idea of buzz and what makes a product or idea contagious."- Rohit Bhargava, SVP of Marketing at Ogilvy & Author of Personality Not Included.

"A true word-of-mouth marketer himself, Emanuel Rosen collaborated with his readers over the eight years since The Anatomy of Buzz. His revised effort drills deeply into both the HOW and WHY of word-of-mouth. As with the original book, Rosen once again authors the quintessential word-of-mouth text."- Stuart Sheldon, President, Escalate Marketing LLC-Atlanta Division. Former Director of Brand Activation at Coca-Cola North America

"Emanuel Rosen's update to the Anatomy of Buzz is truly a gem.  With an easy to read style and wonderful examples to make it come to life, Rosen tells us what need to know about why word of mouth is such a powerful force, and what savvy marketers can do to tap it."- Ed Keller, CEO, The Keller Fay Group and Author, The Influentials



Praise for the first edition:

"Readable, intelligent, grounded, and, most important, useful. Check it out." —Paco Underhill, author of Why We Buy

"Finally, here's a book that explains the phenomenon and shows how companies actually stimulate their customers to spread the word." --Geoffrey A. Moore, author of Crossing the Chasm

"A fascinating look at the nature of interpersonal networks and how they can be activated. I cannot remember being so influenced by a book in the past several years" --Professor Everett M. Rogers, Author, Diffusion of Innovations

"The greatest advertising medium of them all is the human voice. Emanuel Rosen's book is an exceptionally useful guide to using this often-overlooked method of reaching customers and prospects"-Al Ries, Chairman, Ries & Ries Coauthor, Positioning: The Battle For Your Mind
Currency, 9780385526326, 384pp.
Publication Date: February 24, 2009
About the Author
EMANUEL ROSEN was vice president of marketing for Niles Software, the maker of EndNote, for nine years. He lives in Menlo Park, California.
or
Not Currently Available for Direct Purchase