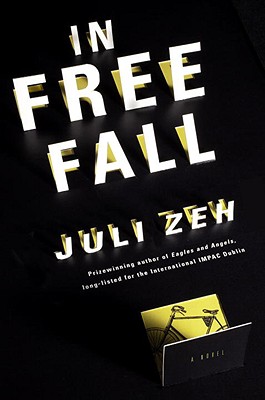 In Free Fall
Hardcover

* Individual store prices may vary.
Other Editions of This Title:
Digital Audiobook (4/12/2010)
Paperback (2/8/2011)
Description
The gripping international bestseller that fuses an ingenious detective tale with stunning, cinematic storytelling—and a provocative riff on quantum physics—from Germany's foremost young literary talent.

A child is kidnapped but does not know it. One man dies, two physicists fight, and a senior constable falls in love. In the end, everything is different . . . yet exactly the same." —Prologue

A rising star who has garnered some of Europe's most important literary prizes, Juli Zeh has established herself as the new master of the philosophical thriller. With In Free Fall, she now takes us on a fast-paced ride through deadly rivalry and love's infinite configurations.

Against the backdrop of Germany and Switzerland, two physicists begin a dangerous dance of distrust. Friends since their university days, when they were aspiring Nobel Prize candidates, they now interact in an atmosphere of tension, stoked by Oskar's belief that Sebastian fell into mediocrity by having a family. When Sebastian's son, Liam, is apparently kidnapped, their fragile friendship is further tested. Entrusted with uncovering the truth, Detective Superintendent Schilf discerns a web of blackmail, while at the same time the reality of his personal life falls into doubt. Unfolding in a series of razor-sharp scenes, In Free Fall is a riveting novel of ideas from a major new literary voice. With the recent success of works in translation, such as Stieg Larsson's The Girl with the Dragon Tattoo and The Girl Who Played with Fire, Zeh is poised to take off.
Praise For In Free Fall…
"[A] masterfully constructed story of an intense friendship between two physicists, a marriage, a kidnapping, and a murder, In Free Fall plunges the reader into a hyperreality that is as seductive as it is disturbing."
—Boston Globe

"An elegant quasi-thriller about physics, murder, and the solving of murders . . . This is one of the best books of the year. Zeh has enough control to keep the murder from being lurid and the physics from being dull. Her prose is sharp and often witty, and the excellent translation means every moment shines brightly."
—New York Observer

"Engrossing . . . vivid characters combine with a devastating 11th-hour reveal to make a memorable intellectual thirller."
—Publishers Weekly

"A highly cinematic thriller . . . Zeh's smart novel will appeal to a wide range of readers."
—Library Journal

"Add a hospital scandal and two of the quirkiest detectives in fiction, mix with Juli Zeh's thrumming, moody prose, and you have one of the finest crime novels you'll read."
—Herald Sun

Praise from Germany:

"It is such a delight to watch Juli Zeh play her entire repertoire of literary skill . . . challenging the conventions of the classical detective story with subtle irony."
—Die Zeit

"Juli Zeh uses the structure of the detective novel like a composer uses his music book. And into this book she writes, with remarkable consistency, her musical score . . . Here's a piece of literature that takes the liberty to develop its very own rules, and to impose them upon an obsolete form, coming indeed very close to a musical work in its tenor and thematic variation . . . One might think that such perfection, such erudition must leave the reader untouched, bored even . . . but it does not. For that, Zeh's labyrinth is built too cleverly; its corridors are adorned with witty elements; her sentences are of extraordinary brilliance."
—Die Welt

"A novel from Juli Zeh's pen is always an adventure, because each of them opens up an entirely new world . . . This is Juli Zeh's unique talent: Her sharp intellect absorbs the most complex issues, including elementary particles; to then put them into words with such playful precision it makes you swoon . . . In Free Fall takes the bird's-eye view, unorthodox, nerve-racking, simply unforgettable—like Hitchcock's masterpiece."
—Brigitte

"In Free Fall is the virtuosic presentation of an amazing narration. Juli Zeh steers through with confidence and ease."
—Welt am Sonntag
Nan A. Talese, 9780385526425, 336pp.
Publication Date: April 13, 2010
About the Author
JULI ZEH's debut novel, "Eagles and Angels," won numerous prizes, including the German Book Prize. She has worked at the United Nations in New York and Krakow, and currently lives in Brandenburg. "In Free Fall" is her second book.
or
Not Currently Available for Direct Purchase