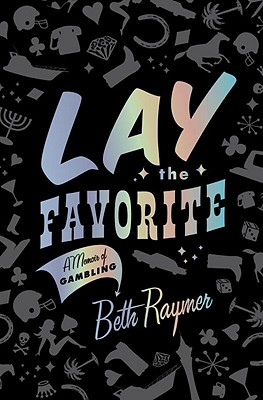 Lay the Favorite
A Memoir of Gambling
Hardcover

* Individual store prices may vary.
Other Editions of This Title:
Digital Audiobook (6/21/2010)
Paperback (11/20/2012)
Paperback (6/1/2011)
Description
An eye-popping and hilarious joyride through the underworld of sports betting
 
Beth Raymer arrived in Las Vegas in 2001, hoping to land a job as a cocktail waitress at one of the big casinos. In the meantime, she lived in a $17-a-night motel with her dog, Otis, and waited tables at a low-rent Thai restaurant. One day, one of her regular customers told her about a job she thought Beth would be perfect for and sent her to see Dink, of Dink Inc. Dink was a professional sports gambler—one of the biggest in Vegas. He was looking for a right-hand man—someone who would show up on time, who had a head for numbers, and who didn't steal. She got the job.

Lay the Favorite is the story of Beth Raymer's years in the high-stakes, high-anxiety world of sports betting—a period that saw the fall of the local bookie and the rise of the freewheeling, unregulated offshore sports book, and with it the elevation of sports betting in popular culture. As the business explodes, Beth rises—from assistant to expert, trusted and seasoned enough to open an offshore booking office in the Caribbean with a few associates, men who leave their families up north to make a quick killing, while donning new tropical personas fueled by abundant drugs and local girlfriends, and who one by one succumb to their vices. They lie, cheat, steal, and run, until Beth is the last man standing.

Beth Raymer is a natural storyteller: funny, charming, and fully awake to the ironies around her. But she is also a keen and compassionate observer of the adrenaline-addicted, rougish types who become her mentors, her enemies, her family. Raymer brings to life a world that teems with pathos and ecstasy in this wild picaresque that also tells the story of a young woman's crazy, sexy, most unlikely coming-of-age.
Praise For Lay the Favorite: A Memoir of Gambling…
"Betting on the come in her wickedly funny debut, Beth Raymer's prose is like a virgin in a sandy bikini festooned with C-notes. From Vegas to Rio, from the boxing ring to the stripper's pole, she rubs shoulders and other things with the sickest crew of action junkies since Roulettenburg. Her ear for sports bettors' patois, for the ins and outs of pleasure, self-pleasure, and getting the best of it, makes Lay the Favorite a kaleidoscope of high-test debauchery." –James McManus, author of Positively Fifth Street
 
"Strange as hell, wildly affectionate and very, very funny.  It is a world filled with scoundrels, thieves, and gamblers.  It is a world we all recognize, where everyone is looking to somehow come out on top while doing what they love.  The book is wise and has a relish for life that is a treat." –Stephen Frears
 
"Beth Raymer possesses one of the most original voices I've encountered in years of teaching, reading, and reviewing young writers. And she puts that voice to ideal use in depicting the demimonde of sports gambling, the place where she finds an unlikely but uncanny surrogate family. Lay the Favorite is a coming-of-age saga like no other you're ever likely to read." –Samuel G. Freedman, author of Letters to a Young Journalist

Lay the Favorite reads more like a novel than a memoir. The rich characters are drawn in depth, yet simply and honestly."—Wall Street Journal
 
"[A] very funny and smart book."—Robert Siegel, NPR/All Things Considered
 
"Seduced by her stories, we long for this strange, sleazy and alluring landscape, even as the stakes get higher and Raymer's search for 'the best of it' turns into a worst-case scenario. With a film adaptation in the works, it's a safe bet that Raymer's memoir will find a wide audience. In fact, her engaging voice makes her a shoe-in for a sequel. I'm setting the odds at 3 to 1."—Los Angeles Times
 
"Raymer's crackling, hilarious memoir ricochets through the gambling underwold in Las Vegas, and is peopled with all manner of lovable wack-jobs, none of whom is quite as wacky—or lovable—as Raymer herself."—Marie Claire
 
"Candid, smart, funny, wild and crazy."—Elle, Top 10 Summer Books for 2010
 
"It's hard not to like the breezy, ingenuous voice of this plucky protagonist who proves she's game for any kind of new experience."—Publishers Weekly

Spiegel & Grau, 9780385526456, 240pp.
Publication Date: June 22, 2010
About the Author
Beth Raymer has an MFA from Columbia University. In 2007 she was awarded a Fulbright scholarship. She lives in New York City.
Coverage from NPR
or
Not Currently Available for Direct Purchase