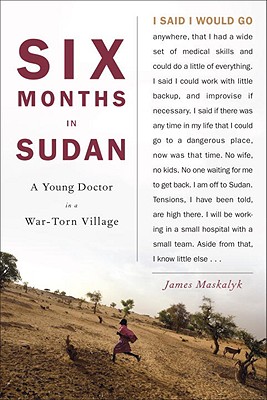 Six Months in Sudan
A Young Doctor in a War-Torn Village
Hardcover

* Individual store prices may vary.
Description
An inspiring story of one doctor's struggle in a war-torn village in the heart of Sudan

In 2007, James Maskalyk, newly recruited by Doctors Without Borders, set out for the contested border town of Abyei, Sudan. An emergency physician drawn to the ravaged parts of the world, Maskalyk spent six months treating malnourished children, coping with a measles epidemic, watching for war, and struggling to meet overwhelming needs with few resources.

Six Months in Sudan began as a blog that Maskalyk wrote from his hut in Sudan in an attempt to bring his family and friends closer to his experiences on the medical front line of one of the poorest and most fragile places on earth. It is the story of the doctors, nurses, and countless volunteers who leave their homes behind to ease the suffering of others, and it is the story of the people of Abyei, who endure its hardship because it is the only home they have.

A memoir of volunteerism that recalls Three Cups of Tea, Six Months in Sudan is written with humanity, conviction, great hope, and piercing insight. It introduces us to a world beyond our own imagining and demonstrates how we all can make a difference.
Praise For Six Months in Sudan: A Young Doctor in a War-Torn Village…
"This is an extraordinary book, a piercingly authentic account of the fear, confusion, and hope of a young doctor newly deployed to a humanitarian crisis wrapped around by a war. James Maskalyk's commitment to survival – his own as well as his patients' - illuminates this account of doctoring in the sort of desperate place where it couldn't matter more." —Jonathan Kaplan, author of The Dressing Station"Maskalyk's soft prose is beautiful and invites with the right intimate details. He offers a rare window on the inner life of an aid worker, on what it means to be a humanitarian around the hard edges of war, and on the certain drive to go on. Why? Because in his words, `hope not only meets despair in equal measure, it drowns it.'"—James Orbinski, author of An Imperfect Offering: Humanitarian Action in the Twenty-First Century"This journey is beautifully told in sharp beats, and lyrical notes. It is the voyage of a young doctor out into a hard world, and deep within his own heart."—Vincent Lam, author of Bloodletting and Miraculous Cures"Six Months is Sudan is a wrenchingly heartbreaking account of distant agonies almost too pointed to grasp. Learning about Maskalyk's work there is stirring, but the real miracle is this book paints a picture so precisely and vividly that it becomes impossible to look away. This is Maskalyk's accomplishment, and his gift to the Sudanese and to us. The shame of our indifference retreats before his exhortation: 'learn, and understand,' and perhaps a more bearable future becomes possible for all of us."—Kevin Patterson, author of Consumption
Spiegel & Grau, 9780385526517, 336pp.
Publication Date: May 26, 2009
About the Author
Dr. James Maskalyk is an assistant professor in the University of Toronto's Faculty of Medicine and a founding editor of the medical journal "Open Medicine." He lives in Toronto.
or
Not Currently Available for Direct Purchase