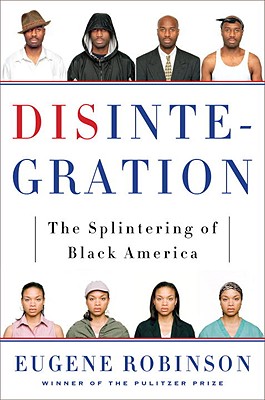 Disintegration (Hardcover)
The Splintering of Black America
Doubleday Books, 9780385526548, 272pp.
Publication Date: October 5, 2010
Other Editions of This Title:
Digital Audiobook (11/16/2010)
MP3 CD (11/17/2010)
Paperback (10/4/2011)
Compact Disc (11/17/2010)
Compact Disc (11/17/2010)
* Individual store prices may vary.
Description
Instead of one black America, today there are four.

There was a time when there were agreed-upon 'black leaders, ' when there was a clear 'black agenda, ' when we could talk confidently about 'the state of black America' but not anymore. from Disintegration

The African American population in the United States has always been seen as a single entity: a Black America with unified interests and needs. In his groundbreaking book, Disintegration, Pulitzer-Prize winning columnist Eugene Robinson argues that over decades of desegregation, affirmative action, and immigration, the concept of Black America has shattered. Instead of one black America, now there are four:
a Mainstream middle-class majority with a full ownership stake in American society;
a large, Abandoned minority with less hope of escaping poverty and dysfunction than at any time since Reconstruction's crushing end;
a small Transcendent elite with such enormous wealth, power, and influence that even white folks have to genuflect;
and two newly Emergent groups individuals of mixed-race heritage and communities of recent black immigrants that make us wonder what black is even supposed to mean.
Robinson shows that the four black Americas are increasingly distinct, separated by demography, geography, and psychology. They have different profiles, different mindsets, different hopes, fears, and dreams. What's more, these groups have become so distinct that they view each other with mistrust and apprehension. And yet all are reluctant to acknowledge division.

Disintegration offers a new paradigm for understanding race in America, with implications both hopeful and dispiriting. It shines necessary light on debates about affirmative action, racial identity, and the ultimate question of whether the black community will endure.
About the Author
EUGENE ROBINSON joined the Washington Post in 1980, where he has served as London bureau chief, foreign editor, and, currently, associate editor and columnist. He was a Nieman Fellow at Harvard, and in 2009, Robinson was awarded the Pulitzer Prize for distinguished commentary. Disintegration is his third book.
Praise For Disintegration: The Splintering of Black America…
PRAISE FOR DISINTEGRATION:

"In Disintegration, Eugene Robinson neatly explodes decades' worth of lazy generalizations about race in America. At the same time, he raises new questions about community, invisibility, and the virtues and drawbacks of assimilation. An important book."
—Gwen Ifill

"Gene Robinson's Disintegration is the first popular salvo in the Age of Obama regarding the delicate issues of class division, generation gap, and elite obsession in Black America. This painful conversation must continue--and we have Gene Robinson as a useful guide."

—Cornel West



PRAISE FOR COAL TO CREAM:

"A sorely needed new kind of book about race in America, one that does not simplify the intractable problem but doesn't traffic in easy doom either. . . . It is a breath of fresh air."

—Anthony Walton, The New York Times Book Review

or
Not Currently Available for Direct Purchase