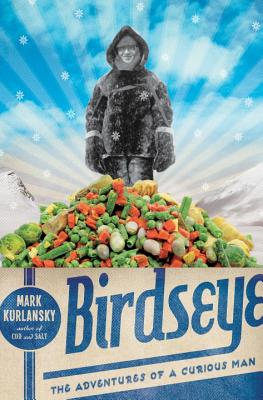 Birdseye (Hardcover)
The Adventures of a Curious Man
Doubleday Books, 9780385527057, 251pp.
Publication Date: May 8, 2012
Other Editions of This Title:
Digital Audiobook (5/7/2012)
Paperback (2/12/2013)
Hardcover, Large Print (9/26/2012)
* Individual store prices may vary.
Description
Break out the TV dinners! From the author who gave us Cod, Salt, and other informative bestsellers, the first biography of Clarence Birdseye, the eccentric genius inventor whose fast-freezing process revolutionized the food industry and American agriculture.
About the Author
MARK KURLANSKY is the "New York Times" bestselling author of many books, including "The Food of a Younger Land," "Cod: A Biography of the Fish That Changed the World," "Salt: A World History," "1968: The Year That Rocked the World," and "The Big Oyster: History on the Half Shell." He lives in New York City.
Praise For Birdseye: The Adventures of a Curious Man…
Praise for Birdseye:


"In the shadow of America's great inventors—Edison, Ford and Bell, to name a few—stands an unheralded giant: Clarence Birdseye, the father of the modern "fresh frozen" pea. Wander any supermarket and you'll find Birdseye's legacy.... [Kurlansky's] book is a delight—and a quiz bowl team's treasure-trove. Fabulous factoids abound."—Abigail Meisel, New York Times Book Review


"The first book-length biography of Clarence Birdseye…. [An] intriguing book that…coaxes readers to re-examine everyday miracles like frozen food, and to imagine where places with no indigenous produce would be without them."—Janet Maslin, New York Times 


"There's a particular pleasure in being reminded that the most ordinary things can still be full of magic. Frogs may turn into princes. Lumps of dirt can hide sparkling gems. And having just read Mark Kurlansky's new biography of Clarence Birdseye, I now see the humble fish fillet in a whole new light. For as Kurlansky tells it, when Clarence Birdseye figured out how to pack and freeze haddock...he essentially changed the way we produce, preserve and distribute food forever."—NPR's The Salt


"Piecing together the first book-length biography of Birdseye was not easy. It's not just the episodic quality of Birdseye's life but the sparse and spotty nature of the surviving information about him. And there are many myths that surround his life, some perpetuated by the man himself.... [Yet] Kurlansky has pieced together a lively and readable biography about one of America's most unusual innovators."—Andrew F. Smith, Newsday


"Best known for his deliciously knowledgeable food histories (Cod, Salt, The Big Oyster), Kurlansky['s]...wide-ranging curiosity matches his subject's, and his narrative of Birdseye's life displays great feeling for a fellow adventurer.... [R]eaders will emerge from this breezy book with a fondness for its engagingly eccentric protagonist—and a much better understanding of the intricate interconnection of traditional practices, technical breakthroughs, business deals, and social change that put those frozen peas in our refrigerators."—Wendy Smith, Daily Beast


"Kurlansky brings Birdseye to life.... Covering the science behind Birdseye's... inventions along with intimate details of his family life, [he] skillfully weaves a fluid narrative of facts on products, packaging, and marketing into this rags-to-riches portrait of the man whose ingenuity brought revolutionary changes to 20th-century life."—Publishers Weekly (starred)


"Yes, the frozen-food guy really was named Clarence Birdseye (1886–1956), and the story of his adventures is another satisfying dish from the remarkable menu of the author of Cod (1997), Salt (2002) and other treats.

Kurlansky...places Birdseye in the same category as Thomas Edison: amateurs who got curious about a problem, played around with it (sometimes for years) and eventually figured it out. Birdseye had many more interests than frozen foods, writes the author; he invented, among other things, a kind of light bulb and even a whaling harpoon. He also grew up in a world that seemed to have limitless resources—no worries about plundering the planet. He killed creatures with abandon for decades, many of which he enjoyed eating, including field mice, chipmunks and porcupine. His curiosity also made him fearless. He conducted field research on Rocky Mountain spotted fever (collecting thousands of ticks), and he lived in the frigid Labrador region of Canada (and took his equally fearless wife and their infant). It was in the North that he began to wonder why foods frozen there—naturally—tasted so much better than the frozen foods back home. He discovered, of course, that it was quick-freezing at very cold temperatures that did the trick. He eventually invented the process that produced vast amounts of good frozen food, but then had to wait for the supporting infrastructure (transportation, storage, etc.). Kurlansky tells the exciting tale of Birdseye's adventures, failures and successes (he became a multi-millionaire) and his family, and he also offers engaging snippets about Velveeta, dehydration and Grape-Nuts.

The author notes that Birdseye knew that curiosity is "one essential ingredient" in a fulfilling life; it is a quality that grateful readers also discover in each of Kurlansky's books."—Kirkus Reviews (starred)


"Kurlansky's narrative gifts shine through every chapter."—Booklist


Praise for Mark Kurlansky:

The Big Oyster: History on the Half Shell
"Part treatise, part miscellany, unfailingly entertaining."
—William Grimes, The New York Times

"Fascinating stuff . . . Kurlansky has a keen eye for odd facts and natural detail."
—The Wall Street Journal

1968: The Year That Rocked the World
"Splendid . . . Evocative . . . No one before Kurlansky has managed to evoke so rich a set of experiences in so many different places—and to keep the story humming."
—Michael Kazin, Chicago Tribune

"Highly readable . . . A rich perspective . . . Kurlansky is a writer of remarkable talents and interests."
—Walter Truett Anderson, San Francisco Chronicle

Salt
"Kurlansky finds the world in a grain of salt . . . Fascination and surprise regularly erupt from the detail."
—Edward Rothstein, The New York Times Book Review

"Kurlansky continues to prove himself remarkably adept at taking a most unlikely candidate and telling its tale with epic grandeur."
—Merle Rubin, Los Angeles Times

Cod: A Biography of the Fish That Changed the World
"Every once in a while a writer of particular skill takes a fresh, seemingly improbable idea and turns out a book of pure delight. Such is the case of Mark Kurlansky and the codfish."
—David McCullough

"An elegant brief history . . . Related with fast brio and wit."
—Anne Mendelson, Los Angeles Times
Coverage from NPR
or
Not Currently Available for Direct Purchase