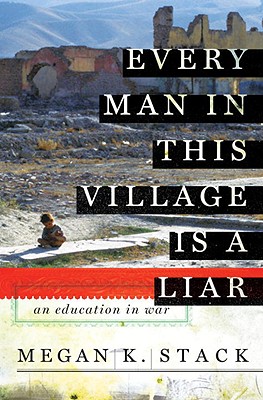 Every Man in This Village is a Liar (Hardcover)
An Education in War
Doubleday, 9780385527163, 272pp.
Publication Date: June 15, 2010
Other Editions of This Title:
Digital Audiobook (6/14/2010)
Paperback (6/14/2011)
Hardcover, Large Print, Large Print (9/1/2010)
Paperback (7/1/2011)
* Individual store prices may vary.
Description
A shattering account of war and disillusionment from a young woman reporter on the front lines of the war on terror.

A few weeks after the planes crashed into the World Trade Center on 9/11, journalist Megan K. Stack, a  twenty-five-year-old national correspondent for the Los Angeles Times, was thrust into Afghanistan and Pakistan, dodging gunmen and prodding warlords for information. From there, she traveled to war-ravaged Iraq and Lebanon and other countries scarred by violence, including Israel, Egypt, Libya, and Yemen, witnessing the changes that swept the Muslim world and laboring to tell its stories.

Every Man in This Village Is a Liar is Megan K. Stack's riveting account of what she saw in the combat zones and beyond. She relates her initial wild excitement and her slow disillusionment as the cost of violence outweighs the elusive promise of freedom and democracy. She reports from under bombardment in Lebanon; records the raw pain of suicide bombings in Israel and Iraq; and, one by one, marks the deaths and disappearances of those she interviews.

Beautiful, savage, and unsettling, Every Man in This Village Is a Liar is a memoir about the wars of the  twenty-first century that readers will long remember.
About the Author
MEGAN K. STACK has reported on war, terrorism, and political Islam from twenty-two countries since 2001. She was awarded the 2007 Overseas Press Club's Hal Boyle Award for best newspaper reporting from abroad and was a finalist for the 2007 Pulitzer Prize in international reporting. She is currently the "Los Angeles Times" Moscow bureau chief.
Praise For Every Man in This Village is a Liar: An Education in War…
Praise for Every Man in this Village is a Liar

"A bell-clear, powerful indictment of the debacle of recent Middle Eastern war policy…. A scathing look at the human costs of war."
    
     —Kirkus Reviews

"Stack takes readers deep into the carnage where she was exposed to the insanity, innocence, and inhumanity of wars with no beginning, middle, or end. Her soaring imagery sears itself into the brain, in acute and accurate tales that should never be forgotten by the wider world, and yet always are….. Anyone wishing to understand the Middle East need only look into the faces of war that Stack renders with exceptional humanity."

   —Booklist (starred review)


"[A] searing memoir….gripping accounts of the sorrows of war. [Stack's] vivid, atmospheric prose and keen empathy make her a superb observer of the region's horrific particulars." 

     —Publisher's Weekly

"A brilliant piece of writing that is lucid, compelling, and an education in war for the rest of us too."

    —The Bookseller (UK)

"Every Man in This Village is a Liar is a courageous report from the front lines of the hostilities between the West and the Muslim world. Journalist Megan Stack sheds the customary pretenses of her profession to show us—with blistering eloquence and her own raw nerves laid bare—war's impact on the non-combatants who bear the brunt of its horrors. You'll be thinking about this book long after you turn the final page."
   
      —Jon Krakauer, author of Where Men Win Glory
 
"Every Man in This Village is a Liar is an electrifying book by an extraordinary foreign correspondent. Megan Stack has braved the battlefields of Afghanistan and Iraq, decoded the secrets of Israel and Egypt. She shows us what war and terror have done to humanity in the 21st century. Read it if you have the courage to care about your country, its allies, and its enemies."

      —Tim Weiner, author of Legacy of Ashes

"'We were all stripped of technology,' Megan Stack writes, 'reduced to our ancient selves, to faces found and words spoken in person.' And that is the secret of this extraordinary book: Stack removes all the usual nonsense from war reporting. What you read here is the truth, gorgeously rendered in shimmering sentences, but unrelenting all the same. The honesty of her reporting, the clarity of her vision is breath-taking. It is a remarkable piece of work."
      
      —Joe Klein, author of Politics Lost and Primary Colors
 

Coverage from NPR
or
Not Currently Available for Direct Purchase