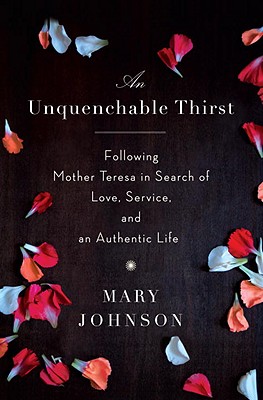 An Unquenchable Thirst (Hardcover)
A Memoir
Spiegel & Grau, 9780385527477, 560pp.
Publication Date: September 13, 2011
Other Editions of This Title:
Digital Audiobook (9/12/2011)
Paperback (2/26/2013)
Compact Disc (9/13/2011)
* Individual store prices may vary.
Description
NAMED ONE OF THE BEST BOOKS OF THE YEAR BY KIRKUS REVIEWS

An unforgettable spiritual autobiography about a search for meaning that begins alongside one of the great religious icons of our time and ends with a return to the secular world
 
At seventeen, Mary Johnson saw Mother Teresa's face on the cover of Time and experienced her calling. Eighteen months later, she entered a convent in the South Bronx to begin her religious training. Not without difficulty, this bright, independent-minded Texas teenager eventually adapted to the sisters' austere life of poverty and devotion, and in time became close to Mother Teresa herself.

Still, beneath the white and blue sari beat the heart of an ordinary young woman facing the struggles we all share—the desire for love and connection, meaning and identity. During her twenty years with the Missionaries of Charity, Sister Donata, as she was known, grappled with her faith, her sexuality, the politics of the order, and her complicated relationship with Mother Teresa. Eventually, she left the church to find her own path—one that led to love and herself.

Provocative, profound, and emotionally charged, An Unquenchable Thirst presents a rare, privileged view of  Mother Teresa. At the same time, it is a unique and magnificent memoir of self-discovery.
About the Author
For twenty years, as Sister Donata, Mary Johnson was a Missionary of Charity, a nun in Mother Teresa's order, until she left in 1997. A respected teacher and public speaker, she has been named a Fellow of the MacDowell Colony and is on the board of A Room of Her Own Foundation. She lives in New Hampshire.
Praise For An Unquenchable Thirst: A Memoir…
"A candid, generous, and profound spiritual memoir that deserves a great deal of thoughtful discussion."—Anne Rice
 
"A wonderful achievement . . . Johnson opens the window on a horizon of spiritual questions [and] takes an unflinching look inside her own heart."—The Christian Science Monitor
 
"An incredible coming-of-age story . . . [It] has everything a memoir needs: an inside look at a way of life that most of us will never see, a physical and emotional journey, and suspense."—Slate
 
"Reads like a novel . . . an exacting account of a woman growing into her own soul."—More magazine
 
"Engaging, heartfelt and entertaining . . . [Johnson] articulates her struggles with her God in words that will hit home."—Los Angeles Times
 
"An inspiration that transcends any particular religious belief . . . An Unquenchable Thirst is a journey that captivates, but its resonance lies in the life examined."—The Denver Post

"Readers . . . will find themselves transported into another world by this powerful, revealing memoir. An aspirant to the Missionaries of Charity at age nineteen, the author spent twenty years living a life both extraordinarily simple and heart-wrenchingly complex. Johnson skillfully demonstrates this juxtaposition through her writing—mundane events, such as gathering eggs or learning to play the piano, often have tragic or miraculous implications. . . . [Johnson's] memoir is exceptional."—Kirkus Reviews (starred review)
 
"Johnson brings readers close to her story, showing her triumphs and temptations, limning characters as compelling as those in any novel. . . . Her mesmerizing account of trying to orbit the sun that was Mother Teresa vividly captures a life in turmoil."—Booklist (starred review)
 
"Eloquent and moving . . . an extraordinary testament to the enduring power of love—beyond faith and dogma. It reminds us of why we are here: to love and live fully, to be curious about all things, and to live a compassionate—and passionate—authentic life."—Mira Bartók, author of The Memory Palace
 
"A heartfelt, personal story of the gradual awakening of a person who comes to see that preferring the human to the perfect does not alienate her from authentic spirituality but allows her to live more fully."—Kathleen Norris, author of The Cloister Walk
 
"Opening up the soul's deep core on the page is always an act of bravery. Mary Johnson is bravery writ large. She writes expertly about the myths and misperceptions of women's religious vocations and the sacred validity of human intimacy."—Breena Clarke, author of Stand the Storm
or
Not Currently Available for Direct Purchase