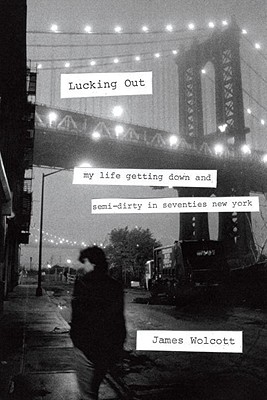 Lucking Out (Hardcover)
My Life Getting Down and Semi-Dirty in the Seventies
Doubleday, 9780385527781, 272pp.
Publication Date: October 25, 2011
Other Editions of This Title:
Paperback (10/2/2012)
* Individual store prices may vary.
Description
"How lucky I was, arriving in New York just as everything was about to go to hell."

That would be in the autumn of 1972, when a very young and green James Wolcott arrived from Maryland, full of literary dreams, equipped with a letter of introduction from Norman Mailer, and having no idea what was about to hit him. Landing at a time of accelerating municipal squalor and, paradoxically, gathering cultural energy in all spheres as "Downtown" became a category of art and life unto itself, he embarked upon his sentimental education, seventies New York style.

This portrait of a critic as a young man is also a rollicking, acutely observant portrait of a legendary time and place. Wolcott was taken up by fabled film critic Pauline Kael as one of her "Paulettes" and witnessed the immensely vital film culture of the period. He became an early observer-participant in the nascent punk scene at CBGB, mixing with Patti Smith, Lester Bangs, and Tom Verlaine. As a Village Voice writer he got an eyeful of the literary scene when such giants as Mailer, Gore Vidal, and George Plimpton strode the earth, and writing really mattered.

A beguiling mixture of Kafka Was the Rage and Please Kill Me, this memoir is a sharp-eyed rendering, at once intimate and shrewdly distanced, of a fabled milieu captured just before it slips into myth. Mixing grit and glitter in just the right propor­tions, suffused with affection for the talented and sometimes half-crazed denizens of the scene, it will make readers long for a time when you really could get mugged around here.
About the Author
JAMES WOLCOTT is the longtime culture critic for "Vanity Fair" and a blogger for the magazine. He is the author of a novel, "The Catsitters," and the non-fiction work "Attack Poodles and Other Media Mutants." He lives in New York.
Praise For Lucking Out: My Life Getting Down and Semi-Dirty in the Seventies…
Lucking Out is one of Slate's Best Books of 2011!

Praise for Lucking Out:


"Compared with James Wolcott, most literary journalists write like Amish farmers, their sentences plain as bib overalls.... [S]urrender to rush of this swooping carnival ride of a book [and] you'll have a wonderful time with Lucking Out. Memoirs don't come more entertaining than this.... Really, Wolcott seems incapable of writing a tired sentence."—Michael Dirda, Washington Post


"Very sharp and very funny."—David Kelly, New York Times


"The subject matter was enough to suck me into these pages: The Village Voice in the 1970s, Patti Smith and the punk scene, porno theaters in Times Square, Pauline Kael and her acolytes—New York City journalism at its gossipy best. But Wolcott's sometimes almost crazy style is what kept me reading."—David Haglund, Slate


"Wolcott's memories of CBGB, while free of nostalgia...are suffused with elegiac ardency.... As critic-stylists go, Wolcott is up there with John Leonard and Wilfrid Sheed.... [But] what ultimately makes this book so vital is its documentation of one writer's beginnings. Beneath the scrapbook of memories lies a sneaky defense of a scrappy literary life that is in danger of fading into the same oblivion as Mohawk haircuts and black leather jackets adorned with safety pins."—Charles McNulty, Los Angeles Times


"Wolcott captures the sense of outlaw possibility and physical menace in a city that has 'gone to hell,' [but] his book is also something else: a tale of survival in one of the city's more peculiar tribes.... [He] is a heavyweight sketch artist, dropping metaphors that pin a fellow writer, a downtown celebrity, or an institution such as The Village Voice. His memoir also has the sweetness and occasional awe of an outsider to the city. All that separated the young Wolcott from an inglorious return to Frostburg State in western Maryland was the whim of an editor on the telephone. Though today's New York is outwardly more generic, much hasn't changed, especially how most of us are still lucking out."—Michael Aggar, The New Yorker's Book Bench


"Longtime Vanity Fair cultural critic Wolcott (Attack Poodles and Other Media Mutants, 2004, etc.) celebrates the Big Apple as a haven for the writers, artists, musicians and eccentrics who thrived at its core in the 1970s. Of the many sentences in Wolcott's memoir that will have contemporary Manhattan-philes gnashing their teeth in envy is this one recounting how the author dealt with losing his on-site staff job at the Village Voice: "From that point onward I never worked a regular office job again, solely writing for a living, something that would have been impossible if New York hadn't been a city of low rents and crappy expectations that didn't require a trust fund or a six-figure income for the privilege of watching everything fall apart before your eyes." Actually, the entire book is not only a bittersweet valentine to a much-maligned era but a model of exemplary prose that any writer would do well to study. Wolcott's talent for choosing words, shaping sentences, constructing paragraphs and crafting each of the five sections into an essay that stands on its own reveals an architectonic approach lacking in many current memoirs. The author also understands how to apply his individual experiences to the larger context of the zeitgeist. For example, the section entitled "Bodily Contact" weaves personal encounters into a critique of "Me Decade" sexual mores, drawing on Bob Fosse films, the seedy atmosphere of pre–tourist friendly Times Square, the emerging gay-rights movement and concerns about the dark side of the pick-up culture prevalent at both straight and gay bars. Wolcott also rubbed shoulders with the luminaries of the day, including his mentor, the rabble-rousing author Norman Mailer, punk songstress Patti Smith and legendary movie critic Pauline Kael. His poignant reminiscences of Kael pave the way for the book's plaintive conclusion. Gives the lie to the belief that the '70s contained nothing but disco decadence and self-help solipsism."
—Kirkus Reviews (starred)


"No fan of memoirs, Vanity Fair cultural critic Wolcott has nonetheless written one about his wonder years in New York City in the 1970s. Given his role as tastemaker in writing about music, movies, television, and books, Wolcott presents both a self-portrait as a novice arts journalist and a portrait gallery of the scene makers during the heyday of consequences-be-damned criticism. With some offhand encouragement from Norman Mailer, Wolcott quixotically quit college, moved to New York, and badgered his way into a job at the then enormously influential Village Voice. His hilarious account of his trial by fire at this veritable "gladiator school" for journalism is acidly revealing of the dynamics at work in crisis-riddled New York, a crucible for gutsy creativity. Wolcott incisively celebrates such key figures as Patti Smith and David Byrne, caustically annihilates prominent writers, and praises to the skies his guiding light, film critic extraordinaire Pauline Kael. A work of mettlesome personal remembrance and piercing cultural history, Wolcott's electrifying tale of the forging of a writer can also serve as a course on writing laser-precise and propulsive prose."
—Booklist


"Lucking Out: My Life Getting Down And Semi-Dirty In Seventies New York lays out its time vividly; the various milieus Wolcott describes are clear and memorable."—Onion A.V. Club


"Superb."—Wall Street Journal


"An adventurous intellectual spy report from the trenches of Manhattan in the 70's. From Pauline Kael's opinion of hetero porn movies to the gay 'trucks', from the New York City Ballet to CBGB's, Wolcott delightfully proves that critics have feelings too."
—John Waters


"The birth of punk, the apex of ballet, intellectual jousting in dingy joints, the glory holes of cultural ambition, here is a young writer's journey through that shitty, wonderful New York of yore, the one that's been marketed and re-enacted and curated almost out of actuality, but really did exist. James Wolcott's tough, stylish and genuine criticism has always been indispensable, but even so this book is revelatory in its intimacy, its sharpness and humor, and its grim good cheer. To experience this era through Wolcott's worldview and prose is a true pleasure."
—Sam Lipsyte, author of The Ask


"Grunge, glitz, and gossip decorate this lively...memoir....Wolcott cameos celebrities from Bob Dylan and Gore Vidal--he doesn't so much drop names as spike them like a running back in the end zone--to the glamorous, squalid city itself, with its crime and crazies and open-air gay trysting....Wolcott's take on New York culture itself, from schlubby porn impresarios to diaphanous ballerinas, is entertaining and evocative."—Publishers Weekly


"Who better to guide us through one of our most irresistible moments—New York in the Seventies—than one of our most irresistible critics, James Wolcott? Here is an intimate, delicious chronicle of America's greatest city in full cultural bloom and total municipal decay. It's Rome Before the Fall, and Wolcott, a hilarious and penetrating writer, captures it in all of its seedy, seductive glamour."
—Jonathan Mahler, author of Ladies and Gentlemen, the Bronx Is Burning


"Lucking Out is a superb eyewitness account of New York in the raw. James Wolcott scrapes the barnacles off the 1970s and reveals a gem—a decadent time that somehow seems innocent today. His joyride vividly captures the circus of druggies, punks and geniuses with their driving needs to express themselves."
—Ivan Kral, co-filmmaker of The Blank Generation and guitarist for the Patti Smith Group


"Lucking Out is a sleek, funny memoir of James Wolcott's adventures as a freelance writer in the seventies. Wolcott and I shared that decade and those deadlines, so I can attest to the veracity of his tone and tempo, to the gaga adrenaline rush of writing about everything all the time: Stiv Bators in the morning, Balanchine that afternoon, Mailer from midnight to dawn, then a nap before David Hockney—all alone we were, up in the treetops, floating from limb to limb like flying squirrels with tigers down below. This rough joy is borne out in Wolcott's bubbling pace, in his invariable preference for amusing modesty over mythological grandeur, and, most admirably, in the delicate candor with which he treats the cruelty and competitive savagery of that decade in New York—vicious but fair would be my characterization. For myself I am happy to be reminded that, once upon a time, we were not only quick and funny but kind of brave as well."—Dave Hickey, author of Air Guitar


"So Vladimir Horowitz and Jascha Heifitz go to Daniel Barenboim's Carnegie Hall debut. Barenboim rips into Chopin and Horowitz says to Heifitz, 'It's kind of hot in here.' Heifitz says, 'Not for violinists.' This is how any writer honest with himself has to feel when reading Lucking Out.  And any book that includes Milt Kamen, Patti Smith, the New York City Ballet, and Ugly George has already proven its worth as the record of a cultural moment.  But I'd rather recommend it for the way Wolcott reminds us that what is right about something is often harder to explain than what is wrong, and that humility in the presence of real art offers us a path to keener discernment and higher excitement. In cynical times like ours, this generous book is a gift."—Michael Tolkin, author of The Player
Coverage from NPR
or
Not Currently Available for Direct Purchase