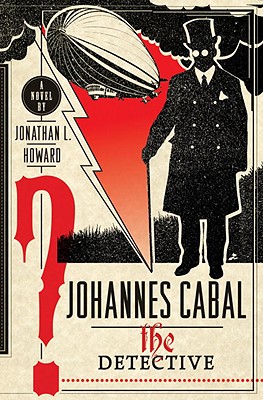 Johannes Cabal the Detective (Hardcover)
Doubleday, 9780385528092, 304pp.
Publication Date: July 13, 2010
Other Editions of This Title:
Paperback (6/1/2011)
* Individual store prices may vary.
Description
Johannes Cabal, necromancer of some little infamy, returns in this riotously clever and terrifically twisted tale of murder and international intrigue.

In this genre-twisting novel, infamous necromancer Johannes Cabal, after beating the Devil and being reunited with his soul, leads us on another raucous journey in a little-known corner of the world. This time he's on the run from the local government.

Stealing the identity of a minor bureaucrat, Cabal takes passage on the Princess Hortense, a passenger aeroship that is leaving the country. The deception seems perfect, and Cabal looks forward to a quiet trip and a clean escape, until he comes face-to-face with Leonie Barrow, an enemy from the old days who could blow his cover. But when a fellow passenger throws himself to his death, or at least that is how it appears, Cabal begins to investigate out of curiosity. His minor efforts result in a vicious attempt on his own  life—and then the gloves come off.

Cabal and Leonie—the only woman to ever match wits with him—reluctantly team up to discover the murderer. Before they are done, there will be more narrow escapes, involving sword fighting and newfangled flying machines. There will be massive destruction, not to mention resurrected dead . . .

Steampunk meets the classic Sherlockian mystery in this rip-roaring adventure where anything could happen . . . and does.
About the Author
JONATHAN L. HOWARD is a game designer who notably co-scripted the first three "Broken Sword" adventure games. He is the author of the novel "Johannes Cabal the Necromancer." He lives near Bristol, England, with his wife and daughter.
Praise For Johannes Cabal the Detective…
Praise for JOHANNES CABAL THE DETECTIVE:

"Johannes Cabal would kill me for saying this, but he's my favorite Zeppelin-hopping detective. The fellow has got all the charm of Bond and the smarts of Holmes -- without the pesky morality. Seriously though, don't tell Cabal I so much as mentioned his name."
-- Daniel H. Wilson, New York Times bestselling author of How to Survive a Robot Uprising and the forthcoming Robopacolypse
 
 "Is there life beyond death? Definitely! That is, if Johannes Cabal is on your side…The mysteries of past and future--science fiction and the occult, Jules Verne and Robert Anton Wilson--are all wrapped up in Jonathan L.  Howard's  fast-paced escapade of esoteric adventure."
 -- Katherine Neville, New York Times bestselling author of The Eight and The Fire

"Cabal, the detective and necromancer, is full of charismatic amorality, making him both a classical, and refreshing antihero." -- TimeOut

"Not only does Howard deliver a devilish mystery but he also wraps it all up in a gorgeous 'steampunk noir' atmosphere that had me slowing down, every now and then, to enjoy either skulking in various European alleyways or flying high above them in the 'latest flying machine'." --Graeme's Fantasy Book Review

"Definitely entertaining, a cut above many books out there." --Free Lance-Star

"JOHANNES CABAL THE DETECTIVE is simply fun...The characters and their situations are fresh, their turns unexpected. The work gives nods to many of the tropes of detective fiction...The result is a delight." -- The Denver Post


Praise for JOHANNES CABAL THE NECROMANCER:

"Jonathan Howard has written a delightfully wicked and inventive story on the game of beat the devil. He turns conventions of the Faustian tales into a modern carnivalesque that is witty, macabre, and unexpectedly touching. If you like the dead to have a little life in them yet, Johannes Cabal, the Necromancer is the kind of book you'll die for."
-- Keith Donohue, New York Times bestselling author of The Stolen Child

"That ole black magic has never been more fun than it is in this deft and quirky Faustian tale, and the voice is fittingly sardonic as in 'sour juices dripping from crushed hopes.' Johannes Cabal may be soulless, but he's also cocky, darkly hilarious, and cheerfully irreverent. A diabolical romp."
-- Elle Newmark, author of The Book of Unholy Mischief

"For anyone whose taste edges towards the intelligent and macabre, this book is a gift . . . a Lemony Snicket for adults."
-- Linda Marotta, Fangoria
or
Not Currently Available for Direct Purchase