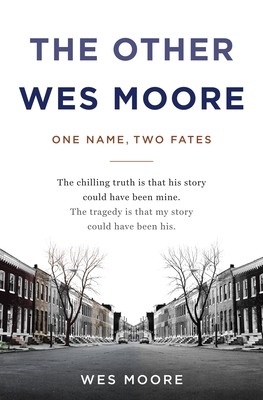 The Other Wes Moore
One Name, Two Fates
Hardcover

* Individual store prices may vary.
Other Editions of This Title:
Digital Audiobook (4/26/2010)
Paperback (1/11/2011)
Prebound (1/11/2011)
Prebound (1/11/2011)
Compact Disc (4/27/2010)
Description
NEW YORK TIMES BESTSELLER • The "compassionate" (People), "startling" (Baltimore Sun), "moving" (Chicago Tribune) true story of two kids with the same name from the city: One went on to be a Rhodes Scholar, decorated combat veteran, White House Fellow, and business leader. The other is serving a life sentence in prison. 
 
In development as a feature film executive produced by Stephen Curry, who selected the book as his "Underrated" Book Club Pick with Literati

The chilling truth is that his story could have been mine. The tragedy is that my story could have been his.

In December 2000, the Baltimore Sun ran a small piece about Wes Moore, a local student who had just received a Rhodes Scholarship. The same paper also ran a series of articles about four young men who had allegedly killed a police officer in a spectacularly botched armed robbery. The police were still hunting for two of the suspects who had gone on the lam, a pair of brothers. One was named Wes Moore. 

Wes just couldn't shake off the unsettling coincidence, or the inkling that the two shared much more than space in the same newspaper. After following the story of the robbery, the manhunt, and the trial to its conclusion, he wrote a letter to the other Wes, now a convicted murderer serving a life sentence without the possibility of parole. His letter tentatively asked the questions that had been haunting him: Who are you? How did this happen?

That letter led to a correspondence and relationship that have lasted for several years. Over dozens of letters and prison visits, Wes discovered that the other Wes had had a life not unlike his own: Both had had difficult childhoods, both were fatherless; they'd hung out on similar corners with similar crews, and both had run into trouble with the police. At each stage of their young lives they had come across similar moments of decision, yet their choices would lead them to astonishingly different destinies.

Told in alternating dramatic narratives that take readers from heart-wrenching losses to moments of surprising redemption, The Other Wes Moore tells the story of a generation of boys trying to find their way in a hostile world.
Praise For The Other Wes Moore: One Name, Two Fates…
"Moving and inspiring, The Other Wes Moore is a story for our times."—Alex Kotlowitz, author of There Are No Children Here
 
"A tense, compelling story and an inspirational guide for all who care about helping young people."—Juan Williams, author of Enough
 
"This should be required reading for anyone who is trying to understand what is happening to young men in our inner cities."—Geoffrey Canada, author of Fist Stick Knife Gun
 
"The Other Wes Moore gets to the heart of the matter on faith, education, respect, the hard facts of incarceration, and the choices and challenges we all face. It's educational and inspiring."—Ben Carson, M.D., author of Gifted Hands
 
"Wes Moore is destined to become one of the most powerful and influential leaders of this century. You need only read this book to understand why."—William S. Cohen, former U.S. senator and secretary of defense

"This intriguing narrative is enlightening, encouraging, and empowering. Read these words, absorb their meanings, and create your own plan to act and leave a legacy."—Tavis Smiley, from the Afterword
 
One World, 9780385528191, 256pp.
Publication Date: April 27, 2010
About the Author
Wes Moore is a Rhodes Scholar and a combat veteran of Afghanistan. As a White House Fellow, he worked as a special assistant to Secretary Condoleezza Rice at the State Department. He was a featured speaker at the 2008 Democratic National Convention, was named one of Ebony magazine's Top 30 Leaders Under 30 (2007), and, most recently, was dubbed one of the top young business leaders in New York by Crain's New York Business. He works in New York City.