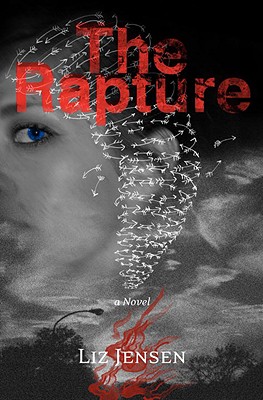 The Rapture
Hardcover

* Individual store prices may vary.
Description
An electrifying story of science, faith, love, and self-destruction in a world on the brink.
It is a June unlike any other before, with temperatures soaring to asphyxiating heights. All across the world, freak weather patterns and the life-shattering catastrophes they entail have become the norm. The twenty-first century has entered a new phase.
But Gabrielle Fox's main concern is a personal one: to rebuild her life after a devastating car accident that has left her disconnected from the world, a prisoner of her own guilt and grief. Determined to make a fresh start, and shake off memories of her wrecked past, she leaves London for a temporary posting as an art therapist at Oxsmith Adolescent Secure Psychiatric Hospital, home to one hundred of the most dangerous children in the country. Among them: the teenage killer Bethany Krall.
Despite two years of therapy, Bethany is in no way rehabilitated and remains militantly nonchalant about the bloody, brutal death she inflicted on her mother. Raised in evangelistic hellfire, the teenager is violent, caustic, unruly, and cruelly intuitive. She is also insistent that her electroshock treatments enable her to foresee natural disasters a claim which Gabrielle interprets as a symptom of doomsday delusion.
But as Gabrielle delves further into Bethany's psyche, she begins to note alarming parallels between her patient's paranoid disaster fantasies and actual incidents of geological and meteorological upheaval coincidences her professionalism tells her to ignore but that her heart cannot. When a brilliant physicist enters the equation, the disruptive tension mounts and the stakes multiply. Is the self-proclaimed Nostradamus of the psych ward the ultimate manipulator or a harbinger of global disaster on a scale never seen before? Where does science end and faith begin? And what can love mean in interesting times ?
With gothic intensity, Liz Jensen conjures the increasingly unnerving relationship between the traumatized therapist and her fascinating, deeply calculating patient. As Bethany's warnings continue to prove accurate beyond fluke and she begins to offer scientifically precise hints of a final, world-altering cataclysm, Gabrielle is confronted with a series of devastating choices in a world in which belief has become as precious - and as murderous as life itself.
Praise For The Rapture…
"Combining the tensions of modern psychology with scientific speculation and social analysis in a speedy plot, Jensen put me rather in mind of Margaret Atwood …a cracking good read." --Sunday Telegraph

"Excellent...beautifully structured....an engaging thriller about a relevant contemporary issue while still respecting the reader's brain cells… you'll be gripped." -- Irvine Welsh, The Guardian



"[A] rollicking eco thriller that successfully high-octane action with a prescient overview of the dangers of climate change....this smart, salient author creates a scenario in which environmental calamity is the backdrop to a gripping tale of love, death and religion, set in the not-too-distant future.....deliciously apocalyptic and jammed full of ideas, this is storytelling at its rapturous best."--Daily Mail



Advance Praise for THE RAPTURE

"A first-class apocalyptic thriller of futuristic science, geophysics, and religion.  It's clever, intelligent, and—most terrifying of all—plausible"
—Kate Mosse, author of Labryinth and Sepulchre

"Liz Jensen writes with crackling insight into the workings of the mind caught up in cataclysms within and without. In The Rapture she has created worlds torn apart and takes us close—too close—to faith caught in the storm. A devastating tale."
—Keith Donahue, author of Angels of Destruction and The Stolen Child

"In this modern world of religious warfare and global warming, The Rapture is as topical as it is thrilling. Beautifully written, haunting, and thoroughly entertaining. The gripping tension of Lost mixed with the poetic poignancy of The Bell Jar. I simply could not stop turning pages."
—Matthew Quick, author of the Silver Linings Playbook

"Liz Jensen's exciting thriller often feels as frightening and prophetic as the sixteen-year-old girl at its center. The Rapture is a terrific novel, expertly written, thought-provoking, and deeply unsettling."
—Kevin Guilfoile, author of Cast of Shadows

"Superb writing, riveting characters--Jensen takes you on a fast ride toward a dark future, with frightening twists and breathless turns.  The Rapture is addictive reading, brilliant and fascinating.  I couldn't put it down!"
—Joan Johnston, author of Outcast
Doubleday Books, 9780385528214, 304pp.
Publication Date: August 11, 2009
About the Author
LIZ JENSEN is the author of several novels, including "Egg Dancing"; "Ark Baby," a "New York Times" Notable Book; "My Dirty Little Book of Stolen Tim, e" and "The Ninth Life of Louis Drax," in development as a major motion picture. Her work has been nominated three times for the Orange Prize and has been translated into more than twenty languages.
or
Not Currently Available for Direct Purchase