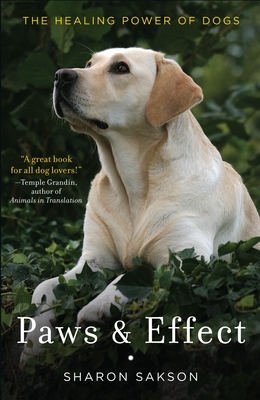 Paws & Effect: The Healing Power of Dogs (Paperback)
The Healing Power of Dogs
Spiegel & Grau, 9780385528566, 249pp.
Publication Date: June 9, 2009
Description
Dogs have always been our friends and changed our lives for the better. But they may save our lives as well. Seamlessly weaving scientific research with compelling narrative, Paws & Effect tells incredibly moving stories of beloved pets who have supported their people through periods of ill health and other crises—with miraculous results:

*Little Ben, a Chihuahua who can sense impending epileptic seizures

*Abdul, a Golden Retriever/Lab mix, who was the world's first service dog and helped his owner by retrieving keys and phones, medicine from countertops, water from the refrigerator, and could even hand in credit cards at the grocery store

*A Dalmation named Trudii, whose obsessive behavior prompted her owner to seek a medical examination that revealed melanoma
About the Author
Sharon Sakson earned an MFA in creative writing from the New School. She is a journalist and television producer who has worked for ABC, NBC, and local stations in Baltimore, Chicago, and San Francisco. Sharon is also an American Kennel Club dog-show judge. She lives in Princeton, New Jersey.
Praise For Paws & Effect: The Healing Power of Dogs…
"A heartwarming and informative account of the astonishing ways dogs heal humans."
—Ted Kerasote, author of Merle's Door: Lessons from a Freethinking Dog


"In a series of interesting, informative, and often poignant stories about real people, Sharon Sakson tells you about how dogs help to heal the mind and the body. After reading this book you may well start feeling that having a dog in home is like having a special kind of doctor in your house."
—Stanley Coren, author of How Dogs Think and The Intelligence of Dogs

"So meaningful and straight to the heart, Paws & Effect sheds a whole new light on our communication with animals of which many people are unaware. You may listen more closely the next time your dog tries to tell you something!"
—Betty White, actress and author

"The reader will find much that is fascinating and much that is deeply moving in Paws & Effect. There is abundant evidence herein on the marvel of our relationship with dogs."
—Elizabeth Marshall Thomas, author of The Hidden Life of Dogs
Advertisement