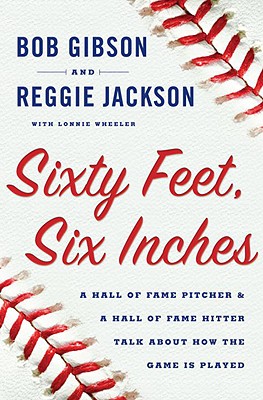 Sixty Feet, Six Inches (Hardcover)
A Hall of Fame Pitcher & a Hall of Fame Hitter Talk About How the Game Is Played
Doubleday, 9780385528696, 288pp.
Publication Date: September 22, 2009
Other Editions of This Title:
Digital Audiobook (9/21/2009)
Digital Audiobook (9/21/2009)
Paperback (4/5/2011)
* Individual store prices may vary.
Description
Reggie Jackson and Bob Gibson offer a once-in-a-lifetime opportunity to understand America's pastime from their unique insider perspective.

Legendary. Insightful. Uncompromising. Candid. Uncensored.

Mr. October and Hoot Gibson unfortunately never faced each other on the field. But now, in Sixty Feet, Six Inches, these two legends open up in fascinating detail about the game they love and how it was, is, and should be played. Their one-of-a-kind insider stories recall a who's who of baseball nobility, including Willie Mays, Alex Rodriguez, Hank Aaron, Albert Pujols, Billy Martin, and Joe Torre. This is an unforgettable baseball history by two of its most influential superstars.
About the Author
BOB GIBSON, a two-time Cy Young Award winner and eight-time All Star, won 251 games and achieved a lifetime ERA of 2.91 during his seventeen years with the St. Louis Cardinals. He is a special adviser to the Cardinals.

REGGIE JACKSON hit 563 home runs and drove in 1,702 runs over the course of his twenty-one-year career; he played three World Series-winning seasons with the Oakland Athletics, and two with the New York Yankees. He is a special adviser to the Yankees.

LONNIE WHEELER collaborated with Bob Gibson and Hank Aaron on their autobiographies and is the author of two other books about baseball.
Praise For Sixty Feet, Six Inches: A Hall of Fame Pitcher & a Hall of Fame Hitter Talk About How the Game Is Played…
"If you want to understand baseball's game inside the game between the pitcher and the hitter, this is it. Two of the greats have written a classic."
--Willie Mays


"Gibby and Reggie finally share their perspectives as two of the fiercest competitors who ever played the game. Trust me…It's a great read."
-- Joe Torre


"Wow! Knowledge and insight into the game for players, kids and the fans. Two of the game's greatest under pressure: Mr. October and Bob Gibson. SIXTY FEET, SIX INCHES is fun, full of information and an easy read."
--Mariano Rivera


"For the first time Mr. October joins Mr. October.  It doesn't get much better than this."
--Tim McCarver


 "For a baseball fan, this breezy book is like a giant box of popcorn–once you pick it up, you can't put it down. Insight after insight from two of the most compelling figures in the game's history."
--Bob Costas


"Oh to be a fly on the wall. Here is an inside look from two of the greatest competitors ever to put on a major league uniform. Both have strong opinions about that magical 60' 6" space between the hitter and the pitcher -- and they have the stats to back it up."
--Tom Seaver.


"These conversations are usually only heard in Cooperstown during Hall of Fame weekends. Two giants of baseball discussing the game they love. This is a fun book!"
--Joe Morgan


"Love it. Two of the most dominating personalities in the game, one from each side of the plate. The pitcher from the defensive side and the hitter from the offensive side. Both of these Hall of Famers had dominating approaches and felt they controlled every aspect of their game. Intimidation with tremendous concentration. The authors had both. People sometimes don't understand the mind games and personal challenges that go on between the hitter and pitcher. It's all right here. You have to have a great ego to compete and succeed at the challenge of hitting as well as pitching at the highest level. This is a fun read.  I recommend this book to all."
-- Johnny Bench


"Two good friends got together to talk about the game we love in a book that makes you feel like you're sitting on a couch and talking to two of the best to ever play the game. Ask a question and you get an answer. Great insight for the baseball fan or baseball player."
-- George Brett



HOW A HALL OF FAME HITTER THINKS:
They wanted to pitch me in, I think. But I backed off the plate about four inches more than usual and leaned forward, so it wouldn't look like I'd moved. I faked it to make it appear normal. That way, they'd go ahead and bring the ball in, but I was actually far enough from the plate that I could handle that pitch. It was the only time in my life I ever did that. I baited them into giving me inside strikes. Then as soon as they started throwing the ball I would just raise up . . .


HOW A HALL OF FAME PITCHER THINKS:

Hitters who stand practically on top of the plate and don't like the ball inside will still swing at a ball inside. Then they might back away a little bit for the next pitch, to give themselves some hitting room, and if you bring the ball a little further inside they'll still swing at it because it looks the same to them as the last pitch. They don't realize that they're standing in a different spot. Their body didn't get the memo from their brain. Now the plate's a whole lot wider than it was, and there's no way in the world that guy's going to do anything with a good pitch on the outside corner, even if he's looking for it. He'll pop it up or roll it to the second baseman.
You've just got to know who you can do what to. That's what pitching is.
Coverage from NPR
or
Not Currently Available for Direct Purchase