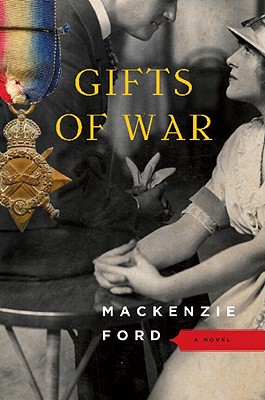 Gifts of War (Hardcover)
Nan A. Talese, 9780385528955, 464pp.
Publication Date: July 7, 2009
* Individual store prices may vary.
or
Not Currently Available for Direct Purchase
Description
During the Christmas Truce of 1914, Hal Montgomery, a British soldier, is given a photo by a German soldier, Wilhelm Wetzlar, and they make a pact. Hal promises to find his enemy's English girlfriend, Sam, and let her know her fiancé is alive and thinking of her. Several weeks later, Hal—now injured—is discharged from the army and goes to Stratford on Avon to fulfill his promise. But things take an unexpected turn when he meets the woman in the photo and falls in love with her himself. As their romance blossoms, Sam shares with Hal her most private confidence: Her newborn son is of German lineage, information that threatens her reputation and her job as a schoolteacher. Fearful that he will lose Sam, Hal holds tight to the secret–and the photograph–that brought them together.

The scene shifts to London, where Hal becomes involved with military intelligence and is introduced to Sam's sisters and a different kind of secrecy. Against the broader landscape of England in wartime, Gifts of War captures the era and the fates of men and women caught in the sweep of history. A vivid tale of romance, adventure, and intrigue, the novel is a remarkable narrative that explores what made War World I so tragic, so revolutionary, and so exciting. It also announces a gifted new novelist.
About the Author
MACKENZIE FORD is the nom de plume of a well-known and respected historian who lives in London, England.
Praise For Gifts of War…
"The best war stories are often love stories, and Mackenzie Ford has come up with a doozy…. An absorbing, morally complex read."
—USA Today

"Descriptions of spying, intrigue, intelligence operations, jingoism of every stripe, and technological and medical breakthroughs reveal how those across the pond experienced the war to end all wars. The historical detail adds to the drama as first novelist Ford (a pseudonym for a British historian) keeps the reader on a knife's edge as the lies build and the truth is only a word or misstep away. Highly recommended for readers of historical fiction as well as those who enjoy tales of espionage."
—Library Journal, starred review

"Ford combines the intrigue and tension of military intelligence with an affecting portrayal of a challenging love affair…[Gifts of War] succeeds on many levels."
—The Minneapolis Star Tribune

"A fine work of fiction-faithful to historical fact and romantic to its core…. Ford's precisely descriptive style and leisurely storytelling introduce a strong cast of characters. He also paints a vivid picture of the ferment of World War I and sets up an understanding of its effect on England's future. This relatively conventional romance also has a shocker of a surprise ending and will appeal to a variety of historical-fiction readers. Give it to fans of Susan Isaacs' Shining Through (1988) or Michael Ondaatje's The English Patient (1992), among others. It would make a great date movie, too."
—Booklist

"Author Ford—the real identity apparently is a well-kept secret—[constructs] a novel that can be appreciated on multiple levels. The war scenes, the love angle, the Switzerland undercover operation and the English war intelligence operation in London take turns capturing reader interest…. Ford's straightforward prose makes the novel a page-turner. Whoever he or she is, Mackenzie Ford has talent."
—San Antonio Express News

"Not only a romantic suspense tale, Gifts of War is also an espionage thriller…. Mackenzie Ford makes the war real, both at the front and back home in England."
—The Free Lance-Star

"Set against the panorama of the First World War, Gifts of War is a poignant love story, a finely woven tapestry of choice, consequence and redemption. Mackenzie Ford explores the ambiguities of the human heart with an unwavering hand, and in so doing creates a haunting and moving tale that will resonate with the reader long after he or she has finished the last page."
—Pam Jenoff, international bestselling author of Almost Home and The Kommandant's Girl

"This book is a joy to read. Wonderful period detail, and the atmosphere so convincing it had me looking out the window for Zeppelins. The First World War-with its no-man's land and valiant nurses-is disturbingly contrasted to the peaceful idyll of rural England. Even the touching love story, with a secret ticking away like a time-bomb at its heart, has us on a knife-edge of uncertainty. And Ford provides fascinating details of the thrills of the wartime intelligence world. I was swept up in this intimate and captivating story of conflicting loyalties. It's the kind of read that lingers in the mind."
—Kate Furnivall, author of The Russian Concubine

"Gifts of War is a passionate, engrossing page-turner-a full-blooded epic story of love, the corroding power of secrets, and a man at war with himself."
—Anthony Capella, author of The Food of Love
How are Hal and Wilhelm similar/different? Is it reasonable for Sam to be attracted to both men? What does Wilhelm offer Sam that Hal does not and vice versa?
Early on in his friendship with Sam, Hal notes that "Sam, I realised, was trying to keep her distance even as I was trying to get closer." Why doesn't Hal honor the signs he receives from Sam in the beginning of their relationship? Is his persistence a byproduct of blind love, or some other reason? Conversely, does Sam lead Hal on-can it be argued that Sam is using Hal?
Explain Sam's wanderlust. What does travel represent for Sam? Is something missing in her life that makes her yearn for travel?
How do Hal and Sam's contrary upbringings influence their outlook on love and fidelity?
What characteristics do Sam and Izzy share? Who is the better influence on Hal, Sam or Izzy? Why?
Hal admits, "I was, so far as I knew, in love with Sam and at that point would probably have concealed any inconvenient fact, told any untruth-any lie-to have ingratiated myself with her. To be honest, I didn't go into the rights and wrongs of it all too much, not then. The war might last a long while." Do you empathize with Hal's position? Can you rationalize his overt and conscious deception of Sam or do you think that he is acting justly?
"Play while you can, play hard, try everything…Playing hard shows you are not defeated, not dead, not even down. It's your duty to play, because tomorrow it might end." Izzy lives by a "life is too short" motto-how does her attitude influence Hal? Can Hal's pursuit of Sam be seen as a way of living life to the fullest?
How do Izzy's experiences in the war differ from Hal's? Whose experiences and contributions seem to have the greatest personal impact?
What role do art and culture play in the narrative?
How is Izzy's relationship with Alan, a married man, different from Hal's relationship with Sam? Is one relationship more moral or acceptable than the other?
What is to be made of Hal's mother's assertion that some people don't need to be loved-that they are much better at loving? Ultimately, do you think that this is true for Hal?
Discuss the role of risk (in regards to family, romance, and the military) in the novel.
How do you view Hal at the end of the novel? Has your opinion of him changed? If so, how?
Advertisement