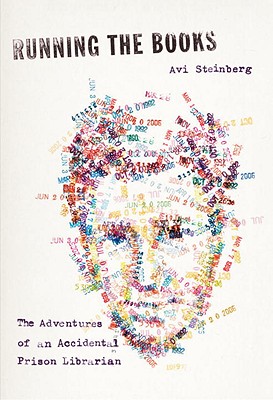 Running the Books
The Adventures of an Accidental Prison Librarian
Hardcover

* Individual store prices may vary.
Other Editions of This Title:
Digital Audiobook (10/18/2010)
Paperback (10/4/2011)
Description
Avi Steinberg is stumped. After defecting from yeshiva to Harvard, he has only a senior thesis essay on Bugs Bunny to show for his effort. While his friends and classmates advance in the world, he remains stuck at a crossroads, unable to meet the lofty expectations of his Orthodox Jewish upbringing. And his romantic existence as a freelance obituary writer just isn't cutting it. Seeking direction—and dental insurance—Steinberg takes a job as a librarian in a tough Boston prison.
 
The prison library counter, his new post, attracts con men, minor prophets, ghosts, and an assortment of quirky regulars searching for the perfect book and a connection to the outside world. There's an anxious pimp who solicits Steinberg's help in writing a memoir. A passionate gangster who dreams of hosting a cooking show titled Thug Sizzle. A disgruntled officer who instigates a major feud over a Post-it note. A doomed ex-stripper who asks Steinberg to orchestrate a reunion with her estranged son, himself an inmate. Over time, Steinberg is drawn into the accidental community of outcasts that has formed among his bookshelves — a drama he recounts with heartbreak and humor. But when the struggles of the prison library — between life and death, love and loyalty — become personal, Steinberg is forced to take sides.

Running the Books is a trenchant exploration of prison culture and an entertaining tale of one young man's earnest attempt to find his place in the world while trying not to get fired in the process. 
Praise For Running the Books: The Adventures of an Accidental Prison Librarian…
"I haven't laughed this hard since David Sedaris' Me Talk Pretty One Day."
—Los Angeles Times

"Acidly funny. . . . Mr. Steinberg proves to be a keen observer, and a morally serious one. His memoir is wriggling and alive — as involving, and as layered, as a good coming-of-age novel."
—The New York Times

"An impressive account of a world that few readers of this newspaper will recognize [written] in wry, captivating prose."
—The Economist

"Hilarious enough to make you want to read its lines to anyone who happens to be around, and profound enough to have you care deeply about many of the men and women whose crimes have brought them to Boston's Suffolk County House of Correction. . . . There's plenty of humor here, for sure, but Steinberg, in tender, understated prose, also brings out the inmates' irrepressible humanity."
—San Francisco Chronicle

"Steinberg's writing is funny, poignant and accessible. He's the guy you want in front of the campfire because he knows how to tell a good story. . . . The characters pop off the pages — not because they're stereotypical or overly sentimental, but because they're real. Some get saved, others get even more lost, but Steinberg brings them all equally to life — for better or worse."
—Associated Press

"Captivating. . . . Steinberg writes a stylish prose that blends deadpan wit with an acute moral seriousness. The result is a fine portrait of prison life and the thwarted humanity that courses through it."
—Publishers Weekly

"Hysterical, ingenious, illuminating. I wish I had left yeshiva for prison right away."
—Gary Shteyngart, bestselling author of Super Sad True Love Story

"This wonderful memoir is about a prison library, but it's also about love, religion, Shakespeare, murder, the human condition and Ali G. This is a book for everybody who loves books — felons and non-felons alike."
—A. J. Jacobs, bestselling author of The Year of Living Biblically and The Guinea Pig Diaries

"Running the Books reads like a cross between Dante's Inferno, Isaac Babel's Red Cavalry, and HBO's The Wire — a narrative rife with moral compromises, power games, and moments of redemption.  As he navigates the perilous and often absurd ins and outs of a punitive institution, Avi Steinberg shares his love of the written word with an incredibly diverse array of convicted felons.  Whether he is discussing Sylvia Plath with a fragile prostitute, compiling recipes for a gang member who aspires to his own cooking show, or helping a garrulous pimp write his memoirs, Steinberg is unfailingly thought-provoking, witty, humane, and, above all, relentless in his pursuit of a good story."
—Elif Batuman, author of The Possessed

"Imagine Kafka as a prison librarian — which may not be such a bad description of Kafka — and you get some idea of the joys this book delivers. Steinberg's profound susceptibility to both absurdity and pathos makes Running the Books one of the best memoirs I've read in a long while."
—Rebecca Newberger Goldstein, author of 36 Arguments for the Existence of God: A Work of Fiction

"A freewheeling meditation on the nature of incarceration and a moving chronicle of a population that remains, by design, hidden from view."
—USA Today

"Steinberg emerges as a thoughtful and gifted debut author. . . . [His] writing is sharp and witty throughout, but he is at his most eloquent when describing the world of his youth and his Orthodox upbringing. . . . Steinberg effectively demonstrates the parallels that exist between such seemingly disparate universes. What this poignant memoir ultimately brings home is, in many ways, obvious — that humans are, all of us, exceptionally fragile and emotionally complex beings."
—The Forward

"Running the Books presents [Steinberg's] experiences working in the prison's library as a fiendishly intricate moral puzzle, sad and scary, yes, but also — and often — very funny."
—Salon

"Heartbreaking and entertaining. . . . Steinberg's compassion for those he mentored clearly comes through. Yet, this is far from a preachy memoir on prison reform. It's a young man's blundering, but touching, journey to find a place in the world. Fortunately, he makes us laugh and – sometimes cry – in the process."
—The Seattle Times

"Funny, eclectic, and ultimately moving."
—The Daily Beast

"Steinberg's account may very well make you laugh and cry, but it will also have you re-evaluating items in your home for their potential as weapons. Running the Books is a powerful look at the prison system and a highly personal memoir in one."
—Bookpage

"Delightfully insightful. . . . How much can we readers expect to learn about prison life through the prism of its library? Answer: Volumes."
—Haaretz

"Perceptive, comic, self-deprecating, reflective, and pungently ironic a la Catch-22 ... Running the Books is both very funny and heart-breaking, further evidence for Mark Twain's edict that 'The secret source of humor is not joy but sorrow; there is no humor in Heaven.'"
—Chicago Life Magazine

"Steinberg offers a meaningful, unusual perspective on the U.S. prison system and on convicts' lives."
—Tablet Magazine

"Caroming instantaneously from profane comedy to abyssal tragedy, Steinberg recounts his struggles to relate humanely to people at the edge of society. Prison librarianship offers some of the profession's greatest challenges, and Steinberg tells just what it's like to suddenly recognize that the mugger attacking him in the park was the same guy he had checked out some books to a few months earlier."
—Booklist

"Running the Books is one of the more thoughtful and nuanced looks at prison culture. . . . And it'll probably remain high on the list of great books about the subject."
—AOL.com

"An affecting and valuable read."
—School Library Journal
Nan A. Talese, 9780385529099, 416pp.
Publication Date: October 19, 2010
About the Author
AVI STEINBERG was born in Jerusalem and raised in Cleveland and Boston. His work has appeared in the "Boston Globe," the "New York Review of Books," "Salon," and other publications.
or
Not Currently Available for Direct Purchase