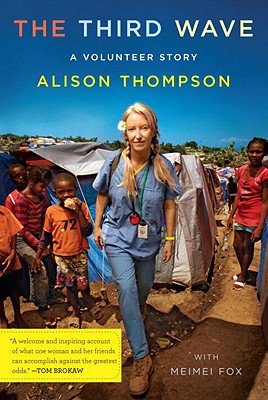 The Third Wave (Hardcover)
A Volunteer Story
Spiegel & Grau, 9780385529167, 232pp.
Publication Date: July 12, 2011
* Individual store prices may vary.
Description
Alison Thompson, a filmmaker living in New York City, was enjoying Christmas with her boyfriend in 2004 when she saw the news reports online: a 9.3 magnitude earthquake had struck the sea near Indonesia, triggering a massive tsunami that hit much of southern Asia. As she watched the death toll climb, Thompson had one thought: She had to go help. A few years earlier, she had spent eight months volunteering at Ground Zero after 9/11. She'd learned then that when disaster strikes, it's not just the firemen and Red Cross who are needed—every single person can make a difference.  

With $300 in cash, some basic medical supplies, and a vague idea that she'd go wherever she was needed, Thompson headed to Sri Lanka. Along with a small team of volunteers, she settled in a coastal town that had been hit especially hard and began tending to people's injuries, giving out food and water, playing games with the children, collecting dead bodies, and helping rebuild the local school and homes that had been destroyed. Thompson had intended to stay for two weeks; she ended up staying for fourteen months. She and her team helped start new businesses and set up the first tsunami early-warning center in Sri Lanka, which continues to save lives today. 

The Third Wave tells the inspiring story of how volunteering changed Thompson's life. It begins with her first real introduction to disaster relief after 9/11 and ends with her more recent efforts in Haiti, where she has helped create and run, with Sean Penn, an internally-displaced-person camp and field hospital for more than 65,000 Haitians who lost their homes in the 2010 earthquake. In The Third Wave, Thompson provides an invaluable inside glimpse into what really happens on the ground after a disaster—and a road map for what anyone can do to help. As Alison Thompson shows, with some resilience, a healthy sense of humor, and the desire to make a difference, we all have what it takes to change the world for the better.
About the Author
Alison Thompson is a filmmaker and humanitarian volunteer. In 2010 she was awarded the Order of Australia, the highest civilian medal awarded by Queen Elizabeth II of England, for her volunteer work and her contribution to humankind. Her documentary film "The Third Wave," about her experience volunteering in Sri Lanka after the tsunami, premiered at the 2007 Tribeca Film Festival in New York and was screened at a "Presidential Jury" screening at the 2008 Cannes film festival. Born in Australia, Thompson moved to New York City in 1990 and now spends her time traveling between New York, Haiti, Miami, and Sri Lanka.
Praise For The Third Wave: A Volunteer Story…
"The powerful takeaway of this distinct and heartfelt memoir is that saving and rebuilding lives is not the work of superheroes. 'Volunteering can happen anywhere at any time and can last for just an hour,' Thompson writes, later imploring readers to '[b]e the brightest light you can be and lead the way in the dark.' The book vividly epitomizes the Talmudic saying that while one may not be able to finish a huge and ambitious task, it does not mean one should not try."—The Boston Globe

"In a world of turmoil, The Third Wave is a welcome and inspiring account of what one woman and her friends can accomplish against the greatest odds. Ride this wave and feel better about the generation ready to lead us all ashore."—Tom Brokaw

"Alison Thompson's captivating life story and adventures in volunteering make us all want to be better citizens of our planet. We can all contribute, she fearlessly tells us, not just with her soaring words with even more with her inspiring actions."—Edwidge Danticat, author of Brother, I'm Dying

"Alison Thompson is an inspiration. Whereas most people check out after a crisis, Thompson remains there on the ground, loving, caring, and communicating the need for awareness and help. Her creativity and healing are incomparable in a crisis and deliver the messages that are needed around the world. This book is a must-read and a call to action."—Donna Karan
 
"Alison Thompson's fine book The Third Wave teaches and emphasizes the value of effective, appropriate volunteerism, even when severe negative circumstances limit the number of fellow human beings who can be helped."—Tony Duke, founder of Boys & Girls Harbor

"Readers will marvel at Thompson's ability to leave her life midstream to help others, clearly relishing the adventure as much as the opportunity to serve. She urges readers to redefine heroism by doing whatever they can with examples of small efforts with great impact."—Publishers Weekly
or
Not Currently Available for Direct Purchase