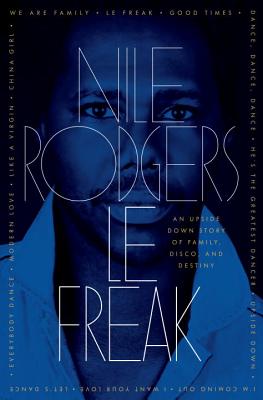 Le Freak (Hardcover)
An Upside Down Story of Family, Disco, and Destiny
Spiegel & Grau, 9780385529655, 336pp.
Publication Date: October 18, 2011
Other Editions of This Title:
Paperback (7/1/2012)
Hardcover (10/1/2011)
* Individual store prices may vary.
Description
NAMED ONE OF THE TOP 10 ROCK MEMOIRS OF ALL TIME BY ROLLING STONE
 
From Chic to Daft Punk, Nile Rodgers is the creative force behind some of the biggest hits ever recorded. Here is the story of how global pop's greatest genius transformed his own dramatic life into the brilliantly joyful playlist of a generation.
 
You will hear a Nile Rodgers song today. It will make you happy. In the 1970s and 1980s, Nile Rodgers wrote and produced the songs that defined the era and everything that came after: "Le Freak," "Good Times," "We Are Family," "Like a Virgin," "Let's Dance," "I'm Coming Out," "Rapper's Delight"—and worked with every influential pop star to create a string of enduring hits, from Diana Ross and Madonna to Duran Duran and David Bowie. Even today, he is still musically relevant: writing and performing record-breaking hits like "Get Lucky" with Daft Punk and Pharrell. But before he reinvented pop music, Nile Rodgers invented himself. From jamming with Jimi Hendrix in a Greenwich Village haze to the decadence of the disco era to witnessing the birth of Madonna on the Danceteria dance floor, Le Freak traces one of the greatest musical journeys of our time.
 
Praise for Le Freak
 
"[An] amazing memoir . . . steeped in the incestuous energy of the times: Punk, funk and art rock mixed it up in the downtown clubs, where musicians partied together and shared ideas. . . . Le Freak has plenty of sex and drugs. But it's the music that makes it essential. . . . Rodgers gave those dreams a beat—and helped invent pop as we know it today."—Rob Sheffield, Rolling Stone
 
"This book is an absolute knockout: exhilarating, warm, and courageous, deeply moving and deeply funny. Le Freak is as much about the greatness of life as it is about Nile Rodgers's extraordinary musical journey. As Rodgers well knows, the best music is the stuff we feel, the stuff that speaks to us and won't let go. Le Freak does all that and much more. This is truly one of the best books ever written about art, music, life, and the way we grow to be exactly who we are. Actually, one of the best books period."—Cameron Crowe
 
"A coming-of-age tale every bit as impressive as the musical insights and star-time chronicles that follow."—The New York Times Book Review
 
"Consistently entertaining . . . His legacy as a funk-rock visionary is assured, and his autobiography serves as further proof that disco does not suck."—San Francisco Chronicle
 
"An unforgettable, gripping book."—The Sunday Times (UK)
 
"Name a star and you can bet they're in this book, playing or partying with Rodgers. But far from being a succession of name-dropping anecdotes, this autobiography is a wonderfully funny, moving and wise reflection upon the important things in life: the people you love and the things you create."—The Sunday Telegraph (UK)
 
"Rodgers's page-turning memoir is packed with emotionally charged vignettes of a tumultuous childhood and equally dramatic adulthood that found him awash in cash, cars, and celebrities. . . . His storytelling skills propel the reader through the book, making the ending all the more jarring. Remarkable for its candor, this rags-to-riches story is on the year's shortlist of celebrity memoirs."—Publishers Weekly (starred review)
About the Author
Nile Rodgers is an American musician, composer, arranger, and guitarist, and is considered one of the most influential music producers in the history of popular music. His recordings have sold in excess of 100 million copies.
Praise For Le Freak: An Upside Down Story of Family, Disco, and Destiny…
"[An] amazing memoir . . . steeped in the incestuous energy of the times: Punk, funk and art rock mixed it up in the downtown clubs, where musicians partied together and shared ideas. . . . Le Freak has plenty of sex and drugs. But it's the music that makes it essential. . . . Rodgers gave those dreams a beat—and helped invent pop as we know it today."—Rob Sheffield, Rolling Stone
 
"This book is an absolute knockout: exhilarating, warm, and courageous, deeply moving and deeply funny. Le Freak is as much about the greatness of life as it is about Nile Rodgers's extraordinary musical journey. As Rodgers well knows, the best music is the stuff we feel, the stuff that speaks to us and won't let go. Le Freak does all that and much more. This is truly one of the best books ever written about art, music, life, and the way we grow to be exactly who we are. Actually, one of the best books period."—Cameron Crowe
 
"A coming-of-age tale every bit as impressive as the musical insights and star-time chronicles that follow."—The New York Times Book Review
 
"Consistently entertaining . . . His legacy as a funk-rock visionary is assured, and his autobiography serves as further proof that disco does not suck."—San Francisco Chronicle
 
"An unforgettable, gripping book."—The Sunday Times (UK)
 
"Name a star and you can bet they're in this book, playing or partying with Rodgers. But far from being a succession of name-dropping anecdotes, this autobiography is a wonderfully funny, moving and wise reflection upon the important things in life: the people you love and the things you create."—The Sunday Telegraph (UK)
 
"Rodgers's page-turning memoir is packed with emotionally charged vignettes of a tumultuous childhood and equally dramatic adulthood that found him awash in cash, cars, and celebrities. . . . His storytelling skills propel the reader through the book, making the ending all the more jarring. Remarkable for its candor, this rags-to-riches story is on the year's shortlist of celebrity memoirs."—Publishers Weekly (starred review)
or
Not Currently Available for Direct Purchase