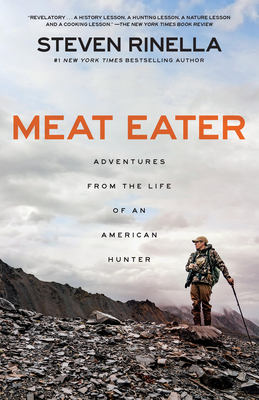 Meat Eater
Adventures from the Life of an American Hunter
Paperback

* Individual store prices may vary.
Other Editions of This Title:
Digital Audiobook (6/8/2020)
Description
"Revelatory . . . With every chapter, you get a history lesson, a hunting lesson, a nature lesson and a cooking lesson. . . . Meat Eater offers an overabundance to savor."—The New York Times Book Review
 
Steven Rinella grew up in Twin Lake, Michigan, the son of a hunter who taught his three sons to love the natural world the way he did. As a child, Rinella devoured stories of the American wilderness, especially the exploits of his hero, Daniel Boone. He began fishing at the age of three and shot his first squirrel at eight and his first deer at thirteen. He chose the colleges he went to by their proximity to good hunting ground, and he experimented with living solely off wild meat. As an adult, he feeds his family from the food he hunts.

Meat Eater chronicles Rinella's lifelong relationship with nature and hunting through the lens of ten hunts, beginning when he was an aspiring mountain man at age ten and ending as a thirty-seven-year-old Brooklyn father who hunts in the remotest corners of North America. He tells of having a struggling career as a fur trapper just as fur prices were falling; of a dalliance with catch-and-release steelhead fishing; of canoeing in the Missouri Breaks in search of mule deer just as the Missouri River was freezing up one November; and of hunting the elusive Dall sheep in the glaciated mountains of Alaska.
 
Through each story, Rinella grapples with themes such as the role of the hunter in shaping America, the vanishing frontier, the ethics of killing, the allure of hunting trophies, the responsibilities that human predators have to their prey, and the disappearance of the hunter himself as Americans lose their connection with the way their food finds its way to their tables. Hunting, he argues, is intimately connected with our humanity; assuming responsibility for acquiring the meat that we eat, rather than entrusting it to proxy executioners, processors, packagers, and distributors, is one of the most respectful and exhilarating things a meat eater can do.
 
A thrilling storyteller with boundless interesting facts and historical information about the land, the natural world, and the history of hunting, Rinella also includes after each chapter a section of "Tasting Notes" that draws from his thirty-plus years of eating and cooking wild game, both at home and over a campfire. In Meat Eater he paints a loving portrait of a way of life that is part of who we are as humans and as Americans.
Praise For Meat Eater: Adventures from the Life of an American Hunter…
"Full of empathy and intelligence . . . In some sections of the book, the author's prose is so engrossing, so riveting, that it matches, punch for punch, the best sports writing."—The Wall Street Journal
 
"Steven Rinella is one of the best nature writers of the last decade. . . . This book was a page-turner."—Tim Ferris
 
"Rinella's writing is unerringly smart, direct, and sharply detailed."—The Boston Globe
 
"Chances are, Steven Rinella's life is very different from yours or mine. He does not source his food at the local supermarket. Meat Eater is a unique and valuable alternate view of where our food comes from—and what can be involved. It's a look both backward, at the way things used to be, and forward, to a time when every diner will truly understand what's on the end of the fork."—Anthony Bourdain
 
"Meat Eater begins with a promise—'This book has a hell of a lot going for it, simply because it's a hunting story'—and then delivers ceaselessly, like a Domino's guy with O.C.D. This is survival of the most literate. . . . This—genuine passion, humbly conveyed—is when nonfiction slaughters fiction and hangs it over its mantel. The text is relentlessly vivid and clear. . . . What Rinella does to prepare a muskrat trap when he's in fifth grade takes five more steps and is infinitely more loving than whatever I did as a fifth grader to break in my baseball glove."—The New York Times Book Review

"Rinella is an astute observer, with an eye for delightfully telling details."—Paste
 
"An insider's look at hunting that devotees and nonparticipants alike should find fascinating."—Kirkus Reviews
 
"If hunting has fewer participants and advocates than ever before, Rinella is doing his best to reverse the trend."—Booklist
 
"Woven into Rinella's thoughtful prose detailing his outdoor adventures (or misadventures, in some cases) are historical, ecological, or technical observations dealing with the landscape, the animals, or the manner in which the game is harvested. . . . Rinella has a passion for hunting and wilderness that comes across in his writing."—Publishers Weekly
Random House, 9780385529822, 256pp.
Publication Date: September 10, 2013
About the Author
In addition to being an expert chef known for working with wild game, Steven Rinella is an outdoorsman, writer, and television and podcast personality with an exceptional ability to communicate the hunting lifestyle to a wide variety of audiences. The host of the television show and podcast MeatEater, he is also the author of two volumes of The Complete Guide to Hunting, Butchering, and Cooking Wild Game; Meat Eater: Adventures from the Life of an American Hunter; American Buffalo: In Search of a Lost Icon; and The Scavenger's Guide to Haute Cuisine. His writing has appeared in many publications, including Outside, Field & Stream, The New Yorker, Glamour, The New York Times, Men's Journal, Salon, O: The Oprah Magazine, Bowhunter, and the anthologies Best American Travel Writing and Best Food Writing.