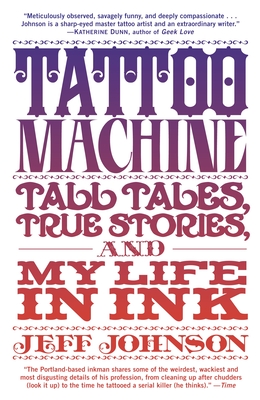 Tattoo Machine (Paperback)
Tall Tales, True Stories, and My Life in Ink
Random House, 9780385530729, 272pp.
Publication Date: June 8, 2010
* Individual store prices may vary.
Description
As the proprietor of the legendary Sea Tramp Tattoo Company, in Portland, Oregon, Jeff Johnson has inked gangbangers, age-defying moms, and sociopaths; he's defused brawls and tended delicate egos. In Tattoo Machine, Johnson illuminates a world where art, drama, and commerce come together in highly entertaining theater. A tattoo shop is no longer a den of outcasts and degenerates, but a place where committed and schooled artists who paint on living canvases develop close bonds and bitter rivalries, where tattoo legends and innovators are equally revered, and where the potential for disaster lurks in every corner.
About the Author
Jeff Johnson has been tattooing professionally for eighteen years and is the co-owner of the Sea Tramp Tattoo Company, the oldest tattoo shop in Portland, Oregon. This is his first book.
Praise For Tattoo Machine: Tall Tales, True Stories, and My Life in Ink…
"Tattoo Machine is meticulously observed, savagely funny, and deeply compassionate. It's a tale of up-from-under redemption through the shadowed art of personal symbolism. Jeff Johnson is a sharp-eyed master tattoo artist and an extraordinary writer." —Katherine Dunn, author of Geek Love

"An amazing firsthand account of all things you wondered about tattoo shops. I loved it." —Gus Van Sant

"A wry, tender story about the tribulations of flesh and ink—and funny as hell. I've never understood why people get tattoos, but after reading Jeff's excellent book I may just get one myself.—Steve Dublanica, author of New York Times Bestselling Waiter Rant

"For everyone out there who is as fascinated by skin art as much as I am, Jeff Johnson's memoir is a must read, a gritty, brutally honest account of his life and years in the tattoo business.  Equally hilarious, alarming, heartbreaking, rebellious, and philosophical, Tattoo Machine gets inside your head and leaves an impression that goes deeper than any needle, one that will only be wiped away when you, dear customer, are dead and gone."—Donald Ray Pollock, author of Knockemstiff