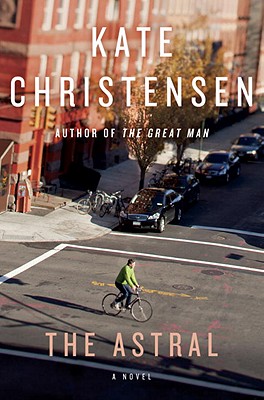 The Astral
Hardcover

* Individual store prices may vary.
Other Editions of This Title:
MP3 CD (6/14/2011)
Compact Disc (6/14/2011)
Hardcover, Large Print, Large Print (10/1/2011)
Paperback (6/12/2012)
Description
From the PEN/Faulkner Award–winning author of The Great Man, a scintillating novel of love, loss, and literary rivalry set in rapidly changing Brooklyn.

The Astral is a huge rose-colored old pile of an apart­ment building in the gentrifying neighborhood of Greenpoint, Brooklyn. For decades it was the happy home (or so he thought) of the poet Harry Quirk and his wife, Luz, a nurse, and of their two children: Karina, now a fer­vent freegan, and Hector, now in the clutches of a cultish Christian community. But Luz has found (and destroyed) some poems of Harry's that ignite her long-simmering sus­picions of infidelity, and he's been summarily kicked out. He now has to reckon with the consequence of his literary, marital, financial, and parental failures (and perhaps oth­ers) and find his way forward—and back into Luz's good graces.

Harry Quirk is, in short, a loser, living small and low in the water. But touched by Kate Christensen's novelistic grace and acute perception, his floundering attempts to reach higher ground and forge a new life for himself become funny, bittersweet, and terrifically moving. She knows what secrets lurk in the hearts of men—and she turns them into literary art of the highest order.
Praise For The Astral…
Praise for The Astral:


"A tart, compassionate story of marriage gone wrong."—O Magazine
 

"Harry Quirk…makes an unexpectedly irresistible hero in this delicious social satire."—People


"Engaging…wonderfully drawn.  It's worth noting that Christensen has somehow — again — created a captivatingly believable male narrator, although she can't see 60 on the horizon, has not been married to a tempestuous Mexican woman for 30 years or published largely ignored poetry in academic journals. (Her previous novel, The Great Man, won the PEN/Faulkner Award.) And yet here she is doing what talented novelists do: creating a voice so rich with the peculiar timbre of lived experience that you feel as though she's introduced you to a witty, deeply frustrated (and frustrating) new friend."—Ron Charles, The Washington Post


"Christensen...amps up the tension, suspense, and pathos until it feels like the book could ignite in your hands. She's a spectacular author who's only beginning to get the attention she so richly deserves, such as the 2008 PEN/Faulkner for The Great Man. Her style is unique in that her work is more based on fascinating and real—maybe too real—characters rather than upon on the same three or four basic plots we've seen a million times. And Harry Quirk is one of her greatest creations. (I will admit that I'm also quite partial to Hugo, the creepy hero of The Epicure's Lament.) Christensen is amazing at capturing male voices and desires, particularly the ones that don't often get aired outside Philip Roth novels.
I can't wait to see how Christensen's work develops over the coming decades. She has the makings of a major American author. Her storytelling derives organically from a firm grasp of characterization and how people work, flaws and all. The Astral, artfully composed and emotionally tender, is evidence of true literary genius."—Andrew Ervin, the Miami Herald


"The book does in fact read like a thriller clothed in beautifully crafted prose."—Holly Cara, Huffington Post


"The best exploration of a middle-aged man's psyche since Bellow, all the more brilliant for having been written by a woman."—Bethanne Patrick,  Shelf Awareness (starred)


"Brooklyn has long been the muse of novelists.  In Kate Christensen's sixth novel, THE ASTRAL, Greenpoint gets its due.  Ah, urban beauty: Christensen gets what's funny about it, and also what's disappointing. [Christensen's] a mischievous writer with a keen eye and ear for comedy, one who sets up precarious scenarios and then lets her characters hash things out."—New York Observer


"With her lead character's name--Harry Quirk--Kate Christensen hands you a road map to her lovely, hilarious, and yeah, OK, quirky new novel, The Astral….  From the precision with which she dissects her characters' foibles to the Brooklyn landscapes she brings to vivid life, Christensen's meditation on marriage is viewed through a poet's eye, and tempered at times with a satirist's soul."­—Veronique de Turenne, Barnes & Noble Review


"[Christensen's] characters' ruminations on how the forces of love and deception work in tandem within a relationship are both searing and concise… [She] is a forceful writer whose talent is all over the page. Her prose is visceral and poetic, like being bludgeoned with an exquisitely painted sledgehammer. She is a portrait artist, drawing in miniature, capturing the light within."—Janelle Brown, the San Francisco Chronicle


A "sharp perceptive novel...Christensen's The Astral is provoking and at times profoundly moving." —Associated Press


"Christensen is a gifted novelist who knows how to deliver the goods when it comes to ruefully funny, bittersweet character sketches."—Christian Science Monitor


"Not once during The Astral did this reader ever feel like the narrative strayed from the vivid, first-person voice of Harry. Another pleasure of this novel is that Christensen manages to shape this itinerant narrative with unexpected tensions and tenderness. By the conclusion, Harry alters his ways, moving outside the familiar grooves of his old life and begins to chart new territory of employment and relationships. Taken altogether, this entertaining novel reads like an ode to Brooklyn and broken marriages, endings and beginnings, and the spaces in between."—S. Kirk Walsh, the Boston Globe


"Christensen's prose is clean and her characters enthralling….[This] novel is a wonderful investigation of the pitfalls that arise in even the longest of marriages, made possible by a shared history absent in shorter unions."—Robin Vidimos, the Denver Post



"[This] novel, by turns funny sad, and wise, is glittering with insightful and lovely descriptions, and Harry [Quirk] is so far my favorite fictional character of 2011: he's complicated, stubborn, smart, foolish, vulnerable, and—man oh man—does he feel real."—Edan Lepucki, The Millions


"Christensen perfectly embodies the voice of a male poet in crisis, Harry Quirk ... [she] is a master at nailing Harry's antagonizing voice, and her protagonist does not disappoint. Readers will be sucked into extremely realistic familial dramas while Christensen perfectly captures her Brooklyn backdrop—from dive bars to hipsters drinking overpriced coffee in trendy cafes. With acute perception and witty humor, this bittersweet novel moves along at a tremendous pace, entertaining until its climactic final scene."—Megan Fishman, Bookpage


"Like the rapidly gentrifying Brooklyn of its setting, Christensen's unremittingly wonderful latest (after Trouble) is populated by an odd but captivating mix of characters. At the center is Harry Quirk, a middle-aged poet whose comfortable life is upended one winter day when his wife, Luz, convinced he's having an affair, destroys his notebooks, throws his laptop from the window, and kicks him out. Things, Harry has to admit, are not going well: their idealistic Dumpster-diving daughter, Karina, is lonely and lovelorn, and their son, Hector, is in the grip of a messianic cult. Taking in a much-changed Greenpoint, Brooklyn, while working at a lumberyard and hoping to recover his poetic spark, Harry must come to terms with the demands of starting anew at 57. Astute and unsentimental, at once romantic and wholly rational, Harry is an everyman adrift in a changing world, and as he surveys his failings, Christensen takes a singular, genuine story and blows it up into a smart inquiry into the nature of love and the commitments we make, the promises we do and do not honor, and the people we become as we negotiate the treacherous parameters of marriage and friendship and parenthood."—Publisher's Weekly (starred)


"Christensen (Trouble, 2009, etc.) knows her way around aging characters. Having won the PEN/Faulkner Award for her lively septuagenarians in The Great Man (2007), she now creates a charmingly ribald bohemian poet flailing about in late middle age.
      The title refers to the apartment building where Harry Quirk and his wife Luz, a devoutly Catholic Mexican nurse, have lived in Greenpoint, Brooklyn, for all of their 30-year marriage. Now Luz has kicked Harry out and burnt his latest manuscript of poetry—eschewing popular trends, he writes in rhyme and meter—because she thinks his love poems are proof that he's been carrying on an affair with his friend Marion. Righteously claiming the poems are written to an imaginary woman, he fights hard to convince Luz of his fidelity and win her back. Meanwhile, he hangs out in his Greenpoint neighborhood, finds work at a Hasidic lumberyard where he's the only non-Jew, drinks at his local bars, visits Marion and discusses why they have never been and never will be lovers and moves from living space to living space until he ends up staying with his daughter Karina, a 25-year-old vegan dumpster-diving activist. He and Karina make visits to Karina's older brother Hector, always Luz's favorite, who has abandoned her Catholicism and joined a Christian cult led by a sexy charlatan who plans to marry Hector. While Harry wanders through his days, drinking, conversing, picking fights, trying to talk to Luz, who says she wants a divorce and won't see him, his Brooklyn world of aging bohemians comes vividly to life. There's not a lot of active plot here, but each minor character is a gem. As for Harry, by the time he faces the truth about his marriage and finds a measure of hard-earned happiness, or at least self-awareness, he has won the reader's heart. He's a larger-than-life, endearing fool.
      A masterpiece of comedy and angst. Think Gulley Jimson of Joyce Cary's The Horses Mouth transported from 1930s London to present-day Brooklyn."—Kirkus Reviews (starred)




Praise for Kate Christensen:

"Christensen is the kind of writer who's willing to say things most people don't dare to. And she knows exactly how to say them."
—Time

"[Her] characters are marvelously realized, and when Christensen's on a roll, her wit is irresistible."
—Publishers Weekly

"Christensen's writing is clear-eyed, bitingly funny, and supremely caustic about the niceties of social relations, contemporary American culture, and sexual politics."
—O, The Oprah Magazine

"Nimble, witty, and discerning, Kate Christensen is single-handedly reinvigorating the comedy of manners with her smart and disemboweling novels of misanthropes, cultural and aesthetic divides, private angst, social ambition, and appetites run amok."
—Chicago Tribune

"Kate Christensen is a serious writer: Don't be fooled by the relentless hipness or what seems full-throttle frivolity of her subject matter—the joke, if you don't get it, is on you."
—New York Observer

"Kate Christensen's brilliant, big-hearted skewering of greatness, of men . . . reminded me that books can be witty, and heartbreaking, and intelligent, and keep you up too late reading. How rare it is that a writer is talented enough to deliver such varied treasures in one novel, but Christensen manages it effortlessly."
—Heidi Julavits, author of The Uses of Enchantment

Doubleday, 9780385530910, 320pp.
Publication Date: June 14, 2011
About the Author
KATE CHRISTENSEN is the author of five previous novels, most recently "Trouble." "The Great Man" won the 2008 PEN/Faulkner Award for Fiction. She has written reviews and essays for numerous publica-tions, most recently the "New York Times Book Review," "Bookforum," "Tin House," "Elle," and "Open City." She lives in New York City.
Coverage from NPR
or
Not Currently Available for Direct Purchase