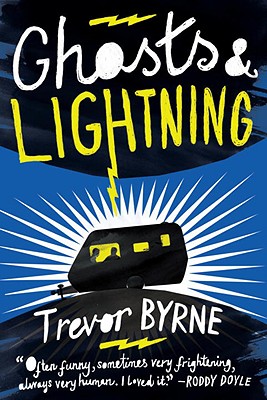 Ghosts and Lightning (Hardcover)
Doubleday, 9780385531276, 336pp.
Publication Date: December 29, 2009
* Individual store prices may vary.
or
Not Currently Available for Direct Purchase
Description
An outstanding debut novel set in Dublin from a young Irish novelist that echoes the poignant, comical and gritty voices of Roddy Doyle, Patrick McCabe, and Irvine Welsh.

Set in contemporary Dublin and the surrounding countryside, Ghosts and Lightning is a picaresque account of Denny Cullen's life after he is called back home to attend his mother's funeral. Denny—a sweet-natured but disillusioned young man who feels powerless in the face of death, dope and the dole queue—is the steadiest in a cast of unstable characters. Denny and his lads fill their empty days with hooliganism, raucous parties, violence and even an exorcism, but their fearlessness and humor make them as irresistible as an expertly pulled pint of Guinness.
About the Author
TREVOR BYRNE was born in 1981 and brought up in Clondalkin in south Dublin. He attended Trinity College and the University of Glamorgan. He is currently a tutor of creative writing at Glamorgan University.
Praise For Ghosts and Lightning…
"Ghosts and Lightning is a powerful novel and Trevor Byrne is a very powerful writer. The narrator, Denny, and the others around him are great characters, often funny, sometimes frightening, always very human. I loved the dialogue and the rhythm of the book. It's a rough world, but carefully crafted. I could hear every word as I read."—Roddy Doyle 

"Young Dubliner Trevor Byrne's voice crackles with energy and dark humour in a richly-evoked novel of Dublin family life." —Irish Independent

"Trevor Byrne writes so damn vividly about the working and the not-working classes of Dublin that I figure he's spent a good part of his life lying around grimy houses amid cigarette ashes and ragged wrestling posters and spilled booze. Though Ghosts & Lightning is about grief and loss and survival, it's also one of the funniest novels I've read in a long, long time. I hated to see it end." —Donald Ray Pollock, author of Knockemstiff


"Byrne displays an unmistakable gift for storytelling . . . Our narrator is Denny Cullen, an expatriate from the projects of south Dublin whose ambitions -- flee to Wales, make a few pounds, get a college education -- come crashing down when his mother dies. "There yeh are, anyway," Denny says. "Must o stepped on a snake somewhere. Slid back to Dublin. Square one. Or Wicklow at this exact moment, which might be square two, or even minus one. Ah sure, details." Delivered in that fantastic (but explicit) Southern vernacular that frequently uses profanity as punctuation, Cullen and his drink-addled companions launch a series of misadventures that never end well. He rooms with his sister Paula, a lesbian who starts every afternoon with a tipple, in a house haunted not only by the memory of their mother but also by a genuine ghost. The best mates Denny finds are his old ones. Maggit is a violent hooligan in the vein familiar to readers of Irvine Welsh, while Pajo is a recovering junkie with a decidedly casual attitude toward the world whose cavalier text messages and insights smack of Zen Buddhism. . . But eventually the book posits Denny as an unlikely modern version of the Irish hero Cúchulainn, who "went on to do all sorts o mad stuff, taking on gods and monsters and the enemies of Ulster." This twist introduces a mythic quality in stark contrast to the characters' ribald, lightning-fast dialogue.  Messy, funny, troubled and tragic." (Nov.) —Starred Kirkus Review

"Although gothic tropes pervade Byrne's strong debut novel, they're doused—or soused, rather—with vibrant Dublin brogue and streetwise wit. On the death of his mother, 26-year-old Denny Cullen comes home to a small, "disgraceful fuckin kip" in Dublin's sprawl, where dwells his quite alive and quite drunk lesbian sister, Paula. She claims there's a gender-bending ghost hiding under the bed, so their friend and methadone-addicted spiritual adviser, Pajo, conducts a kitchen-table séance that prompts Denny to find meaning and purpose in his own life. Overwhelmed by grief and alienated from his father and brothers, Denny struggles against the boozy tides of violent childhood memories, unemployment and low self-esteem. If his aimlessness threatens to scuttle a plot that depends upon the shenanigans of his friends and their enemies, then it's Denny's voice and sensibility that buoy the narrative. He and his mates turn phrases so wry, so inventive, so Irish, that one feels the burning intelligence and resilience that reside in even the mangiest stripe of the Celtic tiger." (Dec.) —Starred Publishers Weekly

"Stories—treasured memories, ancient Irish history, any and all manner of tall tales—are the lifeblood of Ghosts and Lightning, a wandering, hilarious, violent, melancholy and always captivating novel that echoes Irvine Welsh's iconic Trainspotting. Byrne has a real knack for mixing humor and sorrow without weighing down his freewheeling, picaresque tale, which meanders like a drunk weaving his way from pub to pub." —The Miami Herald

"At 28 [Trevor Byrne's] produced, in Ghosts & Lightning, a substantial debut novel that features pitch-perfect dialogue." —The Dallas Morning News

Denny Cullen, the antihero of this raucous and sometimes profound début novel, is twenty-six, on the dole, and generally drunk or doped up. Returning home to Dublin after his mother's death, Denny drifts through a series of drug-addled parties, funerals, séances, and other adventures with his alcoholic lesbian sister; a childhood friend who's become a Buddhist junkie; and the friend's hooligan brother. The group forms a witty and often disturbing portrait of the Irish underclass ("That Celtic fuckin Tiger's the one endangered animal I'd happily put a bullet into," Denny rants), and the story is inventively narrated in a thick Irish brogue, saturated with profanities and folkloric allusions. Superstitions about ghosts, witches, banshees, leprechauns, and goblins play a part in almost every episode, but the only real ghosts to appear are the pill-popping, shiftless young protagonists." —The New Yorker
Advertisement