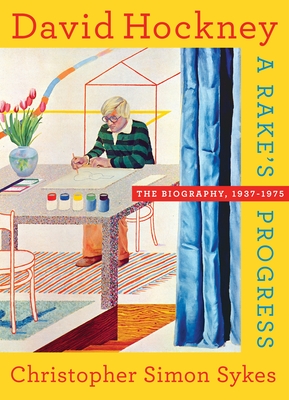 David Hockney: The Biography, 1937-1975 (Hardcover)
The Biography, 1937-1975
Nan A. Talese, 9780385531443, 363pp.
Publication Date: April 17, 2012
* Individual store prices may vary.
or
Not Currently Available for Direct Purchase
Description
Drawing on exclusive and unprecedented access to David Hockney's extensive archives, notebooks, and paintings, interviews with family, friends, and on Hockney himself, Christopher Simon Sykes provides a colorful and intimate portrait of one of the most influential artists of the twentieth century.

Born in 1937, David Hockney grew up in a northern English town during the days of postwar austerity. By the time he was ten years old he knew he wanted to be an artist, and after leaving school he went on to study at Bradford Art College and later at the Royal College of Art in London. Bursting onto the scene at the Young Contemporaries exhibition, Hockney was quickly heralded as the golden boy of postwar British art and a leading proponent of pop art. It was during the swinging 60s in London that he befriended many of the seminal cultural figures of the generation and throughout these years Hockney's career grew. Always absorbed in his work, he drew, painted and etched for long hours each day, but it was a scholarship that led him to California, where he painted his iconic series of swimming pools. Since then, the most prestigious galleries across the world have devoted countless shows to his extraordinary work.
In the seventies he expanded his range of projects, including set and costume design for operas and experiments with photography, lithography, and even photocopying. Most recently he has been at the forefront the art world's digital revolution, producing incredible sketches on his iPhone and iPad, and it is this progressive thinking which has highlighted his genius, vigor and versatility as an artist approaching his 75th birthday.
In this, the first volume of Hockney's biography, detailing his life and work from 1937 - 1975, Sykes explores the fascinating world of the beloved and controversial artist whose career has spanned and epitomized the art movements of the last five decades.
"The timing couldn't be better for this enjoyable and well-sourced book, which -- like Hockney's own work -- is both conversational and perceptive." --Los Angeles Times

"To read Christopher Simon Sykes' David Hockney is to marvel at the artistic gifts of the eccentric Yorkshireman who rose from a sometimes pinched childhood to hobnob with poet Stephen Spender and novelist Christopher Isherwood, to party with Mick Jagger and Manolo Blahnik." --The Plain Dealer
"Prodigiously entertaining." --Financial Times
"A chatty, knowledgeable, insider's biography, full of anecdotes." --The Guardian

About the Author
CHRISTOPHER SIMON SYKES is a photographer and writer. He specializes in architectural and garden photography and writes on architecture and social history. Sykes worked with Eric Clapton on his autobiography, Clapton, and his work has appeared in publications such as Vogue, Vanity Fair, Town & Country, and Architectural Digest. He lives with his wife and daughter in North London.
Praise For David Hockney: The Biography, 1937-1975…
"The timing couldn't be better for this enjoyable and well-sourced book, which — like Hockney's own work — is both conversational and perceptive."
—Los Angeles Times

"An entertaining and intimate biography which leaves no aspect of the artist's life unexplored."
—Associated Press

"What Mr. Sykes does best in these pages is capture Mr. Hockney's almost preternatural love of making images, his passion for art, which dates to his earliest childhood ... Mr. Sykes offers some fascinating accounts of the evolution of certain well-known Hockney paintings and in doing so, traces the autobiographical impulses in Mr. Hockney's work, his peregrinations from London to Paris to Los Angeles, his frank embrace of homosexual themes and his relationships with family, friends and lovers."
—Michiko Kakutani, The New York Times

"Fluid, entertaining....Meticulously researched, Sykes's account is a pleasure to read."
—The New Yorker

"To read Christopher Simon Sykes' David Hockney is to marvel at the artistic gifts of the eccentric Yorkshireman who rose from a sometimes pinched childhood to hobnob with poet Stephen Spender and novelist Christopher Isherwood, to party with Mick Jagger and Manolo Blahnik."
—The Plain Dealer

"Sykes' writing has a real raconteurial flair ... Along with Hockney's personal successes and travails, Sykes pays close attention to the art. He takes you inside Hockney's head, noting the artist's dissatisfaction with even some of his most highly regarded paintings and recording Hockney's thoughts on such artistic challenges as painting water."
—The Seattle Times

"Energetic, absorbing ... Sykes skillfully integrates Hockney's private history with his public, artistic life to provide unusual insight into both his emotional and professional life."
—Publishers Weekly

"Intimate, vivid ... A personal, lively look at this extraordinary artist's career. Readers will eagerly await the second volume."
—Kirkus Reviews

"Lively and lavishly detailed. . . . Sykes' portrait knits Hockney's life and work together in perceptive and substantiated ways. Charismatic and funny, gregarious, inquisitive, phenomenally skilled and inventive, and forthright about his homosexuality, young Hockney embraced every opportunity to go somewhere new and try something different. And his prismatic, autobiographical, and provocative paintings, prints, and stage designs evolved accordingly during his sojourns in London, New York, Los Angeles, and Paris. Sykes profiles Hockney's mentors, friends, and lovers—a veritable who's who of the art world and high society—analyzes his influences and innovations, and ends on a high note."
—Booklist

"Prodigiously entertaining."
—Financial Times

"A chatty, knowledgeable, insider's biography, full of anecdotes."
—The Guardian
 
"Christopher Simon Sykes is quick to blow away the cobwebs in his biography, the first of two volumes, pointing to Hockney's trailblazing status. This is…an exhaustive and authoritative telling of the Hockney story."
—The Independent
 
"Certainly the most moving and amusing account of the most popular British artist of the 20th century. [David Hockney] bounces along as the rebellious, eccentric, funny artist discovers sex, then London, and so on to fame and fortune, via California. Sykes elicits marvellous background details and anecdotes… The wit, energy and magical talent of Hockney to use whatever happens to him to his purpose and for humour are shown on almost every page."
—London Evening Standard
Advertisement