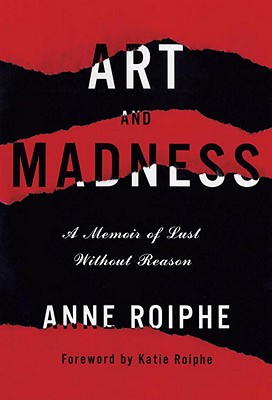 Art and Madness
A Memoir of Lust Without Reason
Hardcover

* Individual store prices may vary.
Description
Luminous and intensely personal, Art and Madness recounts the lost years of Anne Roiphe's twenties, when the soon-to-be-critically-acclaimed author put her dreams of becoming a writer on hold to devote herself to the magnetic but coercive male artists of the period.
 
Coming of age in the 1950s, Roiphe, the granddaughter of Jewish immigrants, grew up on Park Avenue and had an adolescence defined by privilege, petticoats, and social rules. At Smith College her classmates wore fraternity pins on their cashmere sweaters and knit argyle socks for their boyfriends during lectures. Young women were expected to give up personal freedom for devotion to home and children. Instead, Roiphe chose Beckett, Proust, Sartre, and Mann as her heroes and sought out the chaos of New York's White Horse Tavern and West End Bar.
 
She was unmoored and uncertain, "waiting for a wisp of truth, a feather's brush of beauty, a moment of insight." Salvation came in the form of a brilliant playwright whom she married and worked to support, even after he left her alone on their honeymoon and later pawned her family silver, china, and pearls. Her near-religious belief in the power of art induced her to overlook his infidelity and alcoholism, and to dutifully type his manuscripts in place of writing her own.
 
During an era that idolized its male writers, she became, sometimes with her young child in tow, one of the girls draped across the sofa at parties with George Plimpton, Terry Southern, Doc Humes, Norman Mailer, Peter Matthiessen, and William Styron. In the Hamptons she socialized with Larry Rivers, Jack Gelber and other painters and sculptors. "Moderation for most of us is a most unnatural condition . . . . I preferred to burn out like a brilliant firecracker." But while she was playing the muse reality beckoned, forcing her to confront the notion that any sacrifice was worth making for art.
 
Art and Madness recounts the fascinating evolution of a time when art and alcohol and rebellion caused collateral damage and sometimes produced extraordinary work. In clear-sighted, perceptive, and unabashed prose, Roiphe shares with astonishing honesty the tumultuous adventure of self-discovery that finally led to her redemption.
Praise For Art and Madness: A Memoir of Lust Without Reason…
A Vogue Best Book of the Year

"The greatest book about 1950s literary circles since Joyce Johnson's Minor Characters, Anne Roiphe's Art and Madness recalls the novelist's lost years of Paris Review parties and late nights at Elaine's, years in which she set aside her own ambitions to become a handmaiden of sorts to male artistic genius—at tremendous personal cost."
—Vogue

"To capture the spirit of those prefeminist days Ms. Roiphe ... must write intelligently about a time when, at least in matters of love, sex, marriage, motherhood, career and literary hero worship, she was not very smart at all. Art and Madness accomplishes all this ... Ms. Roiphe is sharply perceptive about the flesh-and-blood people around her. And she is witty about the ones who live in her imagination."
—The New York Times

"Riveting … written in a tone of Didion-like detachment, but saffroned with [Roiphe's] distinctive, pungent regrets and her curious humility … Brave, revealing."
—The Daily Beast

"Roiphe's sharp, dazzling memoir of her literary youth in late 1950s and early 1960s New York City contains a dark story of untenable marriages, alcoholism, and outrageous sexism … She is a masterly writer: her work presents vivid, priceless snapshots of the roiling era of Communist hysteria, faddish homosexuality, male privilege, and the heartbreaking fragility of talented men and their dreams of fame."
—Publishers Weekly

"A sharp, graphic portrayal of bohemian times that thoughtfully reveals the young woman the author once was."
—Kirkus Reviews

"Roiphe analyzes the effect of alcohol and crazy lifestyles on the writers as well as their wives, who were supposed to serve as patient muses, her colorful, staccato prose capturing the restless energy of the time."
—Library Journal

"Art and Madness riveted me. It depicted the fifties turning sixties as I too experienced them. Women were expected to be muses not writers. Male sexism and alcoholism were not only indulged but celebrated. The Hemingway myth of the virile, drunken writer destroyed many lives—including the lives of the male writers themselves. Anne Roiphe tells the complex truth about those decades—the longing for fame and how it rots the soul, the pandemic of alcoholism, the attempt to survive and thrive and raise one's children in a world that disdains female accomplishment. This is a valuable inner history of those times."
—Erica Jong, author of Seducing the Demon: Writing for My Life

"Anne Roiphe's unsparing memoir vividly recaptures a time when writing was everything, a lost world devoted to the hot pursuit of art, of fame. It was an era of male swagger, fueled by booze, when women paid a steep price for attaching themselves to other people's consuming talent and ambition."
—Morris Dickstein, author of Dancing in the Dark and Gates of Eden

"What an extraordinary memoir Ann Roiphe's book is, so compelling and immediate. I read it almost in one sitting because I did not want to break the spell . . . When I got to the end I realized how artfully crafted these seemingly random memories are. Art and Madness is an extraordinary evocation of its era. But it's an even more wonderful portrait of an artist growing her wings inside the chrysalis of that time until at last she bursts forth in glory."
 —Amanda Vaill, author of Everybody Was So Young: Gerald and Sara Murphy: A Lost Generation Love Story
 
"With all the skepticism she lacked at the time, Anne Roiphe revisits her flight into the dazzling bohemia of the fifties-sixties New York. It was a time when women with literary dreams found men to fulfill, and deflower, them and woke up with a giant hangover . . . Roiphe remembers every wincing moment and spasm of that morning-after and has turned it into a superb act of recollection. Here are the Mad Men of literature as seen by one of the pretty little things in their midst who grew up to turn the tables in a razor-sharp testimonial to a time of headspinning delusions."
—Molly Haskell, author of Frankly My Dear: "Gone with the Wind" Revisited
Nan A. Talese, 9780385531641, 240pp.
Publication Date: March 15, 2011
About the Author
ANNE ROIPHE'S eighteen books include the memoir "Fruitful," a finalist for the National Book Award, and the novel "Up the Sandbox," a national bestseller. She has written for the "New York Times," the "New York Observer," "Vogue," "Elle," "Redbook," "Parents," and the" Guardian." She lives in New York City.
Coverage from NPR
or
Not Currently Available for Direct Purchase