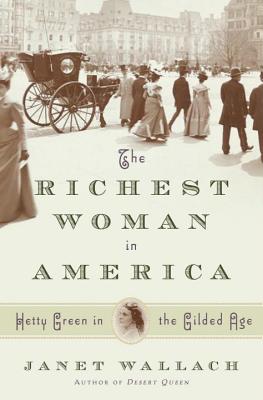 The Richest Woman in America
Hetty Green in the Gilded Age
Hardcover

* Individual store prices may vary.
Other Editions of This Title:
Digital Audiobook (9/24/2012)
Paperback (6/4/2013)
Description
A captivating biography of America's first female tycoon, Hetty Green, the iconoclast who forged one of the greatest fortunes of her time.
 
    No woman in the Gilded Age made as much money as Hetty Green. At the time of her death in 1916, she was worth at least 100 million dollars, equal to more than 2 billion dollars today. A strong believer in women being financially independent, she offered valuable lessons for the present times.
    Abandoned at birth by her neurotic mother, scorned by her misogynist father, Hetty set out as a child to prove her value. Following the simple rules of her wealthy Quaker father, she successfully invested her money and along the way proved to herself that she was wealthy and therefore worthy. 
   Never losing faith in America's potential, she ignored the herd mentality and took advantage of financial panics and crises. When everyone else was selling, she bought railroads, real estate, and government bonds. And when everyone was buying and borrowing, she put her money into cash and earned safe returns on her dollars. Men mocked her and women scoffed at her frugal ways, but she turned her back and piled up her earnings, amassing a fortune that supported businesses, churches, municipalities, and even the city of New York itself. 
   She relished a challenge. When her aunt died and did not leave Hetty the fortune she expected, she plunged into a groundbreaking lawsuit that still resonates in law schools and courts. When her husband defied her and sank her money on his own risky interests, she threw him out and, marching down to Wall Street, quickly made up the loss. Her independence, outspokenness, and disdain for the upper crust earned her a reputation for harshness that endured for decades. Newspapers kept her in the headlines, linking her name with witches and miscreants. Yet those who knew her admired her warmth, her wisdom, and her wit. 
   Set during a period of financial crisis strikingly similar to our current one, acclaimed author Janet Wallach's engrossing exploration of a fascinating life revives a rarely-mentioned queen of American finance.
Praise For The Richest Woman in America: Hetty Green in the Gilded Age…
"This autumn has seen a slew of new books about the economy and the new plutocracy. None is as absorbing as The Richest Woman in America, which takes us through America's repeated booms and busts through the eyes and coolheaded example of the remarkable financial genius Hetty Green ... Long after one has finished reading, what shines forth is the wisdom of an obscure but admirable woman who said and did what she thought. As if to inspire others, a series of Green's bon mots conclude the book, which should be mandatory reading for investors embarking on refiguring their 401(k)s."
—The Washington Times
 
"It's always fun to return to the story of Green, who died in 1916 with a fortune of $100 million. That would make her a billionaire twice over in today's dollars. Incredibly, it was money she earned through savvy and aggressive investing. Green, who was notoriously frugal and never shied away from a fight, earned a reputation as the mean, crazy lady of Wall Street. But Wallach presents Green's charitable self, a woman who could be wise and witty, warm as well. And generous, too."
—New York Daily News

"Wallach does an admirable job putting together a more complete picture of the fascinating and ground-breaking Green beyond her 'Witch of Wall Street' reputation."
—USA Today

"A lively book that whisks readers through five decades of Green's wheeling and dealing ... Wallach brings a warm empathy to her account of Green's life and times."
—The Daily Beast

"Well-researched and well-written ... Hetty Green was a talented investor who had the bad luck to be born in an era when a guild, the guild of Victorian men, shut out a whole class of minds—women's."
—The Wall Street Journal

"Aspiring investors might want to memorize Hetty Green's words as they do Warren Buffett's ... In telling Green's story, Wallach also tells the story of America's repeated busts and booms in a way that seems very relevant right now."
—The Washington Post

"An enthusiastic portrait of an investment pioneer who matched her male counterparts in ambition and guile, and one who never backed down from a fight, legal or otherwise ... Wallach's book is filled with colorful historical details of an economic time that eerily parallels our own—an unpredictable real estate market, lax banking policies and over-exuberant investors who rode the next big thing until its inevitable crash."
—San Francisco Chronicle
 
"An enjoyable account ... Wallach successfully portrays a compelling woman who kept her eyes on the glittering financial prize, using a commonsense philosophy regarding real estate and investment throughout the 19th century's Wall Street roller-coaster."
—Publishers Weekly

"Dubbed 'the Witch of Wall Street,' this nineteenth-century capitalist parlayed her initial inheritance into a substantial fortune, famously eschewing the glamour and the excesses of the Gilded Age. Despite her shrewd investment acumen, her remarkable achievements were often overshadowed by her well-publicized eccentricities. As the mythology of her gratuitous frugality swelled, she was gleefully caricatured in newspapers and magazines as a miser of epic proportions. While she was a popular-culture icon for many of the wrong reasons, most journalists failed to acknowledge her blistering business savvy and the tremendous power she wielded in a male-dominated arena. Wallach does Green long-overdue service by providing an evenhanded account of her professional accomplishments and her personal peculiarities."
—Booklist

Praise for Janet Wallach's Desert Queen

"Excellent."
—The New York Times Book Review

"Outstanding."
—The Dallas Morning News

"A richly textured biography ... Wallach's account is both close-grained and broad ... A vivid, almost novelistic narrative."
—Chicago Tribune

"This colorful, romantic biography ... vividly evokes a memorable personality."
—Publishers Weekly, starred review
Nan A. Talese, 9780385531979, 281pp.
Publication Date: September 25, 2012
About the Author
JANET WALLACH is the author of nine books, including "Desert Queen: The Extraordinary Life of Gertrude Bell," which has been translated into twelve languages and was a "New York Times "Notable Book of the Year.
or
Not Currently Available for Direct Purchase