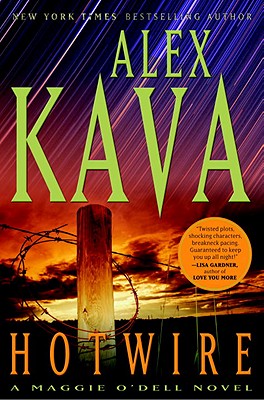 Hotwire: A Maggie O'Dell Novel (Hardcover)
A Maggie O'Dell Novel
Doubleday, 9780385532013, 304pp.
Publication Date: July 12, 2011
* Individual store prices may vary.
or
Not Currently Available for Direct Purchase
Description
In New York Times bestselling author Alex Kava's new thriller, Special Agent Maggie O'Dell investigates the death of three teenagers, only to find herself in the middle of a conspiracy involving biological warfare.

On a crisp fall evening in western Nebraska, what started as a group of kids filming their drug-fueled party ends in an explosive light show, leaving the victims apparently electrocuted, with odd scorch marks being the only evidence. While Maggie tries to make sense of the dif­ferent stories, sifting through what is real and what is hallu­cination, she realizes that the surviving teens are being targeted and systematically eliminated.

Meanwhile on the East Coast, Maggie's FBI partner, R.J. Tully, and Army colonel Benjamin Platt are at the scene of a deadly outbreak, desperate to identify the pathogen that has infected children at a Virginia elementary school. Despite the miles that separate them, the two cases collide as Maggie, Tully, and Platt uncover secrets that were meant to stay hidden in the remote Midwest landscape.
About the Author
ALEX KAVA's twelve books, two stand-alone novels and ten novels featuring FBI profiler Maggie O'Dell, have been published in more than twenty countries, appearing on bestseller lists in Britain, Australia, Poland, Germany, and Italy. She is a member of Mystery Writers of America and International Thriller Writers. Alex divides her time between Omaha, Nebraska, and Pensacola, Florida.
Praise For Hotwire: A Maggie O'Dell Novel…
EARLY PRAISE FOR HOTWIRE:

"O'Dell could be Reacher's long-lost twin."
—Lee Child

"Outstanding . . . A sizzling plot, achingly real characters, and government officials working their backsides off to save their backsides, all strike as lethally as lightning."
—Publishers Weekly, starred review
 
"Kava spins a plot with significant political ramifications, combining nonstop action and lethal danger with developing the personal relationahip between Maggie and Ben. The seventh in the Maggie O'Dell series is a strong entry that's just plausible enough to leave readers wondering about the line between truth and fiction."
—Booklist

"The question of how such wildly disparate outrages might be connected is ingenious."
— Kirkus Reviews

"Twisted plots, shocking characters, breakneck pacing. Guaranteed to keep you up all night!"
—Lisa Gardner, author of Love You More

"Hotwire has it all: solid storytelling that propels you right along, intriguing mysteries, memorable and believable characters, and ripped-from-the-news storylines . . .  Don't miss Hotwire, a perfect book for the middays of summer."
—Bookreporter.com

"Kava has given readers a tightly written, ambitiously plotted mystery involving secret government research programs and devious goings-on in the rural Sand Hills...I couldn't out it down..Kava seems to get better with every book."
--Omaha World-Herald

"Kava demonstrates the thriller chops that have earned her a place on The New York Times best-seller list. Kava charges through the action and builds towards an electric ending." -
-Lincoln Star Journal


PRAISE FOR DAMAGED:

"Rip-roaring action that only builds in intensity with every page, Damaged kept me so riveted during a long plane ride that I completely forgot where I was -- the mark of a true thriller!"
--Tess Gerritsen, New York Times bestselling author of Ice Cold

"Damaged moves and rides and thrills right along from page to page...The perfect book to take along on vacation -- for some many frightening, twisted reasons."
—Bookreporter.com

"This intense thriller builds to an eye-popping revelation that will leave fans eager for the sequel."
—Publishers Weekly
Why does Maggie pocket Johnny Bosh's cell phone at the scene of his suicide? Is her action illegal? What information does the phone reveal about Amanda Vicks?
Why does sheriff Frank Skylar refer to Lucy Coy as "that crazy, old Indian woman" (46) when she is, in fact, young, elegant and sharp? Is this simple racism on the sheriff's part, or does he have something to fear from Lucy?
Hotwire tackles themes of domestic terrorism, bioengineering, genetically altered food, teenage drug use, bullying, government subterfuge, military misconduct and the dangers of the meat processing industry. How does the author maneuver these weighty topics so that they do not topple the narrative?
What prompts Lucy's comment to Maggie, "I think you and I were meant to be oddities no matter where we are or what we do" (71)? Do you think Kava favors her female characters? Are there any male characters in the novel as fully developed and as principled as Lucy or Maggie?
What does Kava's skillful evocation of the Nebraska landscape—the rolling red and gold grasses of the sandhills, the eerie vastness of the man-made pine forest—add to this story?
Maggie has no jurisdiction to be lead investigator on the case of the injured and dead teens, yet she decides to stay in Nebraska long enough to make sure the investigation is handled properly. "But Maggie was here because she wanted—no, she needed—to see that Dawson Hayes was okay" (79). Why does she feel so connected to Dawson, the self-proclaimed loser? Does this sense of connection persist? Does he feel it too?
Who follows Platt home from Williamsburg, and pays his parents a "friendly" visit as a warning to Platt to drop his investigation?
Julia Racine plays a relatively minor role in the narrative, as a homicide detective roped into helping Platt and Bix with the food contamination investigation. Yet her character packs a punch, with her sassy personality and complex neuroses. Why do you think Kava includes her in this story? How does a phone call to Platt help Julia to transition from relationship paralysis to a new comfort level with her partner, Rachel, and Rachel's daughter CariAnne?
Maggie is obsessed with her boss's apparent scorn for her. What explains Kunze's suddenly magnanimous behavior at the end of the novel, when he gives Maggie the week off, with "no lecture, no punishment, no suspension" (233), despite her going awol from her conference in Denver?
During the interrogations of the teenagers, Maggie worries about them suffering survivor's guilt about their dead peers. What is her personal experience with survivor's guilt? How does she manage it?
Do you read Wesley Stotter as a UFO-chasing eccentric, or as an earnest theorist who can't make himself heard? Does his sudden demise in the fieldhouse come as a surprise? What mystery is he on the verge of cracking at the moment of his death? Does the book supply an answer to this mystery?
Parental abandonment figures hugely in the back-story of many characters in Hotwire. Dawson Hayes' mother "left them" years ago (72); Julia Racine "was ten, just a little older than CariAnne, when her mother died" (75); Maggie O'Dell's father "was killed when she was twelve" (139); Amanda Vick's father "didn't come home" from his tour of duty during Desert Storm (187). Why does Kava choose this theme to unite her characters? How does it infuse the story with tension?
In the novel's opening lines, Dawson Hayes muses that, for teenagers, "Admission to the cool club didn't come without some sacrifice" (1). How is this adage applicable to many of the adults in the novel, as they wrangle for professional leverage?
Advertisement