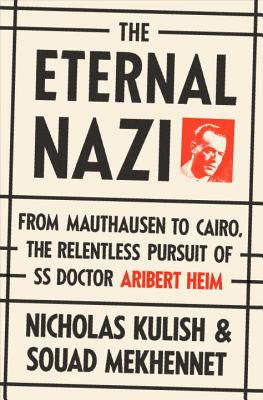 The Eternal Nazi
From Mauthausen to Cairo, the Relentless Pursuit of SS Doctor Aribert Heim
Hardcover

* Individual store prices may vary.
Other Editions of This Title:
Digital Audiobook (3/24/2014)
Paperback (12/2/2014)
Compact Disc (3/25/2014)
Description
From the "New York Times" reporters who first uncovered S.S. officer Aribert Heim's secret life in Egypt comes the never-before-told story of the most hunted Nazi war criminal in the world.
Dr. Aribert Heim worked at the Mauthausen concentration camp for only a few months in 1941 but left a devastating mark. According to the testimony of survivors, Heim euthanized patients with injections of gasoline into their hearts. He performed surgeries on otherwise healthy people. Some recalled prisoners' skulls set out on his desk to display perfect sets of teeth. Yet in the chaos of the postwar period, Heim was able to slip away from his dark past and establish himself as a reputable doctor and family man in the resort town of Baden-Baden. His story might have ended there, but for certain rare Germans who were unwilling to let Nazi war criminals go unpunished, among them a police investigator named Alfred Aedtner. After Heim fled on a tip that he was about to be arrested, Aedtner turned finding him into an overriding obsession. His quest took him across Europe and across decades, and into a close alliance with legendary Nazi hunter Simon Wiesenthal. The hunt for Heim became a powerful symbol of Germany's evolving attitude toward the sins of its past, which finally crested in a desire to see justice done at almost any cost.
As late as 2009, the mystery of Heim's disappearance remained unsolved. Now, in "The Eternal Nazi," Nicholas Kulish and Souad Mekhennet reveal for the first time how Aribert Heim evaded capture--living in a working-class neighborhood of Cairo, praying in Arabic, beloved by an adopted Muslim family--while inspiring a manhunt that outlived him by many years. It is a brilliant feat of historical detection that illuminates a nation's dramatic reckoning with the crimes of the Holocaust.
Praise For The Eternal Nazi: From Mauthausen to Cairo, the Relentless Pursuit of SS Doctor Aribert Heim…
Praise for The Eternal Nazi

"A fascinating read. This is a tale of police procedural, in an era before computers and databases, of those hunting the worst humans this world had to offer."
—Seattle Post-Intelligencer

"He was hardly as famous as Josef Mengele, but Aribert Heim was every bit as vicious. And, like Mengele, this doctor-torturer-murderer eluded his hunters until the very end. The Eternal Nazi finally reconstructs Heim's dark odyssey—from his sadistic practices in Mauthausen to his life in hiding as a convert to Islam in Cairo. Part detective story, part meditation on how family loyalties obstructed those seeking justice, this book is a remarkable achievement."
—Andrew Nagorski, author of Hitlerland: American Eyewitnesses to the Nazi Rise to Power

"With exacting detail and a rich cast of characters, The Eternal Nazi chronicles the feverish, zigzagging hunt for the barbarous Dr. Heim. A journalistic masterpiece and a thrilling read."
—Neal Bascomb, author of Hunting Eichmann

"This is a deeply reported, fascinating tale of obsession and the heavy burden of family and national guilt. Nick Kulish and Souad Mekhennet take us on a gripping search for the handsome Nazi doctor who became one of the world's most elusive war criminals."
—Evan Thomas, author of Ike's Bluff

"Aribert Heim's chilling story as a free man in Egypt made me wonder what was more appalling: his heinous activity as an SS doctor, or the fact that like most former Nazis he was never punished for his crimes. Thoroughly investigated and written in riveting style, this is a fascinating and thought provoking book."
—Tom Segev, author of Simon Wiesenthal: The Life and Legends

"An elusive Nazi doctor who escaped justice receives a thorough scouring ... Haunting, doggedly researched."
—Kirkus Reviews
Doubleday Books, 9780385532433, 301pp.
Publication Date: March 25, 2014
About the Author
NICHOLAS KULISH was the Berlin bureau chief for the "New York Times" from 2007 to 2013. He now reports from East Africa for the "Times."

SOUAD MEKHENNET is a journalist and reports for the "Daily Beast," the "Washington Post," and ZDF German television. She is an associate at Harvard and Johns Hopkins, and previously worked for the "New York Times.""
or
Not Currently Available for Direct Purchase