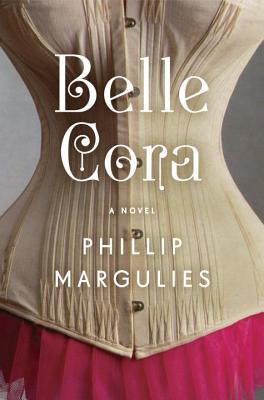 Belle Cora
Hardcover

* Individual store prices may vary.
Other Editions of This Title:
Compact Disc (10/22/2019)
Paperback (10/7/2014)
Hardcover, Large Print (5/28/2014)
Description
"I had crossed all the lines they you say you can never cross without being destroyed, and here I was, alive and strong."
In the grand tradition of"Moll Flanders"and"Vanity Fair," this is the story of a good girl who became a bad woman. At the old homestead her name is never spoken and her picture is turned to the wall, but in the vast world beyond everyone remembers her as the celebrated madam of the finest parlor house in San Francisco.Now, at the end of her life, afterhalf a century of successfully hiding the details of her scarlet past, Bellehas decided to reveal all her secrets.
In 1838, Arabella Godwin and her beloved younger brother, Lewis, are orphaned and shipped away from their home in New York City to live on their aunt's desolate farm upstate. The comforts she has always known are replaced with grueling work and a pair of cunning enemies in her cousins Agnes and Matthew. Amid this bleak existence, there emerges light in the form of a local boy, Jeptha Talbot. He is everything good that Arabella craves. His love saves her and becomes an obsession that will last her whole life.
Time and again she will be broken and remade. She will bear a gambler's child, build a fortune, commit murder, leave a trail of aliases in her wake and sacrifice almost everything though perhaps not enough--for the man whose love she cannot bear to lose. At last her destiny will take her to Gold Rush California, to riches and power.
Until the day she mysteriously disappears.
Told with unflagging wit and verve, Belle Cora brings to life a turbulent era and an untamed America on the cusp of greatness. Its heroine is a woman in conflict with her time, who nevertheless epitomizes it with her fighting spirit, her gift for self-invention, and her determination to chart her own fate.
Praise For Belle Cora…
"A rollicking first novel that tracks an American Moll Flanders on her roller-coaster ride from respectability into quite profitable sin and back again…an enjoyable allegory for the settling of the American West, with plenty of sex and violence along the way… With vivid detail, Margulies depicts a society in which a "ruined" girl has few options… Contemporary readers will, of course, applaud Belle's spunk…We're in the hands of a professional, and a good time of a certain sort is guaranteed."

-The San Francisco Chronicle 


"Margulies strikes gold in his first novel… [his]writing never falters, and the reader will easily get lost in the world he's built. Belle's remarkable story mirrors that of her young country, on the verge of civil war, and her sharp, engaging voice brings her tale to vivid life."
 
-Publishers Weekly, Starred Review

"The charm and self-invention that served Arabella throughout her life give voice to a story that will captivate historical fiction fans as they follow her exploits during a turbulent era."

- Library Journal

"Belle Cora is historical fiction with a nugget of truth at its core; the heroine is based on a real 19th century madam, and the story is sprinkled with bits of genuine primary sources. The writing is clear and precise, the characters enthralling. It has a bit of a good-girl-gone-bad narrative at the center, but it's always more about the heroine's determination to survive by any means than a novel that's looking for an excuse for its characters to misbehave in a titillating fashion. Above all else, it tells a great story."
-Bookriot

"Phillip Margulies has taken the scant known facts about Belle and created a magnificent heroine. Although not always a sympathetic figure, her frankness about her failings and her justification for the artful actions she is often forced to take to guarantee self-preservation make her utterly compelling.
But this is far more than just one woman's story. It is also an epic detailed exploration of the underbelly of 19th-century America, with all its vice, bigotry, political corruption and religious hypocrisy. The descriptions are rich, the characters well-fleshed, and the novel's crowning achievement is that it doesn't try to appease modern sensibilities and presents an honest reflection of this era. A memorable and outstanding work on many levels."
- HistoricalNovelSociety.org


"Gripping, sweeping, and tragic, Belle Cora is the story of an extraordinary woman making her way through an extraordinary time.  Part love story, part scandal, part historical epic, Philip Margulies masterfully orchestrates a riveting tale, taking us from the hardboiled streets of New York City to the rich promise of California's goldmines.  At its center is a complex, daring woman, a character I won't soon forget. "
 
 -  Anton DiSclafani, New York Times bestselling author of The Yonahlossee Riding Camp For Girls

"The past is a foreign country. If, like me, you long to visit 19th  century New York and San Francisco, I can't imagine a better time-travel substitute than Belle Cora. This is a splendid feast of a novel."

-Kurt Andersen, host of Studio 360 and New York Times bestselling author of Heyday  and Turn of the Century

"Belle Cora is an enthralling historical drama, the story of a 19th-century Moll Flanders, told with sympathy, feeling, humor, and accuracy.  Phillip Margulies is a superb writer."

—Kevin Baker, author of The Big Crowd  and Paradise Alley

"Pull away…if you can. Tuck this gorgeous, alive story of America back on your book shelf.  No, don't.  You would deprive yourself of a stunning historical saga, the kind that doesn't come along every day. You don't just read Belle Cora. You live it – and you won't turn your bedside light out for a very long time."
 
-Kate Alcott, New York Times bestselling author of The Dressmaker  and The Daring Ladies of Lowell

"Belle Cora is a wonderfully assured novel, a story to lose yourself in, by turns thrilling, witty and poignant. Phillip Margulies has given us a luminous portrayal of an unforgettable woman. You will be utterly seduced by this alluring story."
 
- Margaret Leroy, New York Times bestselling author of The Soldier's Wife
Doubleday Books, 9780385532761, 608pp.
Publication Date: January 7, 2014
About the Author
PHILLIP MARGULIES is the author and editor of many books on science, politics and history for young adults. He has won two New York Foundation for the Arts fellowships. He lives in New York City with his wife and two children.
or
Not Currently Available for Direct Purchase