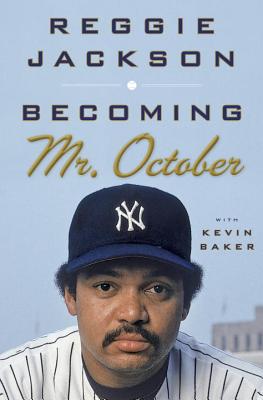 Becoming Mr. October (Hardcover)
Doubleday Books, 9780385533119, 291pp.
Publication Date: October 8, 2013
* Individual store prices may vary.
or
Not Currently Available for Direct Purchase
Description
A soul-baring, brutally candid, and richly eventful memoir of the two years--1977 and 1978--when Reggie Jackson went from outcast to Yankee legend
In the spring of 1977 Reggie Jackson should have been on top of the world. The best player of the Oakland A's dynasty, which won three straight World Series, he was the first big-money free agent, wooed and flattered by George Steinbrenner into coming to the New York Yankees, which hadn't won a World Series since 1962. But Reggie was about to learn, as he writes in this vivid and surprising memoir, that until his initial experience on the Yankees "I didn't know what alone meant."
His manager, the mercurial, alcoholic, and pugilistic Billy Martin, never wanted him on the team and let Reggie--and the rest of the team--know it. Most of his new teammates, resentful of his contract, were aloof at best and hostile at worst. Brash and outspoken, but unused to the ferocity of New York's tabloid culture, Reggie hadn't realized how rumor and offhand remarks can turn into screaming negative headlines--especially for a black athlete with a multimillion-dollar contract. Sickened by Martin's anti-Semitism, his rages, and his quite public disparagement of his new star, ostracized by his teammates, and despairing of how he was stereotyped in the press, Reggie had long talks with his father about quitting. Things hit bottom when Martin plotted to humiliate him during a nationally televised game against the Red Sox. It seemed as if a glorious career had been derailed.
But then: Reggie vowed to persevere; his pride, work ethic, and talent would overcome Martin's nearly sociopathic hatred. Gradually, he would win over the fans, then his teammates, as the Yankees surged to the pennant. And one magical autumn evening, he became "Mr. October" in a World Series performance for the ages. He thought his travails were over--until the next season when the insanity began again.
"Becoming Mr. October" is a revelatory self-portrait of a baseball icon at the height of his public fame and private anguish. Filled with revealing anecdotes about the notorious "Bronx Zoo" Yankees of the late 1970s and bluntly honest portrayals of his teammates and competitors, this is eye-opening baseball history as can be told only by the man who lived it.
About the Author
REGGIE JACKSON was inducted into the Baseball Hall of Fame in 1993. He hit 563 home runs and drove in 1,702 runs over the course of his twenty-one-year career. He played three World Series-winning seasons with the Oakland Athletics and two with the New York Yankees. He is a special adviser to the Yankees.

KEVIN BAKER is the prize-winning author of the historical novels "Dreamland," "Paradise Alley," and "Strivers Row"; the baseball novel "Sometimes You See It Coming"; and, most recently, "The Big Crowd." He served as chief historical researcher for the nonfiction bestseller "The American Century." His writing has appeared in "The New York Times," "The Washington Post," the "Chicago Tribune," the "Los Angeles Times," and "Harper's Magazine," among other publications.
Advertisement