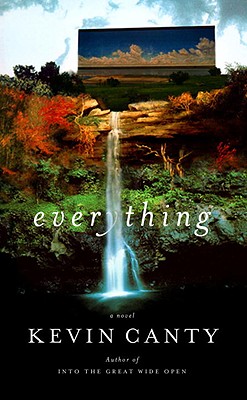 Everything (Hardcover)
Nan A. Talese, 9780385533300, 282pp.
Publication Date: July 6, 2010
* Individual store prices may vary.
or
Not Currently Available for Direct Purchase
Description
In taut, exquisite prose, Kevin Canty explores the largest themes of life work, love, death, destruction, rebirth in the middle of the everyday.
On the fifth of July, RL and June go down to the river with a bottle of Johnnie Walker Red to commemorate Taylor's fiftieth and last birthday. Taylor was RL's boyhood friend and June's husband, but after eleven years, June, a childless hospice worker, finally declares she's nobody's widow anymore. Anxious for a new beginning, June considers selling her beloved house. RL, a divorced empty-nester, faces a major change, too, when he agrees to lodge his college girlfriend, Betsy, while she undergoes chemotherapy. Caught between Betsy's anguish and June's hope, the cynical RL is brought face-to-face with his own sense of futility, and the longing to experience the kind of love that knocks you down.
Set in Montana, reflecting the beauty of its landscape and the independence of its people, "Everything" is a shimmering novel about unexpected redemption by a writer of deep empathy and prodigious talents.
About the Author
KEVIN CANTY is the award-winning author of the novels "Into the Great Wide Open," "Nine Below Zero," and "Winslow in Love," as well as the short story collections "Honeymoon and Other Stories," "A Stranger in This World," and "Where the Money Went."
Praise For Everything…
Montana Book Award Honor Book!

"Four characters, three misguided romances, all forged from the madness of love, all made believable in Canty's skilled hands. In alternating sections, Everything examines these relationships as they bud, blossom and then fail to progress as the characters might have hoped. There is a lot of booze and heartbreak in the book, yet it is full of optimism and humanity. . . . With ­Everything, Canty has found a style all his own, and it casts a hypnotic spell. There are still the short, staccato sentences, but there are also longer passages that soar with a new confidence and lyricism. . . . Unlike the endings to much of Canty's previous work, the last pages are filled with hope. Yet Canty isn't ignorant of the lives the characters still have to live, of the mistakes they still have to make. When I arrived at the end of Everything, I, too, thought: That's it. That's it exactly."
—Vendela Vida, The New York Times Book Review

"From beginning to end, Everything is one of those stunning rare novels with beautiful language, an intriguing structure and a gripping narrative. We are fortunate that Kevin Canty, already a great storyteller, has just written his finest work."
—Minneapolis Star-Tribune

"Kevin Canty's Everything is about people at turning points in their lives who think they don't have any good choices, but who end up going forward anyway for the simple reason that they must. Canty's prose is spare but evocative: Ten of his words do more to convey the yearnings and pangs of his characters than other writers could achieve in 20. . . . It's not just the characters' emotions that you feel when you read this book. Canty's love of the Montana countryside is almost palpable, whether he's describing the glorious autumnal dying of a forest or the sparkling beauty of a lake on one of the last days of summer. And his descriptions of rural homes and farmsteads, with their fallen fences and broken-down trucks on the edge of the amazing expanse of the Big Sky Country wilderness, provide an apt metaphor for what often happens when human intentions are brought up against the brute reality of events."
—The Boston Globe

"Written in prose as clear and quick as the river waters of his native Montana, Kevin Canty's new novel is an unforgettable journey into the wilderness that lies between loss and redemption. As his characters struggle through this harsh terrain, they prove themselves to be just like you and me – only more so. With Everything, Canty confirms his place among our very best writers."
—Stephen Amidon, author of Security and Human Capital

"Kevin Canty's new novel explores and celebrates the complexities of love, grief, and redemption and does so in prose so taut and electric that every sentence, every word—even the white space—carries a charge. Everything is a marvel."
—Larry Watson, author of Montana, 1948 and Sundown, Yellow Moon
  
"There is truth and scorch in this fine new novel, Everything. Kevin Canty does not so much write a sentence as he cuts it into the page. He strikes me as the last of a kind, unflinching when faced with the dreadful prospect of our vast dying soul. He understands our secrets are themselves the keeper of secrets. He understands us for how wanting and dangerous and kind and unkind we can be to ourselves and to each other."
—Robert Olmstead, author of Far Bright Star and Coal Black Horse


Praise for Kevin Canty's Where the Money Went

"Tales as spare as Raymond Carver's and as frank as a Larry David rant . . . These stories linger."
—People (four stars)

"Incisive, bracingly insightful . . . Canty has great compassion for his sometimes-deluded, always-confused men . . . Canty's uncanny ability to elevate the everyday sets these stories apart. He deftly re-evaluates dreams of success, makes drama and sense of modern emotional calamity."
—Miami Herald

"What Russell Banks does for the Northeast, Kevin Canty does for the world west of the Mississippi: bleeds it dry of romanticism and bluntly exposes the foibles of its inhabitants . . . The nine stories in Where the Money Went put skill at tracking subtle emotional shifts on full display, artfully capturing people at the tender moments just before they go off the rails."
—Chicago Sun-Times

"Canty creates palpable anxiety and velocity that is deliciously unbearable."
—St. Louis Post-Dispatch

"Canty leaves readers heartbroken and empathetic, but not exhausted. Grade: A."
—Cleveland Plain Dealer
Advertisement