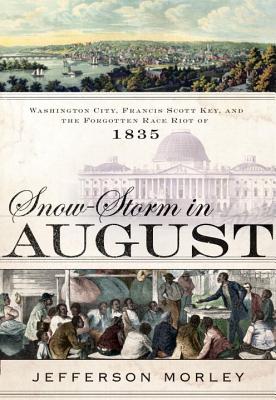 Snow-Storm in August
Washington City, Francis Scott Key, and the Forgotten Race Riot of 1835
Hardcover

* Individual store prices may vary.
Other Editions of This Title:
Digital Audiobook (7/2/2012)
Paperback (4/9/2013)
Description
A gripping narrative history of the explosive events that drew together Francis Scott Key, Andrew Jackson, and an 18-year-old slave on trial for attempted murder.

In 1835, the city of Washington pulsed with change. As newly freed African Americans from the South poured in, free blacks outnumbered slaves for the first time. Radical notions of abolishing slavery circulated on the city's streets, and white residents were forced to confront new ideas of what the nation's future might look like.

On the night of August 4th, Arthur Bowen, an eighteen-year-old slave, stumbled into the bedroom where his owner, Anna Thornton, slept. He had an ax in the crook of his arm. An alarm was raised, and he ran away. Word of the incident spread rapidly, and within days, Washington's first race riot exploded, as whites fearing a slave rebellion attacked the property of the free blacks. Residents dubbed the event the "Snow-Storm," in reference to the central role of Beverly Snow, a flamboyant former slave turned successful restaurateur, who became the target of the mob's rage.

In the wake of the riot came two sensational criminal trials that gripped the city. Prosecuting both cases was none other than Francis Scott Key, a politically ambitious attorney famous for writing the lyrics to "The Star-Spangled Banner," who few now remember served as the city's district attorney for eight years. Key defended slavery until the twilight's last gleaming, and pandered to racial fears by seeking capital punishment for Arthur Bowen. But in a surprise twist his prosecution was thwarted by Arthur's ostensible victim, Anna Thornton, a respected socialite who sought the help of President Andrew Jackson.

Ranging beyond the familiar confines of the White House and the Capitol, Snow-Storm in August delivers readers into an unknown chapter of American history with a textured and absorbing account of the racial secrets and contradictions that coursed beneath the freewheeling capital of a rising world power.

"Snow-Storm in August is the sort of book I most love to read: history so fresh it feels alive, yet introducing me to a time and place that I had little known or utterly misunderstood. After reading Jefferson Morley's vibrant account, one can never hear 'The Star-Spangled Banner' the same way again."
—David Maraniss, author of Barack Obama: The Story
Praise For Snow-Storm in August: Washington City, Francis Scott Key, and the Forgotten Race Riot of 1835…
"Snow-Storm in August is the sort of book I most love to read: history so fresh it feels alive, yet introducing me to a time and place that I had little known or utterly misunderstood. After reading Jefferson Morley's vibrant account, one can never hear 'The Star-Spangled Banner' the same way again."
—David Maraniss, author of Barack Obama: The Story

"[Morley's] plunge beneath the surface of history exposes realities more true to daily experience than executive proclamations or speeches in Congress. The book's central motif is race, and the theme reverberates through a range of fascinating vignettes ... As an exploration of America's capital city at a time when the fault line over slavery had become impossible to ignore, Snow-Storm in August deepens our appreciation of how slavery made a mockery of the founding and made the Civil War as close to inevitable as any event in our history."
—The Washington Post

"Morley skillfully weaves his several narrative threads into a vibrant and illuminating picture of the antebellum capital at a time when national stability depended on placating the owners of slaves ... [He] reveals a tangle of back stories that eventually lead deep into a tension-filled landscape of class resentments, provocative abolitionism and proslavery passions. It is a world peopled with vivid characters both black and white, among them, most intriguingly, the city's district attorney, Francis Scott Key, the author of 'The Star-Spangled Banner.'"
—The Wall Street Journal

"An elegant, readable narrative ... Snow-Storm in August touches on themes still relevant today: unresolved racial tensions, simmering resentment over economic disparity, influence peddling among the powerful, and the red-blue divide between conservatives and progressives over whether human property — and their descendants — deserve the full benefits of the new nation's famously stated ideals."
—The Minneapolis Star Tribune

"A stunning new work of cultural history ... Working on a large canvas, Morley succeeds in his ambitious aim to humanize many whose names, faces and voices were lost to time."
—U.S. News & World Report

"In a crackling good tale of the deep impact of race and politics on a young nation struggling to create its identity, Salon Washington correspondent Jefferson Morley boldly and elegantly recreates a moment in time when free black businessmen mingled with their white counterparts while proponents of slavery and abolitionists struggled to co-exist in the nation's bustling capital."
—Publishers Weekly, starred review

"Jefferson Morley has vividly and factually recreated a largely lost but pivotal time in Jacksonian Washington, an emerging, still somewhat primitive capital city where racial tensions among its complex mix of white, free black, and enslaved residents inevitably lead to violence and push the debate over abolition into the houses of Congress and the President. The historical characters, famous and forgotten, come to life in affecting and surprising ways without fictional artifice, a tribute to Morley's meticulous research and empathetic narrative style."
—Leonard Downie Jr., former executive editor of The Washington Post

"Morley vividly recreates the episodes connected to the riot, and dramatically depicts the personalities involved, giving important insight into race relations before the Civil War."
—The Columbus Dispatch

"A sprightly social history of the convergence of pro- and anti-slavery agitators in the city of Washington during the explosive summer of 1835. . . . Salon Washington correspondent Morley ably weaves the many strands together: An enterprising restaurateur of mixed race found that his success aroused the ire of resentful white patrons; an impressionable young slave hoping to educate and free himself ran afoul of his white mistress; a Yankee abolitionist newly arrived in town disseminated incendiary emancipationist literature; and the famous author of 'The Star-Spangled Banner,' serving as Jackson's district attorney, pursued his job of punishing vice and enforcing slavery. . . . Morley alternates the characters and scenes of action for a suspenseful tale, culminating in the court of law where Key upheld the country's oppression of African-Americans and thereby helped shape the rancorous debate over slavery. . . . Elegant and nimble history of a series of events likely unknown to many readers."
—Kirkus Reviews

"Morley's gripping, fast-paced narrative captures all the drama that encompasses a rich cast of characters that includes Andrew Jackson, Francis Scott Key, Roger Taney, Sam Houston, and a host of others who inhabited the young nation's capital ... Morley has given readers a noteworthy, insightful look into an often overlooked chapter in American history."
—Booklist

"Absorbing ... This book reminds us how deeply entrenched proslavery forces were in the nation's capital and what a struggle it was for African Americans to receive justice and for abolitionists to be heard ... An enlightening account of racial tension in pre-Civil War America."
—BookPage
Nan A. Talese, 9780385533379, 334pp.
Publication Date: July 3, 2012
About the Author
JEFFERSON MORLEY is the Washington correspondent for "Salon." He has worked as an editor and reporter at "The Washington Post," "The Nation," "The New Republic," and "Harper's Magazine." His work has appeared in "The New York Review of "Books, "The New York Times Book Review," "The Washington Post Book World," "Reader's Digest," "Rolling Stone," and "Slate." His first book was "Our Man in Mexico: Winston Scott and the Hidden History of the CIA. "
Coverage from NPR
or
Not Currently Available for Direct Purchase