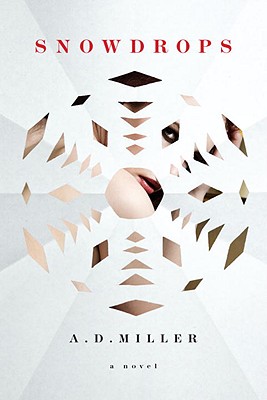 Snowdrops
Hardcover

* Individual store prices may vary.
Other Editions of This Title:
Paperback (2/7/2012)
Paperback, Chinese (4/1/2013)
Description

SHORTLISTED for the 2011 Man Booker Prize for Fiction

An intense psychological drama that echoes sophisticated entertainments like Gorky Park and The Talented Mr. Ripley.

Nick Platt is a British lawyer working in Moscow in the early 2000s—a place where the cascade of oil money, the tightening grip of the government, the jostling of the oligarchs, and the loosening of Soviet social mores have led to a culture where corruption, decadence, violence, and betrayal define everyday life. Nick doesn't ask too many questions about the shady deals he works on—he's too busy enjoying the exotic, surreally sinful nightlife Moscow has to offer.

One day in the subway, he rescues two willowy sisters, Masha and Katya, from a would-be purse snatcher. Soon Nick, the seductive Masha, and long-limbed Katya are cruising the seamy glamour spots of the city. Nick begins to feel something for Masha that he is pleased to think is love. Then the sisters ask Nick to help their aged aunt, Tatiana, find a new apartment.

Of course, nothing is as it seems—including this extraordi­nary debut novel. The twists in the story take it far beyond its noirish frame—the sordid and vivid portrayal of Moscow serves as a backdrop for a book that examines the irresistible allure of sin, featuring characters whose hearts are as cold as the Russian winter.
Praise For Snowdrops…

SHORTLISTED for the 2011 Man Booker Prize for Fiction

"[An] assured fiction debut....[Miller] memorably captures the city's atmosphere during the glitzy, anything-goes era that succeeded Soviet Communism....Miller's uncluttered prose and feel for the city's Wild West atmosphere are pleasures."--The Seattle Times


"Compelling narrative voice….Andrew Miller shines in his depiction of Russian life….[and] deserves full credit for being able to transfer his knowledge to the page. He makes you see and feel the glitz, squalor, and violence of Moscow...[with] bleak beauty of his writing"--Boston Globe


"[A]n electrifying tour of the dark side of Moscow, and of human nature.....This is a Russia gleaming with strip joints, call girls, malevolent overlords, fraudsters, overnight millionaires; but in which the old beg on snowy streets and tramps ring random doorbells seeking shelter from hypothermic death. The overriding theme is corruption and the way that morals can become corroded, but the novel is multi-layered; subtle rather than strident, and imbued with a bruised beauty.....[Miller] is masterful at capturing small details....a gorgeously crafted story of a man hurtling into love.....Snowdrops, in a different way, assaults all your senses with its power and poetry, and leaves you stunned and addicted."
--The Independent

"The wonderfully evoked corrupt atmosphere of modern Moscow, a dangerous mix of extreme poverty and decadent wealth, of simple old-fashioned values and unrestrained debauchery reads like Graham Greene on steroids.....Tightly written, with fascinating insider detail gained in three years as The Economist magazine's Moscow correspondent, Miller's complex, gripping debut novel is undoubtedly the real thing."
--The Daily Mail


"AD Miller's elegant and compact literary thriller...offers an alluring yet chilling portrait of the city...the pleasure of Miller's first novel is divining the precise nature of the deceptions, and self-deceptions, taking place. A superlative portrait of a country in which everything has its price, Snowdrops displays a worldly confidence reminiscent of Robert Harris at his best."
--Financial Times

"AD Miller's engrossing debut...offers an entirely believable portrait of a man complicit in Moscow's moral freefall...Miller brilliantly showcases the city as his novel's strutting, charismatic star...rendered with intoxicating vitality. It is a bravura setting for a study in morality...disturbing and dazzling."
--Sunday Telegraph

"A deeply atmospheric, slow-burning examination of the effects of modern Russia on the soul of foreign visitors, and of one man's subtle but inexorable slide into moral decay...beautifully drawn and mirrored in several ingenious subplots...Miller is absolutely wonderful at evoking the seediness and cynicism of Moscow...The Russian seasons, from the sadistic winter to the sweltering summer, are evoked with scintillating clarity."
--The Independent Sunday

"AD Miller's artful and atmospheric first novel...shows him accomplished in control of narrative voice and characterisation."
--The Sunday Times

"A mesmerizing tale of a man seduced by a culture he fancies himself above, Miller's novel is both a nuanced character study and a fascinating look at the complexities of Russian society."
--Booklist, starred review

"Superbly atmospheric....elegantly written, and spot on in detail"-- London Observer

"A.D. Miller's Snowdrops has no lack of kineticism. Without succumbing to the implausible or to the inclusion of a surfeit of incident, it exerts terrific gravity.....[and] strips away the layers of life in the Russian capital with subtle, pitiless grace.....Paced almost ideally, with an atmosphere that scintillates with beguiling menace, Snowdrops deserves...to enjoy substantial popular success."---Literary Review

"Riveting tale....it is his insider knowledge of the city [that] marks this one out"--The Bookseller

"A sense of foreboding pervades this quietly intense novel, set in a freewheeling Russia of the early 21st century....gripping....A lesson in the art of self-delusion and the dog-eat-dog society of post-Soviet Russia, it's sure to be an instant success.....Essential for committed readers of fiction and a discussion feast for book clubs"--Library Journal

"A highly entertaining literary debut. His description is whip-smart, his story as addictive and powerful as chilled vodka and his throbbing Moscow is a worthy update on the classic post-Second World War noir city."--Sainsbury's Magazine

"[A] chilling psychological drama....The levels of corruption and duplicity are as deep as the snow banks that line the city."--Marie Claire, UK

"We were gripped from the first page"--Grazia

"A natural storyteller, and this seamless thriller demands to be read at a sitting"--The Lady Magazine

"Intensely gripping"--Woman & Home Magazine


"A tremendously assured, cool, complex, slow-burn of a novel and a bleak and superbly atmospheric portrait of modern Russia."--William Boyd, author of A GOOD MAN IN AFRICA and ORDINARY THUNDERSTORMS

"SNOWDROPS is a beautifully written tale, a confession of evil done not in bloodlust, but in the near passivity of muddling through, of squinting to keep from seeing, and whistling to keep from hearing. By the end of this extremely engaging book, you may almost want to forgive its narrator for all the damage his posture of willful innocence has inflicted upon the world.  It's in the awful weight of that 'almost' that A. D. Miller shows his brilliance."
--Scott Smith, author of THE RUINS
 
"Anybody who has spent any time in Moscow will instantly recognize the city's infamous decadence as well as its attraction in this extraordinarily evocative book - and anybody who has never been there will experience both the lure and the horror of modern Russia." –Anne Applebaum, Pulitzer Prize-winning author of GULAG
 
"A chilling first novel about the slide from relative innocence into amorality. I love the honesty of the writing, and the way the furious cold of a bitter Moscow winter gradually emerges as a character in its own right."
--Julie Myerson, author of SOMETHING MIGHT HAPPEN
 
"SNOWDROPS is an irresistible, sophisticated and compelling thriller of darkly delicious Russian corruption and decadence, by a writer who truly understands where the corpses lie buried under the pure Russian snows." 
Simon Sebag Montefiore, author of SASHENKA and YOUNG STALIN 
 
"Miller's taut narrative is a deft mixture of suspense, intrigue and human tragedy. Romantic love, bad faith, self-delusion, cupidity and corruption are fatally entwined in a novel that brilliantly conveys the tawdriness of life in the underbelly of modern Moscow. "–Jonathan Dimbleby, author of RUSSIA, A Journey To The Heart Of A Land And Its People


Doubleday, 9780385533447, 272pp.
Publication Date: February 22, 2011
About the Author
A. D. MILLER studied literature at Cambridge and Princeton, and worked as a television producer before joining the "Economist." He has served as the magazine's Moscow correspondent and is currently an editor in its London office. "Snowdrops" is his first novel.
or
Not Currently Available for Direct Purchase