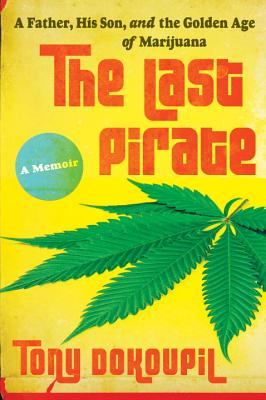 The Last Pirate (Hardcover)
A Father, His Son, and the Golden Age of Marijuana
Doubleday Books, 9780385533461, 252pp.
Publication Date: April 1, 2014
Other Editions of This Title:
Digital Audiobook (3/31/2014)
Paperback (1/6/2015)
* Individual store prices may vary.
Description
In the tradition of "Blow" and "Another Bullshit Night in Suck City, The Last Pirate" is a vivid, haunting and often hilarious memoir recounting the life of Big Tony, a family man who joined the biggest pot ring of the Reagan era and exploded his life in the process. Three decades later, his son came back to put together the pieces.
As he relates his father's rise from hey-man hippie dealer to multi-ton smuggler extraordinaire, Tony Dokoupil tells the larger history of marijuana and untangles the controversies still stirring furious debate today. He blends superb reportage with searing personal memories, presenting a probing chronicle of pot-smoking, drug-taking America from the perspective of the generation that grew up in the aftermath of the Great Stoned Age. Back then, everyone knew a drug dealer. "The Last Pirate" is the story of what happened to one of them, to his family, and in a pharmacological sense, to us all.
"The Last Pirate" is a cultural portrait of marijuana's endless allure set against the Technicolor backdrop of South Florida in the era of "Miami Vice." It's a public saga complete with a real pirate's booty: more than a million dollars lost, buried, or stolen but it's also a deeply personal pursuit, the product of a son's determination to replant the family tree in richer soil.
About the Author
Tony Dokoupil is a senior writer for NBC News. He was a senior reporter at "Newsweek," where the article that led to this book first appeared. Dokoupil holds a masters degree in American studies from Columbia University and lives in Brooklyn with his wife and children.
Praise For The Last Pirate: A Father, His Son, and the Golden Age of Marijuana…
Vanity Fair "Hot Type" Pick, April 2014
 
GQ "Best in Culture" Selection, April 2014
 
Esquire "Passage of the Week" Selection, April 2014
 
"Dokoupil's early childhood wasn't exactly ordinary. It was a hedonistic life of beach resorts, yachts and private schools paid for with drug money–a million of it stored in coolers and buried in backyards around the country…Now in his thirties with two children of his own, Dokoupil mines his father's memories and his own to produce a funny, beautifully written and sometimes unsettling personal narrative that is entwined with the story of marijuana's dramatic ascent in the United States over the last three decades."
   —Time
 
"At the height of the 1980s' war on drugs, the scoundrels who defied Reagan by smuggling in tons of pot viewed themselves as latter-day pirates who lived by their own code of ethics and, apparently, the lyrics of Jimmy Buffett songs. Four years ago, journalist Tony Dokoupil tracked down one of the era's most infamous outlaws: his own father…Get a contact high from the golden age of pot."
   —Entertainment Weekly

"The book is fascinating…more than just a rollicking, dope-saturated yarn. Yet the book is also a rollicking, dope-saturated yarn."
   —Salon (Book of the Week)
 
"The Last Pirate" is an astonishing account of a marijuana millionaire's hedonistic life—one so stuffed with cash that he literally buried a million dollars worth of bills in ice coolers on Long Island and in New Mexico. Anthony Dokoupil's story of incredible excess is told by his son, NBC News senior writer Tony Dokoupil…Dokoupil's prose is as artfully vivid as the tale itself and explicit about the sins of the father who abandoned him.
   —New York Daily News
 
"He wrote the book to explain his own father, who was smart and self-destructive and finally was arrested in 1992. As a writer, the son saw a larger story about my father's generation and the world he lived in. The rise and fall of a certain kind of outlaw who no longer exists."
   —USA Today

"While the author does show how the drug culture has grown up and settled down, his father's story and his own outshine the large-picture history and bring it up-close and personal, with humor, sensitivity and a keen eye for the surprising detail."
   —Kirkus

"NBC News senior writer Dokoupil offers a gripping examination of his longtime marijuana-dealing father, as well as a researched look at the evolution of American narcotics laws… Dokoupil's sharp eye for detail makes for a lively and often moving narrative full of cinematic scenes and snappy dialogue. Dokoupil draws on his experience as a reporter to deliver an unflinching and detailed look at a criminal family's life." 
 
   - Publisher's Weekly (Starred Review)

"There is a pseudoheroic, merry-band-of-pirates tone to these often-hilarious adventures in the drug business during the Reagan era. Dokoupil recounts how the smuggling and distribution business ran and contextualizes it within the "Great Stoned Age." Partly the history of a generation, yet very much a family story…though there are no heroes, readers owe the author thanks for this well-told, ironic, and gripping story."
   - Booklist

"With its unmistakable ring of truth, The Last Pirate strips away the self-serving blarney about big-time pot smuggling of the seventies and eighties to tell the sad but compelling story of a narcissist who, with a notable lack of self awareness, wrecks his family and his own life to fulfill his delusions of grandeur. In reporting on and coming to terms with his father's colorful and destructive past, Tony Dokoupil has added remarkably to the nonfiction literature of the drug business."
   —Bruce Porter, author of Blow: How a Small-Town Boy Made $100 Million with the Medellin Cocaine Cartel and Lost it All
 
 "The Last Pirate is crazy brilliant. Both hysterically funny and  irresistibly disturbing, I could not stop reading it. The TV show Weeds is a nursery rhyme compared to the real-life grit, danger, and devastation of this family's story. But it wasn't only the mayhem that I loved. Tony Dokoupil also shows us how a son can forgive and accept a father who really doesn't make it easy."
   —David Sheff, author of Beautiful Boy

Book Videos
Coverage from NPR
or
Not Currently Available for Direct Purchase