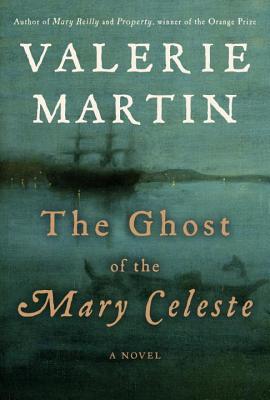 The Ghost of the Mary Celeste
Hardcover

* Individual store prices may vary.
Other Editions of This Title:
Paperback (2/3/2015)
Hardcover, Large Print (4/25/2014)
MP3 CD (1/28/2014)
Compact Disc (1/28/2014)
Description
A captivating, atmospheric return to historical fiction that is every bit as convincing and engrossing as Martin's landmark "Mary Reilly."
In 1872 the American merchant vessel "Mary Celeste" was discovered adrift off the coast of Spain. Her cargo was intact and there was no sign of struggle, but the crew was gone. They were never found.
This maritime mystery lies at the center of an intricate narrative branching through the highest levels of late-nineteenth-century literary society. While on a voyage to Africa, a rather hard-up and unproven young writer named Arthur Conan Doyle hears of the "Mary Celeste" and decides to write an outlandish short story about what took place. This story causes quite a sensation back in the United States, particularly between sought-after Philadelphia spiritualist medium Violet Petra and a rational-minded journalist named Phoebe Grant, who is seeking to expose Petra as a fraud. Then there is the family of the "Mary Celeste"'s captain, a family linked to the sea for generations and marked repeatedly by tragedy. Each member of this ensemble cast holds a critical piece to the puzzle of the "Mary Celeste."
These three elements a ship found sailing without a crew, a famous writer on the verge of enormous success, and the rise of an unorthodox and heretical religious fervor converge in unexpected ways, in diaries, in letters, in safe harbors and rough seas. In a haunted, death-obsessed age, a ghost ship appearing in the mist is by turns a provocative mystery, an inspiration to creativity, and a tragic story of the disappearance of a family and of a bond between husband and wife that, for one moment, transcends the impenetrable barrier of death.
Praise For The Ghost of the Mary Celeste…
"[A] sly and masterly historical novel, a page-turner written with intelligence and flair. One way of constructing a novel that makes the whole seem larger than its parts is to variegate the parts — to employ multiple voices, styles and points of view, even interpolated genres, from poetry and court records to newspaper clippings, letters and diaries. Martin does all this and more, and the effect is striking." —The New York Times Book Review

"Martin, who won Britain's Orange Prize for her historical novel Property, slips into the 19th century with the ease of a time traveler. Her period set pieces are superb. . . . The mystery remains, but thanks to Martin's ingenuity, the narrative possibilities seem endless." —The Boston Globe

"Fact and fiction meld so neatly that it seems as if every character is drawn from real life — a compliment to Martin's able research, psychological acuity and verbal finesse. Given such favorable winds, the novel — unlike the Mary Celeste — sails home with flying colors." —The Seattle Times

"Valerie Martin is a writer of immense talent and insight. Her latest novel weaves a beautiful tale of loss, love, and the connections that link us. One moment we're aboard the doomed ship and another we're in the pages of a diary. The Ghost of the Mary Celeste offers readers a riveting cast and evocative prose." —Yann Martel

"Valerie Martin has written a splendid, mysterious and beautiful new novel. She writes about great ocean voyages and storms that tear apart both ships and hearts. She tells a seafaring tale in the tradition of Melville, and conjures up a mystery worthy of Arthur Conan Doyle, who actually appears as a character and plays a vital role. She writes about spiritualism with both clarity and skepticism, and in Violet Petra she has created a woman for the ages."—Pat Conroy

"The Ghost of the Mary Celeste is a wonderfully ingenious novel, compelling, convincing and exciting."—John Banville

"[A]long with a satisfying ghost story, [Martin] gives us the soil from which its central mystery grew. . . . [I]n a masterpiece of fine detail and intense reimagining, Martin evokes a world suspended between faith and reason, in which 'the other side' is quite real – and always beckoning." —The Guardian

"[A]n unusual page turner." —The Independent


Nan A. Talese, 9780385533508, 302pp.
Publication Date: January 28, 2014
About the Author
VALERIE MARTIN is the author of nine novels, including "Trespass," "Italian Fever," "The Great Divorce," "Mary Reilly," and the 2003 Orange Prize-winning "Property" and of three collections of short fiction.
or
Not Currently Available for Direct Purchase