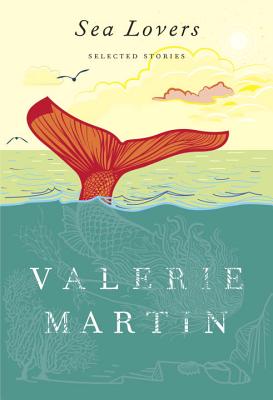 Sea Lovers (Hardcover)
Selected Stories
Nan A. Talese, 9780385533522, 336pp.
Publication Date: August 18, 2015
Other Editions of This Title:
Paperback (8/23/2016)
* Individual store prices may vary.
Description
From the bestselling author of Mary Reilly and the internationally acclaimed Property, a brilliant collection featuring Valerie Martin's finest short stories to date.

     For four decades Valerie Martin has been publishing novels and stories that demonstrate her incredible range as a writer, moving between realism and fantasy while employing a voice that is at once whimsical and tragic. The twelve stories in this collection showcase Martin's enviable control, precision, and grace and are organized around her three fictional obsessions—the natural world, the artistic sphere, and stunning transformations. In "The Change," a journalist watches his menopausal wife, an engraver, create some of her eeriest and most affecting works even as she seems to be willfully destroying their marriage. In "The Open Door," an American poet in Rome finds herself forced to choose between her lover and a world so alien it takes her voice away. "Sea Lovers" conjures up a hideous mermaid whose fatal seduction of a fisherman provides better reason than Jaws for staying out of the water. In "The Incident at Villedeau" a respected gentleman confesses to killing his wife's former lover, an event that could be construed as an accident, an impulsive act, or a premeditated crime. Exploring themes of obsession, justice, passion, and duplicity, these drolly macabre stories buzz with tension.
About the Author
VALERIE MARTIN is the author of ten novels, including The Ghost of the Mary Celeste, The Confessions of Edward Day, Trespass, Mary Reilly, Italian Fever, and Property; three collections of short fiction; and a biography of Saint Francis of Assisi, titled Salvation. She has been awarded grants from the National Endowment for the Arts and the John Simon Guggenheim Fellowship, as well as the Kafka Prize (for Mary Reilly) and Britain's Orange Prize (for Property).
Praise For Sea Lovers: Selected Stories…
"Martin's prose is lucid, and she avoids stylistic pyrotechnics. Her primary aim is to allow her characters their contradictory feelings, giving them room to breathe ... Martin's complex and wonderful stories, with their careful rendering and sober insights, offer their own kind of relief for the reader: This book is a long, cool drink of water."
—New York Times Book Review

"Valerie Martin is a consummate stylist. A cool, spare writer who can make the fantastic utterly, often horribly believable ... In her latest collection of 12 short stories that gift is on full display. A mermaid washes ashore, with murderous intent. A magical suitor displays bad behavior, as do all sorts of more realistic lovers and spouses, artists and writers. Most often, the stories resolve with a twist—some tragic, some simply odd—that causes them to linger in the reader's mind: cautionary tales about the mysteries of life."
—Boston Globe

"Whether they're self-absorbed painters, deserted women, or even centaurs, Martin's characters are torn between the facades they don and the baser, more animalistic impulses—the needs for power, attention, and revenge—that animate them ... an insightful look into the evolution of Martin's writing and her talent for depicting our darker natures. Varied, engaging, and often shocking."
—Kirkus Reviews, starred review

"This collection is rife with the unspoken cracks between people, and leaves a haunting, lingering impression."
—Publishers Weekly
or
Not Currently Available for Direct Purchase