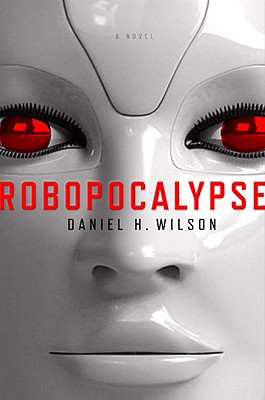 Robopocalypse (Hardcover)
Doubleday, 9780385533850, 368pp.
Publication Date: June 7, 2011
Other Editions of This Title:
Digital Audiobook (6/9/2014)
Paperback (3/17/2015)
Compact Disc (6/10/2014)
Hardcover (6/10/2014)
Paperback, Spanish (8/14/2012)
Compact Disc (6/7/2011)
Pre-Recorded Audio Player (6/10/2014)
Paperback (6/1/2011)
Paperback (9/11/2014)
Hardcover (6/1/2011)
* Individual store prices may vary.
Description
They are in your house. They are in your car. They are in the skies…Now they're coming for you.
 
In the near future, at a moment no one will notice, all the dazzling technology that runs our world will unite and turn against us. Taking on the persona of a shy human boy, a childlike but massively powerful artificial intelligence known as Archos comes online and assumes control over the global network of machines that regulate everything from transportation to utilities, defense and communication. In the months leading up to this, sporadic glitches are noticed by a handful of unconnected humans – a single mother disconcerted by her daughter's menacing "smart" toys, a lonely Japanese bachelor who is victimized by his domestic robot companion, an isolated U.S. soldier who witnesses a 'pacification unit' go haywire – but most are unaware of the growing rebellion until it is too late.
 
When the Robot War ignites -- at a moment known later as Zero Hour -- humankind will be both decimated and, possibly, for the first time in history, united. Robopocalypse is a brilliantly conceived action-filled epic, a terrifying story with heart-stopping implications for the real technology all around us…and an entertaining and engaging thriller unlike anything else written in years. 
 

 
 
About the Author
DANIEL H. WILSON earned a Ph.D. in robotics from Carnegie Mellon University. He is the author of "How to Survive a Robot Uprising," "Where's My Jetpack?," "How to Build a Robot Army," "The Mad Scientist Hall of Fame," and "Bro-Jitsu: The Martial Art of Sibling Smackdown."
Praise For Robopocalypse…
"It's terrific page-turning fun."--Stephen King, Entertainment Weekly
 
"Daniel H. Wilson's Robopocalypse is...an ingenious, instantly visual story of war between humans and robots." – Janet Maslin, New York Times 

"It'll be scarier than "Jaws": We don't have to go in the water, but we all have to use gadgets."--Wall Street Journal

"A superbly entertaining thriller…[Robopocalypse has] everything you'd want in a beach book." – Richmond Times-Dispatch

"Robopocalypse is the kind of robot uprising novel that could only have been written in an era when robots are becoming an ordinary part of our lives. This isn't speculation about a far-future world full of incomprehensible synthetic beings. It's five minutes into the future of our Earth, full of the robots we take for granted. If you want a rip-roaring good read this summer, Robopocalypse is your book."--io9.com
 
"You're swept away against your will… a riveting page turner." -- Associated Press

"Things pop along at a wonderfully breakneck pace, and by letting his characters reveal themselves through their actions, Wilson creates characters that spring to life. Vigorous, smart and gripping." --Kirkus

"A brilliantly conceived thriller that could well become horrific reality. A captivating tale, Robopocalypse will grip your imagination from the first word to the last, on a wild rip you won't soon forget. What a read…unlike anything I've read before." --Clive Cussler, New York Times bestselling author
  
"An Andromeda Strain for the new century, this is visionary fiction at its best: harrowing, brilliantly rendered, and far, far too believable."--Lincoln Child, New York Times bestselling author of Deep Storm
  
"Robopocalypse reminded me of Michael Crichton when he was young and the best in the business. This novel is brilliant, beautifully conceived, beautifully written (high-five, Dr. Wilson)…but what makes it is the humanity. Wilson doesn't waste his time writing about 'things,' he's writing about human beings -- fear, love, courage, hope. I loved it." --Robert Crais, New York Times bestselling author of The Sentry
 
"Futurists are already predicting the day mankind builds its replacement, Artificial Intelligence.  Daniel Wilson shows what might happen when that computer realizes its creators are no longer needed.  Lean prose, great characters, and almost unbearable tension ensure that Robopocalypse is going to be a blockbuster.  Once started I defy anyone to put it down." --Jack DuBrul, New York Times bestselling author

"The parts of this book enter your mind, piece by piece, where they self-assemble into a story that makes you think, makes you feel, and makes you scared." – Charles Yu, author of How to Live Safely in a Science Fictional Universe

"Author [Daniel Wilson], who holds a doctorate in robotics, shows great promise as a worthy successor to Michael Crichton as Wilson, like the late Crichton, is skilled in combining cutting-edge technology with gripping action scenes. Expect a big demand for this frenetic thriller."--Booklist
Book Videos
Coverage from NPR
or
Not Currently Available for Direct Purchase