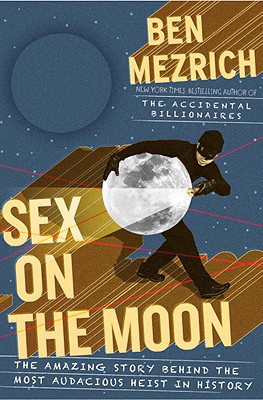 Sex on the Moon (Hardcover)
The Amazing Story Behind the Most Audacious Heist in History
Doubleday, 9780385533928, 320pp.
Publication Date: July 12, 2011
Other Editions of This Title:
Digital Audiobook (7/11/2011)
Paperback (7/10/2012)
Compact Disc (7/12/2011)
Paperback (7/1/2011)
Paperback, Large Print (7/10/2012)
Hardcover, Large Print (7/20/2011)
Pre-Recorded Audio Player (7/12/2011)
* Individual store prices may vary.
Description
Thad Roberts, a fellow in a prestigious NASA program had an idea—a romantic, albeit crazy, idea. He wanted to give his girlfriend the moon. Literally.
 
Thad convinced his girlfriend and another female accomplice, both NASA interns, to break into an impregnable laboratory at NASA—past security checkpoints, an electronically locked door with cipher security codes, and camera-lined hallways—and help him steal the most precious objects in the world: the moon rocks.
 
But what does one do with an item so valuable that it's illegal even to own? And was Thad Roberts—undeniably gifted, picked for one of the most competitive scientific posts imaginable, a possible astronaut—really what he seemed?
 
Mezrich has pored over thousands of pages of court records, FBI transcripts, and NASA documents and has interviewed most of the participants in the crime to reconstruct this Ocean's Eleven–style heist, a madcap story of genius, love, and duplicity that reads like a Hollywood thrill ride.
About the Author
BEN MEZRICH is the "New York Times" bestselling author of "The Accidental Billionaires" and "Bringing Down the House "in addition to nine other books. The film "21," starring Kevin Spacey, was based on "Bringing Down the House." "The Social Network," which won an Oscar for best adaptation, was based on "The Accidental Billionaires."
Praise For Sex on the Moon: The Amazing Story Behind the Most Audacious Heist in History…
"[M]ovie-worthy treatment to the guy who stole moon rocks from NASA"--The New York Daily News

"[An] in-depth look at Thad Roberts, who along with three other NASA interns, stole pieces of lunar rock to impress his girlfriend. Mezrich has done extensive research to recreate the story of how an aspiring astronaut ended up getting caught for stealing over 100 pieces of the moon."--The Atlantic Monthly

"[Mezrich is] a genius at using characters and dialogue....to turn nonfiction into something as compelling as any thriller."--The Chronicle Herald

"In Sex on the Moon, author Ben Mezrich details the riveting account of how one of the most improbable heists in history went down....a fast and furious read, powered along by Mezrich's desire never to take his eyes off the story."
--Chicago Post-Tribune

"[A]n out-of-this-world heist"--USA Today

"Ben Mezrich's latest straight-to-the-big-screen book....fascinating protagonist.....[Mezrich is] an accomplished storyteller.....a rollicking summertime page-turner crackling with sex, astronauts, stolen dinosaur bones and international cyber-intrigue"--The Miami Herald

"A breathless, credulous style....memorable supporting characters....adventure, sex, romance, a hero who is equal parts Clifford Irving from The Hoax, Frank Abagnale from Catch Me If You Can, and George Bailey from It's a Wonderful Life,....entertaining"--The Boston Globe

" [A] thrilling account of space rock heist...fun, breezy action"--Tampa Tribune

"Eloquent prose and a direct view into the characters' mind...the access to Roberts and re-creation of his motivation and personality are Sex On The Moon's best qualities."
--The Onion

"[A] fascinating story....has the readability of popular fiction, a ripping story, and great characters....Another winner from an extremely talented writer"--Booklist, starred review

"Mezrich has uncovered another high-stakes, fascinating true story....part love story, part madcap caper, part astro-geekery, the book is one of the summer's most fun reads."--NPR

"Out of this world heist...one of the summer's most buzzed-about books"--CNN.com

"Page-turner....engaging read."--San Antonio Express-News

"Ben Mezrich, the gonzo-inspired biographer of Ivy League geeks.....[brings us a] stranger-than-fiction, true-life thriller of a man who went where no man has gone before....[the] story ticked all the boxes: a charismatic dreamer with a troubled past, a Romeo-and-Juliet love story, a geek-alicious high-tech setting, an ingenious Oceans 11-style heist—and perhaps the most boneheaded mistake any man ever made to impress a girl. Even better, it was a journalist's Holy Grail: a truly uncovered story."--Book Page

"Deliciously readable"--Baltimore Jewish Times

"Ben Mezrich goes to incredible lengths to bring readers a story that is both accurate and spellbinding, honest and riveting"--Portsmouth Wire

"A pulse-pounding tale"--Patriot Ledger

"This is the incredible story of a crime truly out of this world, told with verve by Mezrich"--News of the World

"Compelling"--Atlanta Jewish Times

"[E]nthusiastically re-creates this oddball 2002 moon-rock heist"--Kirkus Reviews

Praise for The Accidental Billionaires, the basis of the Oscar-winning film The Social Network

"Uproarious . . . stimulating enough to keep even the un-medicated narcoleptic awake."
— Washington Times

"Mezrich's prose has a cinematic flavor."
— Boston Globe

"You won't be able to put the book down. The story's far too compelling, and entirely too personal, to toss aside."
— Oregonian

"High-octane page-turners, replete with sex, skullduggery, and plot twists worthy of James Patterson."
—New York Times

"The book is better; you should read the book."
—Alex Rodriguez

"You know you're onto something when Hollywood calls before your book is even out."
—Entertainment Weekly

"Sizzling . . . Mezrich's pop narrative reveals an American public greedy to read about the most intimate details of the sex, money, and betrayal in Facebook's formative history . . . energetic."
— Telegraph

"Mezrich paints a story of backstabbing, wild sex, hard drinking, and, at one stage, feasting on roasted koala on a yacht owned by a Silicon Valley millionaire."
—Guardian

or
Not Currently Available for Direct Purchase