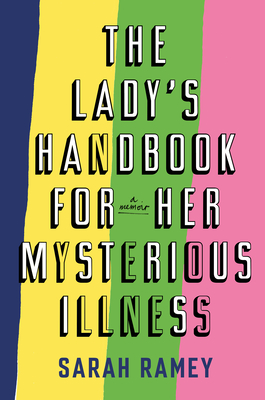 The Lady's Handbook for Her Mysterious Illness
A Memoir
Hardcover

* Individual store prices may vary.
Other Editions of This Title:
Digital Audiobook (3/16/2020)
Library Binding, Large Print (10/1/2020)
Paperback (5/11/2021)
Description
"A best memoir of 2020" —BookPage

The darkly funny memoir of Sarah Ramey's years-long battle with a mysterious illness that doctors thought was all in her head—but wasn't. A revelation and an inspiration for millions of women whose legitimate health complaints are ignored.

In her harrowing, defiant, and unforgettable memoir, Sarah Ramey recounts the decade-long saga of how a seemingly minor illness in her senior year of college turned into a prolonged and elusive condition that destroyed her health but that doctors couldn't diagnose or treat. Worse, as they failed to cure her, they hinted that her devastating symptoms were psychological.
     The Lady's Handbook for Her Mysterious Illness is a memoir with a mission: to help the millions of (mostly) women who suffer from unnamed or misunderstood conditions--autoimmune illnesses, fibromyalgia and chronic fatigue syndrome, chronic Lyme disease, chronic pain, and many more. Ramey's pursuit of a diagnosis and cure for her own mysterious illness becomes a page-turning medical mystery that reveals a new understanding of today's chronic illnesses as ecological in nature, driven by modern changes to the basic foundations of health, from the quality of our sleep, diet, and social connections to the state of our microbiomes. Her book will open eyes, change lives, and, ultimately, change medicine.
Praise For The Lady's Handbook for Her Mysterious Illness: A Memoir…
"Sarah Ramey's candor in discussing more than a decade of pain, confusion, and dismissal by countless doctors is matched by compassion for herself and every woman who has been told that her symptoms are only in her head, even when she knows her body is screaming. This is a book for anyone who has ever asked a question that didn't have an immediate or easy answer, anyone who has worried about themselves or a loved one who isn't getting better—despite following all the experts' advice—and anyone interested in their own health, public health, or medicine. In other words, it's a book with something resonant and useful for all of us. It's also, not incidentally, a terrific read."
—Chelsea Clinton, co-author of The Book of Gutsy Women: Favorite Stories of Courage and Resilience
 
"Sarah Ramey is a person of uncommon wit, bravery, compassion, honesty, and intellect. Every one of those qualities is on full display in this unflinching, important, and stunningly written memoir, which gives voice to millions of women whose experiences and pain have been ignored and minimized."
—Ed Yong, author of I Contain Multitudes: The Microbes Within Us and a Grander View of Life
 
"With brilliant storytelling, Sarah Ramey tells of her experience with a mysterious illness while weaving in a practical roadmap for the woman who is overwhelmed, confused, depressed, desperate, and suffering with confusing symptoms. As she undertakes her heroine's journey through her relationship with her body, she reclaims her power and comes home to herself—because in the end, it's getting back into our bodies that allows us to become free. A masterwork and a page-turning, fantastic read."
—Alisa Vitti, author of In The FLO and founder of FLO Living

"A visceral, scathing, erudite read that digs deep into how modern medicine continues to fail women and what can be done about it."
—Booklist, Starred Review
 
"Illuminating . . . Though this medical saga is disturbing in the many miscalculations her doctors made, Ramey's hilarious and upbeat sense of humor lightens even the direst of circumstances . . . Her uncanny grit and fortitude will deeply inspire the multitudes facing similar issues."
—Publishers Weekly, Starred Review

"Astonishing, thorough and revelatory, a valuable resource for WOMIs and those who seek to understand and treat them. . . This book is a rallying cry to all other women whose illnesses go untreated but also to the general public on the need to make our medical system more responsive to chronic illness. Ramey's memoir will lift you up by taking you down into the depths of despair that she experienced; you will be as inspired as you are educated about topics such as autoimmune disease, the endocrine system and the ways that society and gender affect them."
—America
Doubleday, 9780385534079, 432pp.
Publication Date: March 17, 2020
About the Author
SARAH RAMEY is a writer and musician (known as Wolf Larsen) living in Washington, DC. She graduated from Bowdoin College in 2003, received an MFA in creative nonfiction writing from Columbia in 2007, and worked on President Obama's 2008 campaign.
or
Not Currently Available for Direct Purchase