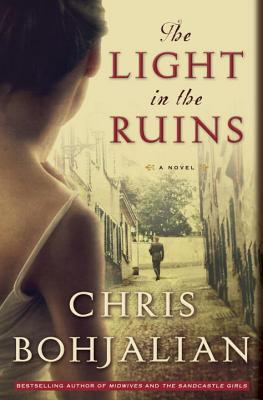 The Light in the Ruins
Hardcover

* Individual store prices may vary.
Other Editions of This Title:
Digital Audiobook (7/8/2013)
Paperback (4/22/2014)
Compact Disc (7/9/2013)
Paperback, Large Print (7/9/2013)
Description
From the New York Times bestselling author of Midwives and The Sandcastle Girls comes a spellbinding novel of love, despair, and revenge—set in war-ravaged Tuscany.

1943: Tucked away in the idyllic hills south of Florence, the Rosatis, an Italian family of noble lineage, believe that the walls of their ancient villa will keep them safe from the war raging across Europe. Eighteen-year-old Cristina spends her days swimming in the pool, playing with her young niece and nephew, and wandering aimlessly amid the estate's gardens and olive groves. But when two soldiers, a German and an Italian, arrive at the villa asking to see an ancient Etruscan burial site, the Rosatis' bucolic tranquility is shattered. A young German lieutenant begins to court Cristina, the Nazis descend upon the estate demanding hospitality, and what was once their sanctuary becomes their prison.

1955: Serafina Bettini, an investigator with the Florence police department, has her own demons. A beautiful woman, Serafina carefully hides her scars along with her haunting memories of the war. But when she is assigned to a gruesome new case—a serial killer targeting the Rosatis, murdering the remnants of the family one-by-one in cold blood—Serafina finds herself digging into a past that involves both the victims and her own tragic history.

Set against an exquisitely rendered Italian countryside, The Light in the Ruins unveils a breathtaking story of moral paradox, human frailty, and the mysterious ways of the heart.
Praise For The Light in the Ruins…
New York Times Bestseller
 
One of Barnes & Noble's "Best Books of July."

One of Oprah Magazine's "Ten Titles to Pick Up Right Now."

"A mystery that reminds us of the harrowing choices World War II forced on so many. Beautifully structured, written with restrained intensity and suspenseful to the end, this is both a satisfying mystery and a gut-wrenching account of moral dilemma in a time of moral struggle." 
—People, 4 Stars
 
"The Light in the Ruins, Chris Bohjalian's brilliantly crafted historical novel . . . switches back and forth from the mid-1940s, while the war is raging, to the mid-'50s . . . The alternating time frame keeps the reader suspicious of everyone, but whether likable or loathsome, Bohjalian's characters are utterly compelling . . . The book's payoff is greater than figuring out whodunit. Bohjalian repeatedly confronts us with the moral dilemmas of wartime . . . In this novel, Bohjalian contemplates painful choices while offering a tour-de-force murder mystery, heartbreaking romance and a dazzling denouement that will tear your heart out."
—Eugenia Zukerman, The Washington Post

"An intriguing tale of Bohjalian complexity . . . The Light in the Ruins is plotted with an elegance worthy of an Etruscan. It pivots between creation and destruction, the past and the present, and the uneasy chimerical points where they collide."
—Ellen Kanner, The Miami Herald

"Addictive, fast-paced, and often frankly terrifying . . . Bohjalian has created an entertaining, thought-provoking, and disturbingly contemporary fictional world in which compassion and outrage are two sides of the same coin . . . Fling open the shutters. Settle in a comfortable chair. Lock the doors, Then turn to the first page of The Light in the Ruins and let the shadows in."
—Elizabeth Eisenstadt Evans, The Philadelphia Inquirer

"With each book, Bohjalian flexes his literary muscles, crafting a ghost story, historical fiction, and now police procedural. . . . [Bohjalian] is skilled at evoking the sepia-tinged past."
—Entertainment Weekly
 
"Dead solid perfect. Bohjalian has written another winner."
—Curt Schleier, Minneapolis Star-Tribune
 
"A spellbinding mix of history and mystery."
—Parade Magazine
 
"At the heart of a good novel is a good story, and this story is a doozy. Bohjalian expertly weaves together a tale of how the war split Italy between the people who willingly collaborated with the Germans and the ones who did not. . . . Not every author could manage to tell a war story, throw in a serial killer and drop in several interesting romances, but Bohjalian manages."
—Amanda St. Amand, St. Louis Post-Dispatch
 
"Haunting . . . heartbreaking . . . elegiac."
—Margaret Quamme, The Columbus Dispatch

"Historic fiction at its very finest . . . This novel moves with the heat and inexorable flow of lava. Not to be missed."
—Edmund August, The Louisville Courier-Journal
 
"A brilliant blend of historical fiction and a chilling serial killer story . . . a page-turner that the reader will not soon forget."
—Deborah Donovan, BookPage

"Bohjalian subtly and skillfully manipulates our suspicions . . . trusting his readers to foment their own speculations . . . Well-researched, historically interesting."
—Julie Wittes Schlack, The Boston Globe

"Masterfully crafted . . . a near-perfect blend of historical fiction, mystery, and suspense."
—Brighid Moret, The Washington Times

"A masterpiece . . . a terrific read that will transport both long-time fans and newcomers back in time to one of the most turbulent periods in Italian history."
—Ray Palen, BookReporter
 
"Bohjalian effectively blends the symbolism into the story to make readers feel tension, fear and disgust. The novel also gives readers a look at the murderous atmosphere of fascist Italy, a warped circumstance that reverberated years after the war ended." —David Hendricks, The San Antonio Express-News

"The Rosatis' Etruscan burial site, effectively ravaged and exploited by the Germans for its potentially priceless artifacts, becomes the metaphor for the excruciating violations unfolding across the entire continent. Similarly, Bohjalian raises questions about the nature of injustice and the, often, arbitrary codes we deploy in order to keep a firm grasp on right and wrong, good and evil, or hero and villain. The Light in the Ruins offers an engaging story that unspools in such a way as to keep the reader with her nose to the pages long after the light has actually faded."
—Sheila Moeschen, New York Journal of Books 
 
"A taut, suspenseful page-turner . . . Bohjalian effortlessly turns a work of historical fiction into a breathless whodunit."
—Wendy Plotkin, The Armenian Weekly
 
"The Light in the Ruins elucidates, haunts and raises moral quandaries . . . . Bohjalian's historical re-telling is riveting . . . . A memorable read."
—Claudia Puig, USA Today

"Chilling . . . A gifted storyteller, Bohjalian provides his readers with yet another engaging book—a murder mystery that keeps you guessing right up to the end."
—The Missourian

"Thoroughly gripping, beautiful, and astonishingly vengeful, this novel is a heartbreaker. Bohjalian's latest turn to historical fiction is immensely rewarding."
—Julie Kane, Library Journal (starred review)

"Hypnotic and harrowing, a mesmerizing read . . . Run—don't walk—to the bookstore for this gem."
—Nicholas Addison Thomas, Fredericksburg Free Lance-Star

"Mastering matters subtle and grotesque, Bohjalian combines intricate plotting and bewitching sensuality with historical insight and a profound sense of place to create an exceptional work of suspense rooted in the tragic aberrations of war."
—Donna Seaman, Booklist (starred review)

"Incredible. . .Bohjalian's best yet."
—Diane LaRue, Auburn Citizen

"A literary thriller . . . a soulful why-done-it."
—Kirkus Reviews

"An exploration of post-WWII Italy doubles as a murder mystery in this well-crafted novel . . . an entertaining historical whodunit."
—Publishers Weekly 

"A must-read . . . stunning . . . Bohjalian specializes in the suspense created when people are cut off, physically and emotionally, from society (as he did in his best-selling Midwives). Here he goes back in time to create that suspense, with a compelling female detective running from demons of her own as his heroine."
—Mary Duan, Tucson Weekly

"The Light in the Ruins is a riveting re-creation of a time and place long gone, but not forgotten."
—Valerie Ryan, Shelf Awareness

"One of the fifteen best books of summer . . . A picturesque page turner."
—Good Housekeeping

Doubleday Books, 9780385534819, 309pp.
Publication Date: July 9, 2013
About the Author
Chris Bohjalian is the critically acclaimed author of sixteen books, including the "New York Times" bestsellers "The Sandcastle Girls, Skeletons at the Feast, The Double Bind, "and "Midwives." His novel "Midwives" was a number one "New York Times "bestseller and a selection of Oprah's Book Club. His work has been translated into more than twenty-five languages, and three of his novels have become movies" (Secrets of Eden, Midwives," and "Past the Bleachers"). He lives in Vermont with his wife and daughter. Visit him at www.chrisbohjalian.com or on Facebook.
or
Not Currently Available for Direct Purchase