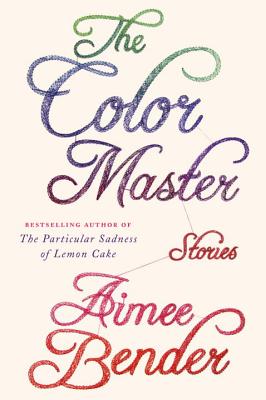 The Color Master
Hardcover

* Individual store prices may vary.
Other Editions of This Title:
Digital Audiobook (8/12/2013)
Paperback (4/22/2014)
Hardcover, Large Print (1/29/2014)
Description
The bestselling author of The Particular Sadness of Lemon Cake returns with a wondrous collection of dreamy, strange, and magical stories.

Truly beloved by readers and critics alike, Aimee Bender has become known as something of an enchantress whose lush prose is "moving, fanciful, and gorgeously strange" (People), "richly imagined and bittersweet" (Vanity Fair), and "full of provocative ideas" (The Boston Globe). In her deft hands, "relationships and mundane activities take on mythic qualities" (The Wall Street Journal).

In this collection, Bender's unique talents sparkle brilliantly in stories about people searching for connection through love, sex, and family—while navigating the often painful realities of their lives. A traumatic event unfolds when a girl with flowing hair of golden wheat appears in an apple orchard, where a group of people await her. A woman plays out a prostitution fantasy with her husband and finds she cannot go back to her old sex life. An ugly woman marries an ogre and struggles to decide if she should stay with him after he mistakenly eats their children. Two sisters travel deep into Malaysia, where one learns the art of mending tigers who have been ripped to shreds.

In these deeply resonant stories—evocative, funny, beautiful, and sad—we see ourselves reflected as if in a funhouse mirror. Aimee Bender has once again proven herself to be among the most imaginative, exciting, and intelligent writers of our time.
Praise For The Color Master…
"Aimee Bender is at her wickedly best in her latest short-story collection, with tales both dark and comic….Bender's work has never been the stuff of manic pixie dream-girl lit. Her fairy tales are dark and wicked, not hipster-precious and faux old-timey. Her sorcery altogether avoids the saccharine, and the thrills and chills of this sometimes sexual, often horror-drenched collection are completely adult. At a time when realism reigns supreme over the literary landscape, one can argue it is absolutely imperative that Aimee Bender be spotlighted for what she is: a vital MVP of modern letters, period…In our world of flash-and-trash insta-Internet-oddities and stranger-than-fiction social-media-bloopers, she will have surpassed the simple feat of inventiveness to own a most dazzlingly urgent relevancy."
--Los Angeles Times

"The Color Master offers 15 new tales that dazzle, confound, electrify, disturb, incriminate and empathize. It is sympathetic toward cake that cannot die and hopeful about the healing arts of darkness. It is absurd. It is remarkable. It induces mental whiplash...And it's so vividly imagined, so unusual, that those of us who read books with the hope of encountering language and ideas we haven't encountered before will feel -- well, we'll feel heard."
--Chicago Tribune

"Full of humor, wit, and pathos, The Color Master is the work of a writer with a strong, distinctive point of view, and with enough confidence to let it lead her into fresh and exciting places."
--The Boston Globe

"All these stories made my mouth water."
--Alan Cheuse, NPR's "All Things Considered"

"Bender became a bestselling novelist with The Particular Sadness of Lemon Cake, but her new collection returns readers to her real forte: short stories that combine gnomic postmodern prose with whimsical fairy tale reveries...[T]he best stories are mood pieces about the mysteries of female friendship ('Bad Return') and bittersweet pageants populated by mall-worshipping adolescents ('Lemonade'), still fanciful but so light on gimmick that the reader senses -- like the lovelorn atheist in 'The Doctor and the Rabbi' -- 'the realization that there were many ways to live a life.' Many ways to write a life too, and Bender colors them with a tincture out of dreams. The world is everywhere present in this collection, but it gets the moon in, too."
--Publishers Weekly

"Stories that range from fairy tales to quasi-erotica, all showing Bender's versatility...Bender's gifts as an author are prodigious, and with each story, she moves the reader in surprising, not to say startling, ways."
--Kirkus Reviews

"In the lively pages of Aimee Bender's dazzlingly dreamlike new story collection, The Color Master, Asian tigers split their skins and are mended by specially trained seamstresses; a woman who is 'ugly, by human standards,' falls in love with a man-eating giant she meets in a tavern; and random gifts, including cans of lobster bisque, materialize out of thin air, perhaps delivered by ghosts. These fantastical elements season the soup of Bender's savory and sublime human sagas...So many of Bender's sentences both settle and unsettle, and deserve to be read aloud for pure pleasure."
---Oprah.com

"In Aimee Bender's short stories, the value of life is measured in terms of goodness, succulence and simplicity, all qualities that can be tasted, chewed and ultimately swallowed by the mouth or the mind."
--The New York Times Book Review

"This is Bender at her best, using her signature style to reveal (and perhaps overcome) the obstacles that keep us from understanding each other."
--Miami Herald

"Bender has an extraordinary gift for drawing readers into her magical, mesmerizing tales, and those looking to lose themselves in fiction will not be disappointed."
--Booklist
Doubleday Books, 9780385534895, 222pp.
Publication Date: August 13, 2013
About the Author
AIMEE BENDER is the author of the novels "The Particular Sadness of Lemon Cak"e--a "New York Times" bestseller--and "An Invisible Sign of My Own," and of the collections "The Girl in the Flammable Skirt" and "Willful Creatures." Her works have been widely anthologized and have been translated into sixteen languages. She lives in Los Angeles.
or
Not Currently Available for Direct Purchase