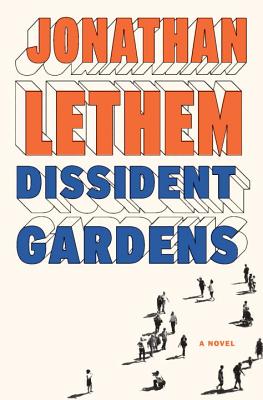 Dissident Gardens
Hardcover

* Individual store prices may vary.
Other Editions of This Title:
Digital Audiobook (9/9/2013)
Paperback (6/3/2014)
Paperback, Spanish (9/16/2014)
Compact Disc (9/17/2013)
Description
A dazzling novel from one of our finest writers—an epic yet intimate family saga about three generations of all-American radicals

At the center of Jonathan Lethem's superb new novel stand two extraordinary women: Rose Zimmer, the aptly nicknamed Red Queen of Sunnyside, Queens, is an unreconstructed Communist who savages neighbors, family, and political comrades with the ferocity of her personality and the absolutism of her beliefs. Her precocious and willful daughter, Miriam, equally passionate in her activism, flees Rose's influence to embrace the dawning counterculture of Greenwich Village.
     These women cast spells over the men in their lives: Rose's aristocratic German Jewish husband, Albert; her cousin, the feckless chess hustler Lenny Angrush; Cicero Lookins, the brilliant son of her black cop lover; Miriam's (slightly fraudulent) Irish folksinging husband, Tommy Gogan; their bewildered son, Sergius. Flawed and idealistic, Lethem's characters struggle to inhabit the utopian dream in an America where radicalism is viewed with bemusement, hostility, or indifference.
     As the decades pass—from the parlor communism of the '30s, McCarthyism, the civil rights movement, ragged '70s communes, the romanticization of the Sandinistas, up to the Occupy movement of the moment—we come to understand through Lethem's extraordinarily vivid storytelling that the personal may be political, but the political, even more so, is personal.
     Lethem's characters may pursue their fates within History with a capital H, but his novel is—at its mesmerizing, beating heart—about love.
Praise For Dissident Gardens…
"Claiming to have lost my reviewer's copy of Jonathan Lethem's Dissident Gardens, I asked his publicist at Doubleday to send a couple more galleys my way...I wanted the additional copies so I could press them into the hands of close family and dear friends, telling them as I did so: 'Here, read the year's best novel.'"
--Alexander Nazaryan for The New Republic

"Lethem is as ambitious as Mailer, as funny as Philip Roth and as stinging as Bob Dylan...Dissident Gardens shows Lethem in full possession of his powers as a novelist, as he smoothly segues between historical periods and internal worlds...Erudite, beautifully written, wise, compassionate, heartbreaking and pretty much devoid of nostalgia."
--Los Angeles Times

"While collective memory might offer some hazy grasp of McCarthyism and the Hollywood black-lists, all but forgotten is the real American Communist Party and its Depression-era heyday. In this epic and complex new novel, Lethem considers what happened to the ACP, as well as some other questions, about material isolation and filial resentment...The cast makes for a heady, swirly mix of fascinating, lonely people. Lethem's writing, as always, packs a witty punch. The epoch each character inhabits is artfully etched and the book is as illuminating of 20th-century American history as it is of the human burden of overcoming alienation."
--Publishers Weekly

"Lethem extends his stylistically diverse, loosely aligned, deeply inquiring saga of New York City (Motherless Brooklyn, 1999; The Fortress of Solitude, 2003; Chronic City, 2009) with a richly saturated, multigenerational novel about a fractured family of dissidents headquartered in Queens...Lethem is breathtaking in this torrent of potent voices, searing ironies, pop-culture allusions, and tragicomic complexities. He shreds the folk scene, eviscerates quiz shows, pays bizarre tribute to Archie Bunker, and offers unusual perspectives on societal debates and tragic injustices. A righteous, stupendously involving novel about the personal toll of failed political movements and the perplexing obstacles to doing good."
--Booklist, starred review

"An assured, expert literary performance by one of our most important writers…That Lethem has taken us so close to the Promised Land of a rejuvenated proletarian fiction with this magnificent novel gives us reason to be hopeful."
--The Los Angeles Review of Books

"An emotionally complex, stylistically sophisticated [novel] from one of America's most brilliant writers, Jonathan Lethem…Dissident Gardens is a supremely peculiar tale. But as a story about a quarrelsome family entangled with impossible ideals, it's touchingly universal…Where else can you read really funny Marxist baseball jokes? Or see how commie parents would dress their children for Halloween? That dialectical tension between mirth and intellectuality has always been Lethem's most alluring quality, and it accounts for the unpredictability of Dissident Gardens. His finesse is on full display in the final chapter, a seemingly slight encounter at the airport that shifts in a blink to a reflection on our harrowing isolation, the tragic lack of comradeship that defines our modern age."
--The Washington Post

"A novel jampacked with the human energy of a crowded subway car…It's a big book set in small spaces – kitchen, classroom, folky nightclub – that keep its battles personal at all times…[A] wild, logorrheic, hilarious and diabolical novel. Those who reflexively compare Mr. Lethem to other Jonathans, like Jonathan Franzen, would be better off invoking Philip Roth."
--The New York Times

"[A] stunning new novel...Spanning several major events -- from 1930s McCarthyism through the recent Occupy Wall Street movement --  and featuring an imaginative nonlinear time sequence so that the novel's particulars arrive at unexpected moments, this work is a moving, hilarious satire of American ideology and utopian dreams...Lethem enthusiasts may find this to be his best yet. Very highly recommended."
--Library Journal, starred review

"A dysfunctional family embodies a dysfunctional epoch, as the novelist continues his ambitious journey through decades, generations and the boroughs of New York...The setup of this novel is so frequently funny that it reads like homage to classic Philip Roth."
--Kirkus Reviews

"[This] novel's powerful and polarizing cultural, political, and racial energies are animated by a typically Lethem-esque cast of zanies, communalists, sexual adventurers, innocents, druggies, dreamers, and do-gooders -- cosmopolitans all -- whose lives collide and clash with gut-busting humor, heart, and hubris, which Lethem delivers in his seductively vertiginous prose."
--Elle

"In the past two decades, Jonathan Lethem has written, co-authored or edited 23 books, picking up a MacArthur 'genius' grant along the way. He shows no signs of flagging in his rich ninth novel, Dissident Gardens, an evocative, deeply sympathetic work about three generations of New Yorkers caught up in personal and global politics...It's also no small thing that this famously Brooklynite author has brought to life some of the neglected borough of Queens -- and so much life, so artfully, persuasively created. When a book pulls me for so long into a beautifully made world, there's always a strange sensation upon the last page: I feel the air yanked from me in a sigh for endings and a whoosh of wow."
--Bloomberg.com

"Dissident Gardens is Jonathan Lethem's big book, a Buddenbrooks transported from Lübeck, Germany, to Queens, New York. Old-fashioned and epic in all the proper ways, spanning generations, full of history and human yearning, yet post-post-modern enough to include in its awareness of itself The History Of The Novel…With this effort, Lethem yearns to make sense of a century of American longing, the same longing that created the very notion of the Great American Novel. And if the author comes up short, that only means more yearning, more longing, and (hopefully) more novels like this one."
--The A.V. Club

"Jonathan Lethem's latest novel, Dissident Gardens, is a tour de force, a brilliant, satiric journey through America's dissident history from 1930s-era communism to today's Occupy movement."
-- The Star Tribune

"[Dissident Gardens] is a real tragedy of errors, the characters all destined, like their ideals, for failure. But their vessel, a true novel of ideas, soars, like Sputnik, against all odds."
--GQ.com
Doubleday Books, 9780385534932, 366pp.
Publication Date: September 10, 2013
About the Author
JONATHAN LETHEM is the "New York Times" bestselling author of nine novels, including "Chronic City," "The Fortress of Solitude," and "Motherless Brooklyn," and of the nonfiction collection "The Ecstasy of Influence," a National Book Critics Circle Award finalist. A recipient of the MacArthur Fellowship and winner of the National Book Critics Circle Award for Fiction, Lethem's work has appeared in "The New Yorker," "Harper's Magazine," "Rolling Stone," "Esquire," and "The New York Times," among other publications.

Jonathan Lethem's "The Ecstasy of Influence," "Chronic City," "You Don't Love Me Yet," "The Disappointment Artist," "Men and Cartoons," "The Fortress of Solitude," "Motherless Brooklyn," "Girl in Landscape," and "As She Climbed Across the Table" are available in Vintage paperback.
Coverage from NPR
or
Not Currently Available for Direct Purchase