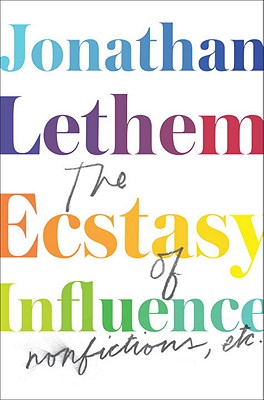 The Ecstasy of Influence
Nonfictions, Etc.
Hardcover

* Individual store prices may vary.
Other Editions of This Title:
Digital Audiobook (11/7/2011)
Paperback (10/2/2012)
Hardcover (3/1/2012)
Description
What's a novelist supposed to do with contemporary culture? And what's contemporary culture sup­posed to do with novelists? In The Ecstasy of Influence, Jonathan Lethem, tangling with what he calls the "white elephant" role of the writer as public intellectual, arrives at an astonishing range of answers.

A constellation of previously published pieces and new essays as provocative and idiosyncratic as any he's written, this volume sheds light on an array of topics from sex in cinema to drugs, graffiti, Bob Dylan, cyberculture, 9/11, book touring, and Marlon Brando, as well as on a shelf's worth of his literary models and contemporaries: Norman Mailer, Paula Fox, Bret Easton Ellis, James Wood, and oth­ers. And, writing about Brooklyn, his father, and his sojourn through two decades of writing, Lethem sheds an equally strong light on himself.
Praise For The Ecstasy of Influence: Nonfictions, Etc.…
National Book Critics Circle Award finalists
A New York Times Notable Book of 2011


"Hefty and remarkable .....These byways, all of which make room for eccentric flights as well as proper essays, augment the charm and impact of what Lethem prefers to call an 'autobiographical collage,' a phrase he lifts from Vonnegut. This influence seems only natural, for dominating all is Lethem's prime concern always: the novel....generous....exciting....openhearted, unconventional."
--The New York Times Book Review

"Did I say I love this book? Well, OK then, I love this book....bring[s] a novelist's sensibility to these essays, to find a through line, to approximate a narrative. It offers a way, in other words, to rethink the collection as a book in its own right — and not just that, but a book about a big idea."
--The Los Angeles Times

"He's a novelist who has spent a lifetime creating his own subversive pantheon, a jumpy CBGB's of the literary soul….Several of the essays here marinate in the fish sauce that is literary gossip…..feisty, freewheeling….funny"—The New York Times

"Emotionally engaging and intellectually nimble....curated selection of essays which thematically add up to more than the sum of its parts....Progressive....Eyebrow-raising...Impassioned....Disarming"--The Guardian 
 
"The Ecstasy of Influence is, more than anything, a record of Mr. Lethem's life as a public novelist, a role for which he is obviously well suited…..Mr. Lethem has such a gift, and The Ecstasy of Influence is evidence of it."—The New York Observer

"The writer I most wish was my best friend....impressively omnivorous new collection of mostly non-fiction....reveal a lively, even manic mind at play across a wide and wonderful series of subjects that are threaded together, mostly, as a kind of autobiography of a would-be writer becoming a struggling writer and then a successful writer while all the while remaining a voracious reader.....This book is its own kind of dense and dreamy zoo, and even if you don't listen to Echo Echo in your basement apartment, you'll still find much in here to enjoy and know you're enjoying and know that Lethem knows you're enjoying as much as he does." --The National Post

"Conceptual ambition, sense of purpose and a fan's evangelical devotion distinguish this collection from the typical novelist's gathering of nonfiction miscellany.....impressively rich....In addition to being a writer who blurs the distinction between genre fiction (sci-fi, detective, western) and postmodern literature (a term he questions), Lethem writes with a commitment to sharing his enthusiasm for whatever obsesses him....While the results illuminate his formative influences and artistic development, they also cast considerable light on the culture at large, which is both reflected in Lethem's work and has profoundly shaped it.....Intensifying that intimacy, he shares his complicated relationships.... high ambitions and a strong sense of purpose."-
-Kirkus Reviews, starred review


"Peppery nonfiction....provocative tour de force....thoughtful and rambunctious....dynamically juxtaposed and connected....to create a jazzy, patchwork memoir....hilarious....fresh, erudite, zestful, funny frolic in the great fields of creativity."
--Booklist
Doubleday, 9780385534956, 464pp.
Publication Date: November 8, 2011
About the Author
JONATHAN LETHEM is the "New York Times" bestselling author of eight novels, including "Chronic City," "The Fortress of Solitude," and "Motherless Brooklyn."
or
Not Currently Available for Direct Purchase