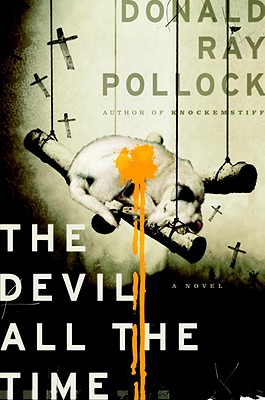 The Devil All the Time
Hardcover

* Individual store prices may vary.
Other Editions of This Title:
Digital Audiobook (3/18/2020)
Digital Audiobook (7/11/2011)
Paperback (7/10/2012)
Paperback, Chinese (4/30/2020)
Paperback (11/1/2011)
July 2011 Indie Next List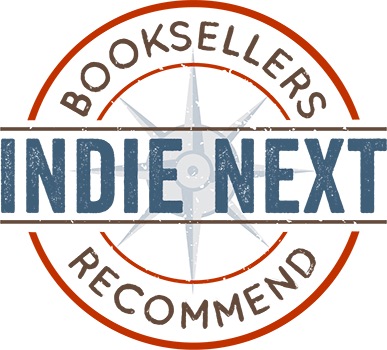 "This is a powerhouse of a novel. Disturbing? Yes. But Pollock, the author of the story collection Knockemstiff, earns the gravity of his subject matter. As the title suggests, God is pretty elusive to the characters in this book, despite their many attempts to have it otherwise. There is, however, an almost biblical inevitability in the fate of these people, and Pollock hooks your interest in their destinies from the very beginning. It's (pardon the pun) 'a hell of a ride!'"
— Robert Sindelar, Third Place Books, Lake Forest Park, WA
View the List
Description
From the acclaimed author of Knockemstiff—called "powerful, remarkable, exceptional" by the Los Angeles Times—comes a dark and riveting vision of America that delivers literary excitement in the highest degree.

In The Devil All the Time, Donald Ray Pollock has written a novel that marries the twisted intensity of Oliver Stone's Natural Born Killers with the religious and Gothic over­tones of Flannery O'Connor at her most haunting.

Set in rural southern Ohio and West Virginia, The Devil All the Time follows a cast of compelling and bizarre characters from the end of World War II to the 1960s. There's Willard Russell, tormented veteran of the carnage in the South Pacific, who can't save his beautiful wife, Charlotte, from an agonizing death by cancer no matter how much sacrifi­cial blood he pours on his "prayer log." There's Carl and Sandy Henderson, a husband-and-wife team of serial kill­ers, who troll America's highways searching for suitable models to photograph and exterminate. There's the spider-handling preacher Roy and his crippled virtuoso-guitar-playing sidekick, Theodore, running from the law. And caught in the middle of all this is Arvin Eugene Russell, Willard and Charlotte's orphaned son, who grows up to be a good but also violent man in his own right.

Donald Ray Pollock braids his plotlines into a taut narrative that will leave readers astonished and deeply moved. With his first novel, he proves himself a master storyteller in the grittiest and most uncompromising American grain.
Praise For The Devil All the Time…
The Devil All The Time is one of GQ's Books of the Year:

"Flannery O'Connor's brutal Wise Blood looks like Sense and Sensibility next to this finely woven, throat-stomping Appalachian crime story."


Praise for The Devil All the Time:


"Pollock's first novel, The Devil All the Time, should cement his reputation as a significant voice in American fiction. ...[He] deftly shifts from one perspective to another, without any clunky transitions—the prose just moves without signal or stumble, opening up the story in new ways again and again...where any prime-time television show can incite nail-biting with a lurking killer, Pollock has done much more. He's layered decades of history, shown the inner thoughts of a collage of characters, and we understand how deeply violence and misfortune have settled into the bones of this place. The question is much more than whether someone will die—it is, can the cycle of bloodletting break? This applies both to the people Pollock so skillfully enlivens as it does to the place he's taken as his literary heritage."—Carolyn Kellogg, Los Angeles Times


"The Devil All the Time...fulfills the promise in [Pollock's] 2008 short-story collection, Knockemstiff, named after his real-life hometown, where life as is tough as its name suggests. His fictional characters find ways to make it tougher. Devil, as violent as the bloodiest parts of the Old Testament...invites comparisons to Flannery O'Connor and Raymond Carver, who mined the grace and guilt in the hopeless lives of lost souls....But it's not so much what happens as how Pollock, with the brutal beauty of spare writing, brings it all together."—Bob Minzesheimer, USA Today


"If Pollock's powerful collection Knockemstiff was a punch to the jaw, his follow-up, a novel set in the violent soul-numbing towns of southern Ohio and West Virginia, feels closer to a mule's kick, and how he draws these folks and their inevitably hopeless lives without pity is what the kick's all about.  Willard Russell is back from the war, on a Greyhound bus passing through Meade, Ohio, in 1945 when he falls for a pretty waitress in a coffee ship.  Haunted by what he's seen in the Pacific and by the lovely Charlotte, he finds her again, marries her, and has a son, Arvin.  But happiness is elusive, and while Willard teaches his only son some serious survival skills ("You just got to pick the right time," he tells him about getting back at bullies. "They's a lot of no-good sonofabitches out there"), Charlotte sickens, Willard goes mad—sacrificing animals and worse at his altar in the woods—and Arvin's sent to his grandmother Emma in Coal Creek.  Emma's also raising Leonora, the daughter of a timid religious mother who was murdered, possibility by her father, Roy, the visiting preacher at the Coal Creek Church of the Holy Ghost Sanctified, who along with his guitar-playing, crippled cousin, Theodore, in a wheelchair after drinking strychnine to prove his love for Jesus, has disappeared.  And there's on-the-take sheriff Lee Bodecker, whose sister Sandy and her perverted serial killer husband, Carl Henderson, troll the interstates for male hitchhikers he refers to as "models." Pollock pulls them all together, the pace relentless, and just when it seems like no one can ever catch a break,  a good guy does, but not in any predictable way."—Publishers Weekly (starred)


"The God-fearing hard-luck characters who populate Donald Ray Pollock's debut novel, The Devil All the Time (Doubleday), move through the southern outlands of Ohio and the isolated hollows of West Virginia like figures in a collective nightmare of poverty, addiction, superstition, and crime. Sprung from their rough histories, they mostly prey on their own troubled, downtrodden kin and kind.
      Pollock—who spent three decades working at an Ohio paper mill before his 2008 story collection, Knockemstiff (the name of his real-life hometown), garnered widespread acclaim—doesn't get a word wrong in this super-edgy American Gothic stunner. Here are World War II combat vet Willard Russell and his young son, Arvin, at an outdoor shrine the father has constructed in a fruitless attempt to keep his beautiful young wife from dying of cancer: 'They knelt down and Arvin glanced over at his father's skinned knuckles…the sounds traveling up the hill from the holler were especially clear that night…the wild hoots and jeers of the drunks reminded the boy of the hunter lying bloody in the mud. His father had taught that man a lesson he would never forget. He closed his eyes and began to pray.'
      The flawless cadence of Pollock's gorgeous shadow-and-light prose plays against the heinous acts of his sorrowful and sometimes just sorry characters, such as lawless preacher Roy and his wheelchair-bound, guitar-playing, pedophile sidekick, Theodore, who stay one scam ahead of the police; and Carl and Sandy, a husband and wife who pick up male hitchhikers and photograph them ­before dispatching them to a (no doubt) better world. 
      As Arvin grows up—The Devil All the Time's narrative arcs from the end of World War II to the late 1960s—life's twists and turns provide him with a measure of salvation from his own past, and from the people whose soul-damaged lives Pollock has set down so indelibly on the blood-red altar of his incendiary imagination."—Lisa Shea, ELLE magazine


"The Devil All the Time reads as if the love child of O'Connor and Faulkner was captured by Cormac McCarthy, kept in a cage out back and forced to consume nothing but onion rings, Oxycontin and Terrence Malick's Badlands."—Jeff Baker, The Oregonian


"For fans of No Country for Old Men and Natural Born Killers… [a] grisly Southern Gothic novel that's sure to give you goose bumps no matter how hot the weather gets."—The Daily Details, DETAILS.com


"Donald Ray Pollock's engaging and proudly violent first novel…suggests a new category of fiction—grindhouse literary. Subtle characterization: check. Well-crafted sentences: check. Enthusiastic amounts of murder and mayhem: check, check."—Taylor Antrim, the Daily Beast


"So humid is The Devil All The Time with moral grime that the characters seem always to be grasping for a breath of divine intervention—some through prayer, others through murder and creepy sex."—GQ


"Devil features a bleak and often nightmarish vision of the decades following World War II, a world where redemption, on the rare occasions when it does come to town, rides shotgun with soul-scarring consequences."—Jason Albert, The Onion/A.V. Club


"Donald Ray Pollock has a flair for creating flawed characters you don't admire but can't help wanting to know more about…. His stories have the same quirky, Appalachian temperament found in the works of Ron Rash or Chuck Kinder, but Pollock defies comparisons."—Rege Behe, Pittsburgh Tribune Review


"The Devil All the Time is an expansive, decades-spanning slice of Americana … a systematic cataloguing of the horror and hypocrisy that festers in the dark shadow of the American dream."—Allison Hallett, The Portland Mercury

"[The Devil All the Time is] a world unto its own, a world vividly and powerfully brought to life by a literary stylist who packs a punch as deadly as pulp-fiction master Jim Thompson and as evocative and morally rigorous as Russell Banks."—Tirdad Derakhshani, Philadelphia Inquirer


"Pollock has expanded on [his] storytelling gift for his debut novel, The Devil All the Time. A gallery of reprobates and religious fanatics flutter through these pages. These are multidimensional, flawed human beings. Some pray for better days. Others imagine a resurrection.... Inexorable fate draws these story strands into ever-tightening loops as Pollock's characters circulate in Ohio, West Virginia and along desolate highways to the south and west....The Devil All the Time is a mesmerizing first novel. It could be cinematized into one heckuva motion picture."—Vick MicKunas, Dayton Daily News
 

"The world of The Devil All the Time may be geographically just a few dozen miles south of Columbus, but psychologically, it's deep in the heart of hell....The appalling acts these characters commit, and are subjected to, might be unbearable in other hands, but Pollock keeps a certain distance, not wallowing in the details and leaving most of the worst to the imagination. He doesn't extend forgiveness to the characters, but he makes even the most evil of them understandable. He also has the driest and darkest sense of humor. It both cuts through and sharpens much of the horror...Beneath the gothic horror is an Old Testament sense of a moral order in the universe, even if the restoration of that order itself requires violence. As Pollock pulls the strands of his plot together, they reveal patterns both surprising and inevitable."—Margaret Quamme, The Columbus Dispatch


"This novel fulfills the promise made by Pollock's debut collection, Knockemstiff.  He is a real writer, and The Devil All The Time hits you like a telegram from Hell slid under your door at three o'clock in the morning."—William Gay, author of Provinces of Night and The Long Home



Praise for Knockemstiff

"Pollock brings grace and precision to colloquial language, and the ferocious integrity of his vision is flat-out stunning . . . I keep reaching for some other writer to compare him with—maybe a Raymond Carver with hope and vitality, or a godless Flannery O'Conner—but Pollock is no shadow of anybody else. This is a powerful talent at work."
—Katherine Dunn, author of Geek Love

"This is as raw as American fiction gets. It is an unforgettable experience."
—San Francisco Chronicle

"Pollock's voice is fresh and full-throated . . . His steely, serrated prose . . . calls to mind Harry Crews."
— New York Times Book Review

"The next important voice in American fiction."
—Wall Street Journal

"More engaging than any new fiction in years."
—Chuck Palahniuk

"Knockemstiff is an astonishing debut, reminiscent of when Larry Brown burst on the scene with Facing the Music. Pollock's refusal to sentimentalize his characters and their world gives his book a fierce integrity. He's the real thing, a new and important voice in American fiction, and a welcome relief from the timidity and preening self-absorption of so much contemporary fiction."
—Ron Rash, author of Serena
Doubleday, 9780385535045, 272pp.
Publication Date: July 12, 2011
About the Author
DONALD RAY POLLOCK, recipient of the 2009 PEN/Robert Bingham Fellowship, made his literary debut in 2008 with the critically acclaimed short story collection "Knockemstiff." He worked as a laborer at the Mead Paper Mill in Chillicothe, Ohio, from 1973 to 2005.
Coverage from NPR
or
Not Currently Available for Direct Purchase